England set new ODI world record with incredible 481-6 as Alex Hales and Jonny Bairstow score centuries vs Australia
England 481-6; Australia 239 all out: Captain Eoin Morgan became England's highest ODI runscorer as the hosts set a towering total in the third match of the series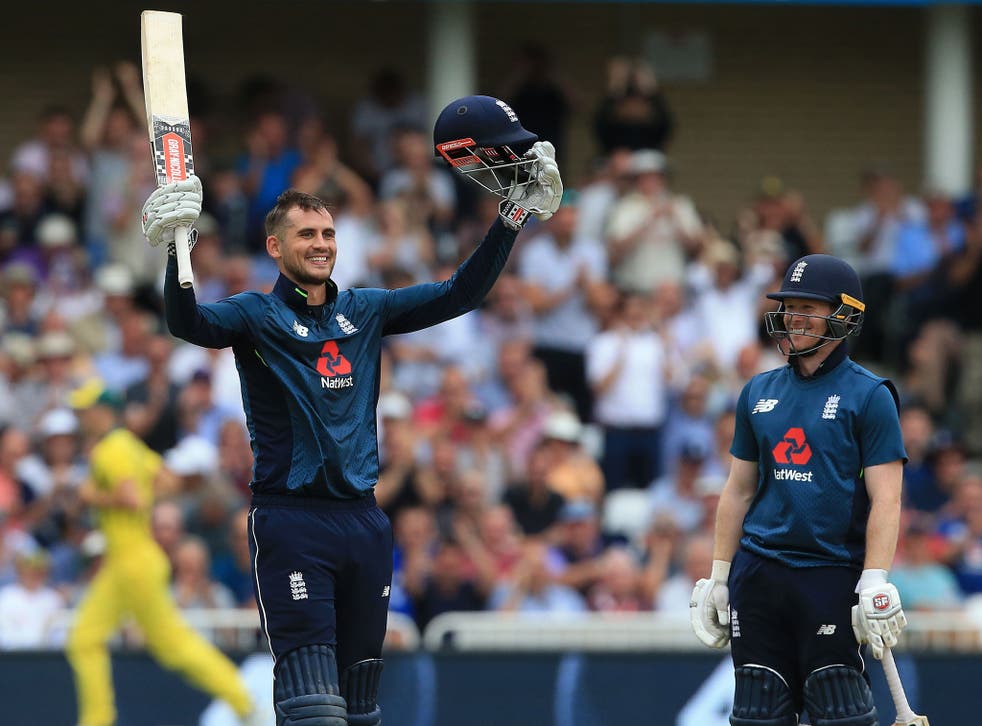 It takes something special to upstage a football World Cup but England's cricketers have managed it after they obliterated their record for the highest total in the history of one-day international cricket.
Just under two years ago on this ground, England cut loose to post 444 for three against Pakistan. Back in Nottingham, it was the turn of Australia's bowlers to be eviscerated this time as Eoin Morgan's team rewrote the record books once again by making a phenomenal 481 for six in this third one-day international.
In an awe-inspiring demonstration of power hitting, Jonny Bairstow and Alex Hales both bludgeoned big hundreds – each facing 92 balls and scoring 139 and 147 respectively.
Jason Roy's 82 from 61 balls, and Morgan, with 67 from 30, also contributed to an historic total that put their team on the brink of a seventh successive series win.
It duly came as a demoralised Australia, already 2-0 down coming into this match after losses at The Oval and Cardiff, were routed for 239 to slip to a 242-run defeat, the heaviest in their ODI history. This was also England's biggest one-day win in terms of runs.
On a flat pitch and with a bowling attack weakened by the absences of Mitchell Starc, Josh Hazelwood and Pat Cummins, the tourists didn't stand a chance. Indeed, at one stage England were looking like the first team in any form of one-day cricket to post 500.
It's remarkable to think Tim Paine, Australia's captain, won the toss and chose to field first. It's a decision he no doubt regretted as the home batsmen struck his bowlers to all parts of Nottingham - hitting a stunning 21 sixes and 41 fours.
That number of sixes is more than the 18 England hit during their entire 2015 World Cup campaign. No wonder this transformed team are favourites heading into next year's tournament on home soil. England's 342 for eight in Cardiff on Saturday was their highest ODI total against Australia. Three days later they cruised past that mark with 11.3 overs of the innings remaining.
Australia had no answer to the carnage, with Paine using eight bowlers by the end of the 24th over. At that stage England were already 202 for one, with Roy giving up a golden chance for a second successive hundred when he was run out in the 20th over. By the end of the 30th, England had moved onto 253 for one, with Bairstow on 122 after securing his fourth hundred in six ODIs.
At the same stage of that record-breaking match against Pakistan two years ago, England were 204 for one. This time they were so far ahead it wasn't a case of if but when they would eclipse their record. That moment came in the 46th over when Hales smashed Jhye Richardson for six.
There were still 27 balls left in the innings and with Hales on 143, the Nottinghamshire batsman had the chance to reclaim his record for the highest individual England ODI score he lost to Roy in January when his team-mate hit 180 in Melbourne. That had surpassed Hales' 171 in that match against Pakistan here on his home ground in 2016.
But Hales missed out on the individual landmark when he was caught at deep midwicket trying to hit Richardson into the neighbouring post code. As far as statements go this was compelling from a player who is not in England's first-choice XI when all-rounder Ben Stokes, currently out with a hamstring injury, is fit.
That thinking may have to be reappraised because on surfaces such as this, Hales' raw power is a far better option at No3 than Joe Root's touch game. Root didn't come in until No7 here, with Jos Buttler promoted to four after Bairstow holed out to Ashton Agar's spin and Morgan and Moeen Ali coming in after the wicketkeeper was dismissed cheaply.
England were 310 for two when Bairstow departed to the first ball of the 35th over. By the time Morgan brought up his fifty in 21 balls – another England record – the hosts were 417 for three midway through the 44th.
Morgan also became England's highest ODI runscorer during this innings, beating the record held, remarkably, by Ian Bell. That harks back to a different age of one-day cricket for England, when they saw scores of 300 as match-winning.
For this team there is no ceiling. It is remarkable to watch and it's no wonder they're No1 in the world, a status built on the foundation of their formidable batting line-up. England's bowling attack is weakened by the injury absences of Stokes and Chris Woakes. But they always had enough runs to play with as Australia buckled under sheer weight of scoreboard pressure.
Travis Head's 51 was the highest score of their innings and this quickly turned into a forlorn chase as the Australians, losing a steady flow of wickets, were dismissed in 37 overs. Adil Rashid, with four for 47, was the pick of the bowlers.
This, though, was a day that belonged to England's batsmen.
Register for free to continue reading
Registration is a free and easy way to support our truly independent journalism
By registering, you will also enjoy limited access to Premium articles, exclusive newsletters, commenting, and virtual events with our leading journalists
Already have an account? sign in
Register for free to continue reading
Registration is a free and easy way to support our truly independent journalism
By registering, you will also enjoy limited access to Premium articles, exclusive newsletters, commenting, and virtual events with our leading journalists
Already have an account? sign in
Join our new commenting forum
Join thought-provoking conversations, follow other Independent readers and see their replies