Superb maiden Test century proves definitively this is Chris Woakes's world and we are lucky to live in it
This was the moment Woakes finally delivered on the entirety of his talent, indeed perhaps the moment when he finally convinced himself that this was his stage, and he alone could fill it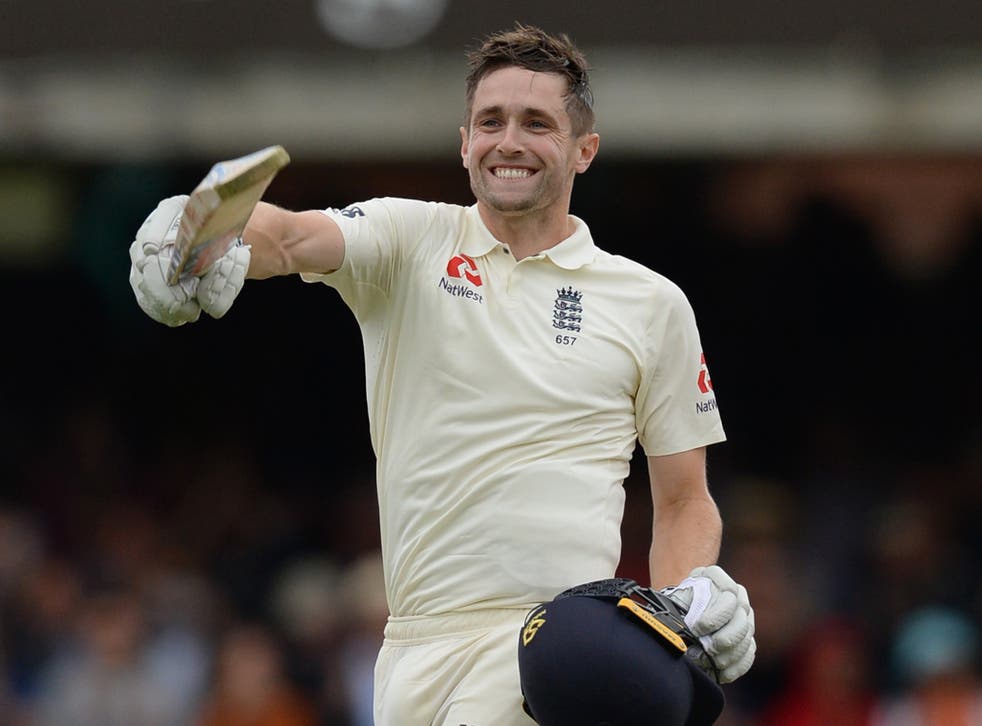 A strange and emollient apparition overcame Lord's on Saturday. The sun took flight, the clouds rolled in, and an ominous westerly wind breathed the name of Chris Woakes. On the big screens around the ground shone the stolid visage of Chris Woakes, watching earnestly over a sea of beaming, beer-chugging Chris Woakeses. Out in the middle, umpires Chris Woakes and Chris Woakes shuffled nervously from foot to foot. In the press box, rows of solemn Chris Woakeses tapped away at their laptops, filing their daily dispatches to the sports desk of the Sunday Woakes.
For a few benign hours, this was Woakes's world, and so was everything in it. Wars stopped. Volcanoes ceased to spew. A fatally divided Cabinet could agree on but one issue: Woakes means Woakes. In scoring his maiden Test century, England's first Test century of the summer, and indeed Test cricket's only century to date, the Warwickshire all-rounder etched his dashing imprint all over this game, and thus the series, and thus the summer, and thus the course of human history itself.
As he pulled for three to reach the landmark, Woakes swung his bat through the air with the unrehearsed and yet refined restraint that has become his defining character trait. If it was an important century for England, who moved into a position of unassailable strength with two days remaining, then it was doubly important for Woakes himself: the moment he finally delivered on the entirety of his talent, indeed perhaps the moment when he finally convinced himself that this was his stage, and he alone could fill it.
There is a steel sinew behind that handsome facade: a ruthless resilience, an aptitude for improvement that has elevated him from county cricket's treadmill, added yards to his bowling speed, chiselled and sanded his batsmanship to the point where he now has a Test century at Lord's. Whenever Woakes has been required to step his career up a level, he has done it, and often against the disruptive backdrop of a chronic knee injury. When England required a big performance in the absence of Ben Stokes and the failure of their top order, Woakes delivered, with the key wickets of Virat Kohli and Hardik Pandya on Friday, and an unbeaten 120 here in his first innings at No7. Give Woakes a fish, and he'll invent lemon and parsley.
It was a virtually chanceless innings: a little streaky through the 90s, perhaps, and a little more expansive once he reached three figures, but for the most part controlled, competent and professional, much like Woakes himself. He drove superbly through the off-side, efficiently put away the bad balls, diligently kept out the good ones, neutered India's two spinners to the point where he felt confident enough to clout Ravi Ashwin over mid-wicket for four. Not for nothing is Woakes a regular fixture in Warwickshire's top six, and yet until this game, a highest Test score of 66 only hinted at his genuine class with the bat.
He was fortunate, too, to make his entrance in the second half of the day, when the ball was wearing and so were India's bowlers. The pronounced swing and seam of the morning session - although not on the scale of what we saw on Friday evening - had largely straightened out. Yet as he walked to the crease, England were 131-5 and India sniffed a quick kill. Instead, Woakes put on a brisk 189 with Jonny Bairstow at more than four an over, crushing India's flickering optimism and gilding his own modest legend.
It was Bairstow who made the initial running - literally, keeping the score ticking with a series of scampered twos. Gradually, however, Woakes overtook him, scoring quickly despite barely ever seeming to cut loose. His first fifty came in 71 balls, his second in 58. In a match where batting has never looked harder, Woakes made it look consummately easy, hoisting England's lead past 100, past 150, past 200.
You could see what it meant to his team-mates. As he hared back for his 100th run, they rose as one, even the taciturn Trevor Bayliss letting the mask slip and applauding wildly. There are few more popular cricketers in the England dressing room; indeed, in English cricket. He's the kind of guy you root for, and as the noise built to a climax, Woakes lifted off his helmet, kissed the badge on it and allowed himself to luxuriate in a moment he will remember all his days.
Bairstow seemed poised to follow him, but went for one big drive too many and was well caught by Dinesh Karthik on 93. And Woakes's century should not obscure another unconvincing display by the top four, even given the juicy morning conditions. Ollie Pope - on debut - was the best of the quartet, despite never having previously come in before the 23rd over in first-class cricket. He counter-attacked well, whipped his second ball through square leg for four and played the leg-spinner Kuldeep Yadav with confidence before being pinned LBW on the back foot for 28.
But ultimately this was Woakes's day, albeit one that in its own strange way, felt like it belonged to everyone. The scoreboard operators were Chris Woakes. The commentators were Chris Woakes. Even India, somehow, were Chris Woakes. On a cloudy August evening at Lord's, Woakes was all around, and our lives felt all the better for it.
Register for free to continue reading
Registration is a free and easy way to support our truly independent journalism
By registering, you will also enjoy limited access to Premium articles, exclusive newsletters, commenting, and virtual events with our leading journalists
Already have an account? sign in
Register for free to continue reading
Registration is a free and easy way to support our truly independent journalism
By registering, you will also enjoy limited access to Premium articles, exclusive newsletters, commenting, and virtual events with our leading journalists
Already have an account? sign in
Join our new commenting forum
Join thought-provoking conversations, follow other Independent readers and see their replies