Moeen Ali inspires England to nail-biting fourth Test victory and wrap up series against India
England 246 & 271, India 273 & 184: Returning spin bowler claims nine wicket in the match to seal a 60-run victory and finally kill-off India's hopes of an historic comeback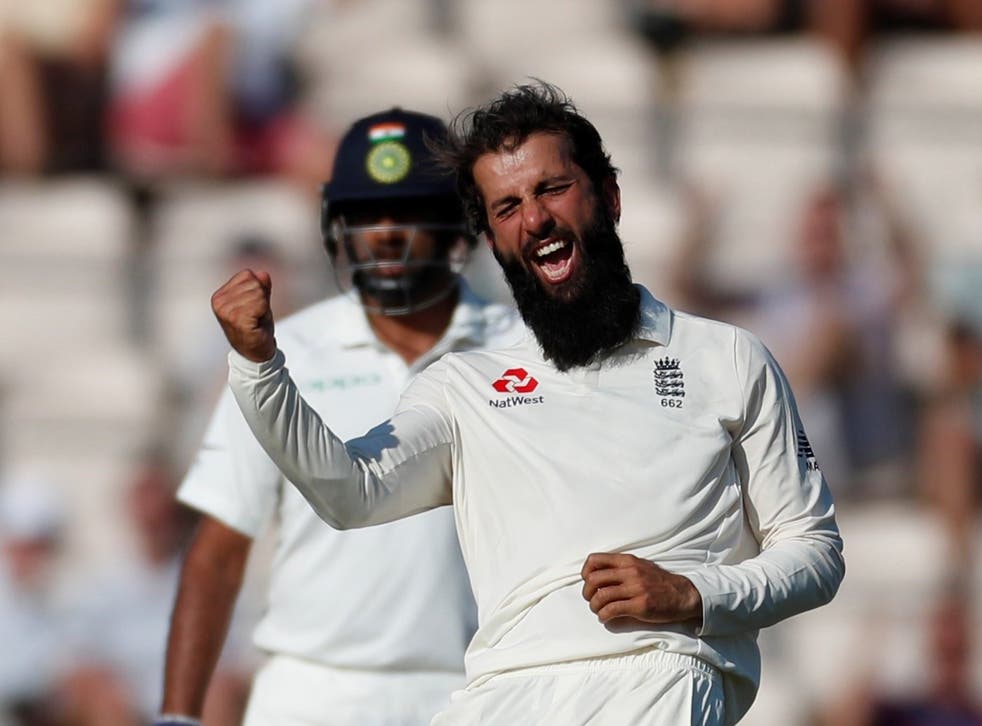 For India, the end came with a swish and a miss and a dull thud and a slow, devastating raise of the finger: the final wicket of Ravi Ashwin falling at 5.21pm in bright sunshine, casting England's jubilant fielders into thin, dancing shadows: victory secured, the series won, the latest and last milestone of a day, and a match, that has been littered with them.
One by one, India's distraught team wandered out of the pavilion bearing handshakes and wounded pride. Ajinkya Rahane, whose defiant four-hour half-century proved India's last line of defence. The fast bowlers, outstanding once again, but with only defeat to show for their labours.
And leading them out: captain Virat Kohli, who you suspect will be hurting most this evening, a man receiving his latest humbling lesson in the cruel justice of team sport. Once again, it was Kohli at the vanguard, overcoming the loss of three early wickets to oversee the march towards India's target of 245. As long as he was at the crease, India had hope. As he departed, it departed with him.
No, Kohli would not be the hero this time. Instead, it was a man who last week was at the other end of the country, scoring a double hundred for Worcestershire in front of a few thousand Scarborough pensioners. Sport's wheel of fortune can spin very sharply indeed, and as Moeen Ali mopped up his ninth wicket of the game with a ball that behaved much the same way, he will surely have been reflecting that returns to international cricket do not get much better than this.
On a surface offering maximum turn but also maximum pressure, with the series on the line and India scrapping like bears, Moeen was magnificent. His fourth-innings record is very good – an average of just 22 going into this game – but most of his wickets had been taken when England had far more runs to play with. So this was the sternest test of his mettle, yet as he fizzed ball after ball into the dark matter just outside off-stump, succeeding where the more garlanded Ashwin had earlier failed, India had few answers beyond grim endurance.
And endurance was ultimately the story of this game, whether it was Jos Buttler and Sam Curran carving out England's lead on Saturday night, or Ben Stokes charging in for a 10-over spell despite carrying a knee injury and taking two crucial wickets. England won this game because they were able to stay the course when it mattered, and for all their recent turbulence, for all the crippling criticism they have suffered in recent months, there really is something commendable in that. Joe Root's job is safe for now, so too Trevor Bayliss's; and though big, big questions hang still over this England side, on home soil they remain favourites against all comers.
They benefited from conditions, of course: not just turn out of the rough, but the uneven bounce that dissuaded all the Indian batsmen bar Kohli from venturing too far out of their crease. Stuart Broad's early breakthrough, uprooting KL Rahul's off stump with one that kept wickedly low, could scarcely have been better timed to terrify the Indian dressing room.
But they had their share of ill-fortune too, most notably when Kohli was controversially reprieved by third umpire Joel Wilson when hit on the pad by Moeen. There was a scruffy sliver of noise as the ball passed Kohli's bat, but one that seemed to come from bat on pad rather than bat on ball. It was a huge decision, and a huge moment: from having India 41-4 and Kohli in the pavilion for 9, a seething England were now seething and one review down.
The second review went shortly after lunch, Kohli getting himself fractionally outside the line to another big Moeen ripper. It seemed to sting Kohli into action: he got on the front foot, in more senses than one, pushing forward to Moeen, working Rashid skilfully to leg, meeting James Anderson's reverse swing with a pre-emptive forward stride. According to CricViz, Kohli has played 44 false shots against Anderson this series without surrendering his wicket. Outstanding luck? A quirk of numbers? The mysterious impregnability of pure, bulletproof belief? With Kohli, they may well all be one and the same thing.
At the other end, Rahane left the ball with the diligence of a minesweeper, forcing England to bowl straighter, milking the singles on the leg side. Such was the studiousness and assiduousness of the Indian batsmen that the century partnership was raised with just its fifth boundary. Yet 10 minutes before tea, as India passed the halfway mark for the loss of just three wickets, they were clear favourites for the first time.
And then Kohli was out! Out of the torpor, pure unbridled elation for England, as Moeen worked one out of the rough, Kohli got the faintest of gloves to it and Alastair Cook at short leg – who had dropped a much sharper chance off the previous ball – made the grateful grab. Often, turning points in Test matches only become apparent in retrospect. As England engulfed Moeen in embraces, there was little chance of this being one of them.
Hardik Pandya's duck ushered in Rishabh Pant, exhilarating agent of chaos: he of the six to get off the mark in Test cricket, the 32-ball IPL century, the 29-ball duck in the first innings, and here a majestic towering six off Moeen to move to 10 off four balls. Here now was a test of nerve, indeed several. Would Root persist with Moeen? Would Moeen continue to tempt Pant into the big shot? And would Pant continue to back himself, despite the fielders in the deep? The answer to all three was yes, and after clouting a four past long-off Pant's hot streak finally ran cold: caught at deep extra cover, of all places, eyeing a repeat.
Rahane's crabbing across his stumps finally became his undoing, playing across a wicked off-spinner from Moeen. For India, the end would not be long in coming. Pride alone will motivate them at The Oval next week. And the fact that they have played their part in a magnificent tussle – perhaps the best seen in this country since the 2009 Ashes – will be the most infinitesimal of consolations.
Register for free to continue reading
Registration is a free and easy way to support our truly independent journalism
By registering, you will also enjoy limited access to Premium articles, exclusive newsletters, commenting, and virtual events with our leading journalists
Already have an account? sign in
Register for free to continue reading
Registration is a free and easy way to support our truly independent journalism
By registering, you will also enjoy limited access to Premium articles, exclusive newsletters, commenting, and virtual events with our leading journalists
Already have an account? sign in
Join our new commenting forum
Join thought-provoking conversations, follow other Independent readers and see their replies