Moeen Ali's five-for leads England's fightback against India on fascinating and confusing second day
England (246 & 6-0) trail India (273) trail by 21 runs: These were three thrilling sessions that swung as violently and unpredictably as the red Dukes ball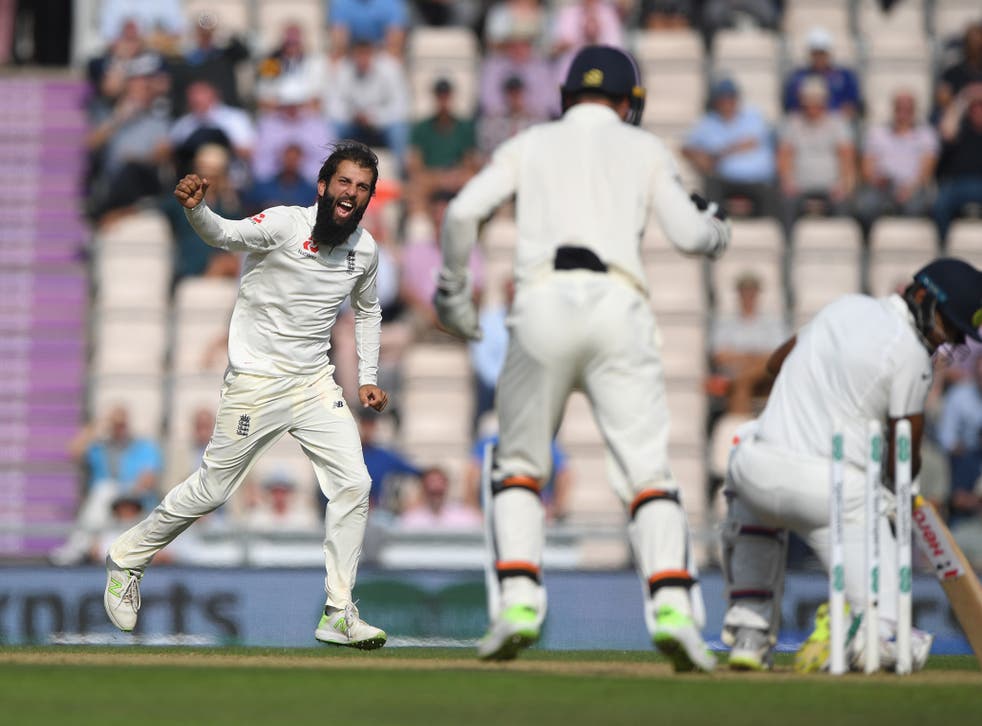 A fascinating and confusing day on the outskirts of Southampton, one that again upended the prevailing logic of the series, and at the end of which the fourth Test remains tantalisingly balanced, after three sessions that swung as violently and unpredictably as the red Dukes ball.
The list of befuddlements in full: England's second spinner outbowled England's primary spinner, taking five wickets; England's primary spinner was given just seven overs, and took none; Keaton Jennings got a bowl before either of them; England's best bowler went wicketless in the first innings of a Test for the first time in almost two years; and on an apparent Eden of a batting surface, 20 wickets have now fallen for just 519 runs.
Most bewilderingly of all, an Indian batsman stamped his mark on the day, and his name wasn't Virat Kohli. In scoring his 15th Test century, but only his second outside Asia, Cheteshwar Pujara played about as good an innings as he has ever played in alien conditions, his unbeaten 132 a wonderful display of restraint and judgement, tempo and character.
It was Pujara who drove India to 142-2 either side of lunch, a position from which a series-levelling lead seemed likely. Then, after Moeen Ali had spun the lower order into havoc, reducing India to 195-8, it was Pujara who nursed them to a small first-innings lead, as Joe Root threw every tool in his box at him. India's last two wickets produced 78 runs, and in the context of a tight, low-scoring game, those runs could well end up being the difference.
But on the whole, it was a much better day for England, their bowlers again rowing them out of the thick soup their batsmen had got them into on day one. Moeen was the pick of them on his return to Test cricket, finding sharp turn out of the rough Ishant Sharma had created while bowling around the wicket, and turning the game England's way. Stuart Broad was not far behind, picking up India's openers with a fine, full new ball spell and returning later to capture the final, crucial wicket.
The ball swung as much for England on Friday as it had done for India on Thursday, but curiously James Anderson looked a little short of his best, at one point bizarrely coming around the wicket to Pujara in an attempt to rough him up with short stuff: wrong time, wrong tactic, wrong bowler. The new-look cordon showed modest signs of improvement, with Root's sharp diving effort at second slip the only real blemish.
Crucially, though, the pivotal chance of the day was held. Pujara and Kohli looked set to take the game away from England either side of lunch, and even if their partnership wasn't chanceless, Root was sufficiently perturbed to try the gentle swingers of Jennings for a couple of overs to try and separate them. Finally, with Kohli on 46 and ominously poised, Sam Curran got him with the double bluff: a ball outside off-stump but holding its line. Kohli, expecting the big in-ducker, was tempted into a firm push, and a gleeful Alastair Cook held the catch low.
It was the turning point of the day, perhaps the game, perhaps even the series. To illustrate the point, India had scored 39 in the eight overs before Kohli's dismissal, but only 39 runs in 15 overs after it. The squeeze was on: Ben Stokes trapped Rahane dead in front with another big in-swinger. Rishabh Pant, promoted to No6, fell on the stroke of tea for a 29-ball duck, the same number of balls in which he had scored 69 for Delhi during this year's IPL. And like Pant, India were struggling to come to terms with a different game.
India's engine room surrendered with barely a whimper. Hardik Pandya chipped Moeen to mid-wicket, Ravi Ashwin tried an ugly reverse sweep and lost his leg stump, Mohammed Shami was bowled first ball playing for the turn, and all of a sudden England had seized the advantage. All that remained was to prise out the stubborn Pujara, and England could feast on the spoils of a scintillating day.
Alas, that was the hard part. As we slipped into the day's final enthralling act, Pujara slipped too: into the curiously calm of the man who knows he is his side's last and best hope. Dancing down the track to Moeen, withstanding Anderson's curious Bodyline, turning down singles, and shielding first Ishant Sharma and then Jasprit Bumrah from the brunt of England's fire: such was Pujara's effortless manipulation of the ball and the field that this will be remembered as one of his greatest Test innings, even if Yorkshire supporters could be forgiven for wondering where this Pujara was earlier in the season, when was averaging just 14 in the Championship.
Jennings and Cook saw off three tricky overs before stumps, and so going into the weekend the game is beautifully even. The advantage of bowling last with a swinging ball and turn in the pitch must be balanced against the fact that many of England's batsmen are horribly out of form. For better and worse, India batted with an assertiveness and confidence that has been lacking from England virtually all series. The game is finely poised, but for England's ailing top order, the real hard work begins now.
Join our new commenting forum
Join thought-provoking conversations, follow other Independent readers and see their replies