England vs India second Test: MCC groundsman's drag act inspires sweeping criticism
Second Test clouded in pitch controversy after groundstaff member Shane Doherty appeared to drag his foot down the line of leg stump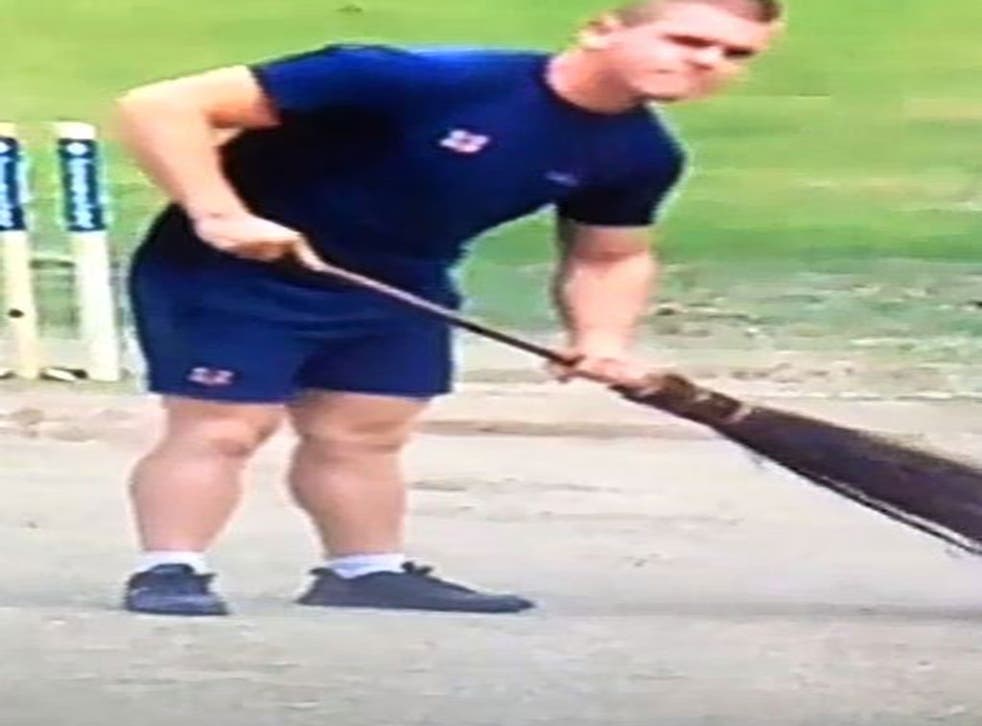 MCC were forced to apologise and defend the conduct of a member of their groundstaff after Kevin Pietersen drew attention to his method of sweeping the pitch at lunch.
Shane Doherty, who is part of head groundsman Mick Hunt's team at Lord's, appeared to drag his right foot down the line of leg stump as he tidied the wicket in preparation for the afternoon session.
Doherty's work attracted the attention of Sky Sports' commentators and Pietersen was moved to post a video on social media, captioned with the remark "Unbelievable" – followed, in customary KP fashion, by seven exclamation marks.
David Millns, the fourth umpire, approached Doherty quickly to inform him of his error. An MCC spokesman said on Twitter that it was "a genuine, honest mistake, and there was no intent to damage the pitch".
Pietersen appeared to disagree. "He knew what he was doing," he wrote on Twitter, while former England captain Michael Vaughan described the incident as "a little sniffy". However, there is no suggestion that either of them had any evidence to back up their opinions.
Pietersen was effectively sacked by England in February but he has made regular observations on Twitter about the team's performances in the five months since that decision was made.
Indian cricket sources indicated that there would be no complaint from the team, although the final decision would rest with the captain, MS Dhoni, and his players. Whatever the explanation – and there is no reason to believe Doherty was anything other than careless – it was another talking point in a series that has already had plenty of them.
On Tuesday a preliminary hearing will be held to examine James Anderson's clash with Ravindra Jadeja on the second day of the First Investec Test at Trent Bridge.
The England fast bowler was charged with a level three offence, which means he could be banned for up to four Tests if the International Cricket Council's judicial commission uphold India's complaint that he was physically aggressive towards Jadeja.
Speaking on BBC Radio's Test Match Special, the ICC's chief executive, David Richardson, said: "The instructions have gone to the umpires to be stricter in that regard. If someone is swearing and saying the wrong things and that escalates into something physical, it needs to be looked at.
"If there's someone who's guilty, he deserves to be punished. When people take it off the field, that is where we should really be very strong in drawing the line.
"We would like the focus to be on cricket, not on disciplinary-type issues. For example, I don't think the behaviour in last winter's Ashes series was particularly good."
England's case is that India have exaggerated the incident in the hope that Anderson will be removed from the series. The Third Test is due to start on Sunday at Southampton.
Register for free to continue reading
Registration is a free and easy way to support our truly independent journalism
By registering, you will also enjoy limited access to Premium articles, exclusive newsletters, commenting, and virtual events with our leading journalists
Already have an account? sign in
Register for free to continue reading
Registration is a free and easy way to support our truly independent journalism
By registering, you will also enjoy limited access to Premium articles, exclusive newsletters, commenting, and virtual events with our leading journalists
Already have an account? sign in
Join our new commenting forum
Join thought-provoking conversations, follow other Independent readers and see their replies