England vs India: Adil Rashid in line for shock Test return after stunning ODI form
Rashid's ball to dismiss Virat Kohli has been likened to Shane Warne's 'Ball of the Century'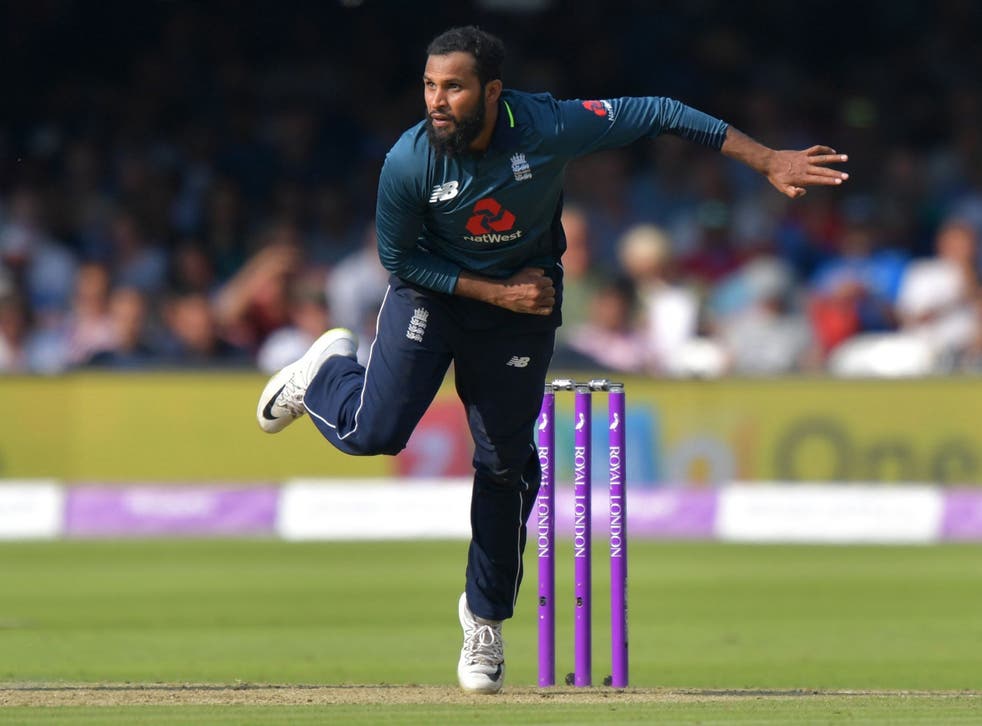 England coach Trevor Bayliss has revealed that Adil Rashid, a man who gave up red-ball cricket at the start of the summer, is in line for a shock Test recall for the upcoming series against India.
The leg-spinner's fine form in one-day cricket this summer, including 20 wickets at an average of 23.95, has parachuted him into contention for the first Test at Edgbaston on 1 August.
Rashid's performances in the most recent ODI series against India included a stunning dismissal of India captain Virat Kohli in the deciding match at Headingley on Tuesday. The delivery, which pitched on leg stump and took out off, was reminiscent of Shane Warne's 'Ball of the Century' against England's Mike Gatting in the 1993 Old Trafford Ashes Test.
It was the first time in 373 international innings Kohli has been clean bowled by a leg-spinner and an indication that in this driest of English summers, Rashid could have a big impact in the five Tests against India.
The 30-year-old, who made the last of his 10 Test appearances against India at Chennai in December 2016, had seemingly given up on playing the longest form of the game for his country when he signed a white-ball-only deal with Yorkshire at the start of the season. But, speaking in the immediate aftermath of England's victory in Leeds on Tuesday, Rashid indicated he could reconsider that stance.
"At this moment in time I'm just concentrating on white-ball cricket," he said. "But in the meantime if something comes about I'll be happy."
Now Bayliss has admitted chief selector Ed Smith, who picked Jos Buttler solely on white-ball form for the first Test series of the summer against Pakistan, is likely to speak to Rashid about his availability over the coming days.
"That's a decision Adil's got to make," said the Australian. "I'm not sure whether Ed Smith's had a chat with him or not. Could he get picked in the Test team on white-ball form? Well, it's already happened once this year. So, look, I'm sure he'll be up for discussion, definitely.
"This year is probably the best we've seen him bowl. He's bowled well in one-day cricket over the last few years but his control and his consistency this year has been top class and probably the best I've seen him bowl since I've been here."
Bayliss also hinted Moeen Ali could also be in contention for a Test recall, particularly with another all-rounder in Ben Stokes missing the second Test at Lord's to attend his trial in Bristol on a charge of affray.
Moeen was dropped for the final Test of the winter against New Zealand in Christchurch but like Rashid has enjoyed a successful white-ball summer. There is also the added factor of Moeen's performances against India on their last tour here in 2014, when his 19 wickets were decisive in England coming from behind to secure a 3-1 Test-series victory.
"Yes, he's a chance and obviously we know Stokesy is not going to be available as well – there could be an opportunity there at Lord's," said Bayliss.
Jack Leach and Dom Bess are the two most recent spinners England have played in Test cricket and Bayliss indicated Leach, who made his debut in Christchurch in place of Moeen but who was injured at the start of this summer, will be first choice against India, with England likely to pick Rashid, Moeen or Bess as a second slow-bowling option if the dry conditions persist.
"Leach was the one who was identified a couple of years ago and done well over the last few seasons," said Bayliss. "I think if he shows any form at all, having a left-arm spinner in there would be of benefit."
Bayliss has also confirmed England will have no qualms about picking Stokes for the first Test at Edgbaston despite the fact the all-rounder could be distracted by his impending trial.
His case at Bristol Crown Court starts just a day after the scheduled conclusion of the series opener in Birmingham and given the close proximity of the two events it would be understandable if England decided to overlook him so he can concentrate on preparing for his trial.
Yet Bayliss, asked if he was happy for Stokes to play at Edgbaston, said: "Oh yeah. I think we've seen the benefits of having Ben in the team throughout this one-day series. He's just the all-round package and just lifts everyone, lifts the team and it's good having him around.
"Look, it's not the best situation not having him there for the Lord's Test but we want him available for as many games as possible."
Join our new commenting forum
Join thought-provoking conversations, follow other Independent readers and see their replies