England's optimistic morning fails to inspire as India's resolve and resilience keeps series hopes alive and kicking
India 307-6: Virat Kohli narrowly missed out on a century but seeing his side bat out all of day one for the loss of six wickets will leave the skipper confident of a fightback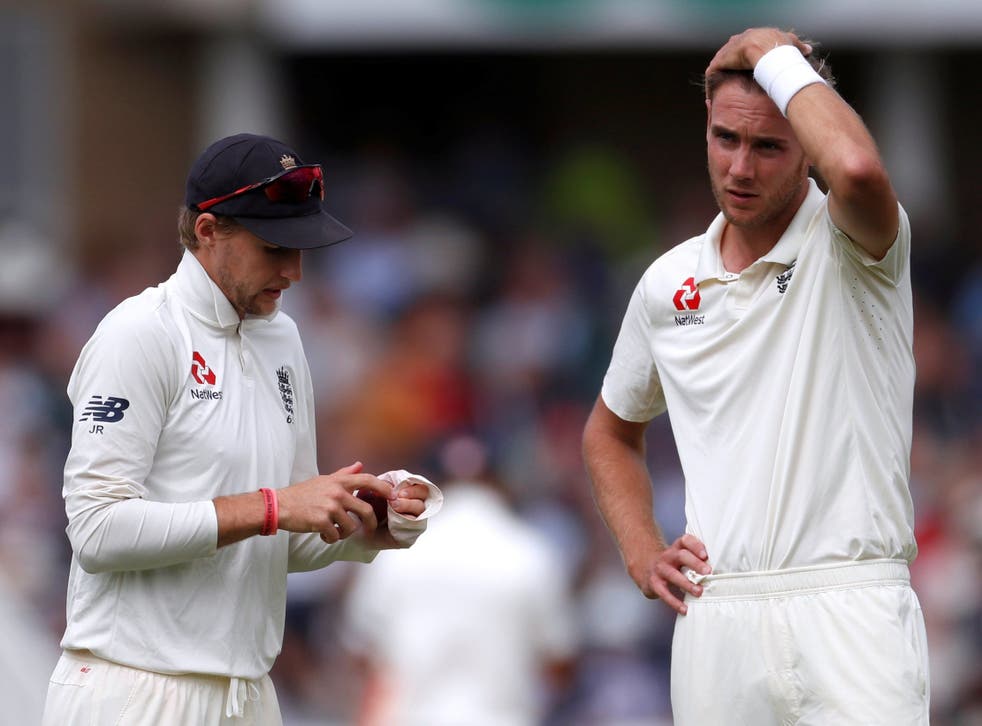 Hour by hour, over by over, leave by cussed leave: the only way India were ever going to claw their way back into this series was by purposeful, sweat-stained degrees. And on a breezy afternoon in Nottingham, they gave themselves the best possible chance, batting all day for the loss of just six wickets, prising open a door that England's lapses had left slightly ajar.
It was a strangely somnolent, reassuringly restrained day at Trent Bridge, a consequence of the vaguely disorienting Saturday start and India's patient accumulation. England's intention to settle the series in a session, as they had done against Australia in 2015, was evident from the moment Joe Root elected to bowl first under cloudy skies. But they were thwarted first by the application of India's openers, and then the tenacity of Virat Kohli (97) and Ajinkya Rahane (81) in the middle order, who negotiated the lively sideways movement and earned the easier conditions that followed.
So was Root at fault, or were his bowlers to blame? A little of both, probably. Root's decision was driven largely by the overhead conditions, but underfoot Trent Bridge has always been a decent batting strip, as anybody who has seen England playing white-ball cricket on it recently would attest: the bounce nice and even, the pace easy but not tacky, with edges as likely to fly over the slips as through them.
Even so, given the form of their seam attack at Lord's, it was a marginal decision at worst. And perhaps India rode their luck a little in the opening hour: big swing for Anderson, big seam for Broad, indeed probably too much to take the edge. But for the bulk of the day, England were poor. Ben Stokes, having changed out of his court suit and into cricket whites, bowled far too short. Adil Rashid was wayward in his first spell before returning to snaffle king Kohli in his second. And until he claimed the wicket of Hardik Pandya with the last ball of the day, even Anderson was a little off-colour and a little off-line at a ground where he has traditionally excelled.
Chris Woakes was probably the pick of the bunch: breaking India's robust opening stand by tempting Shikhar Dhawan into a little poke outside off, nailing KL Rahul with a big inswinger, dismissing Che Pujara on the stroke of lunch with a filthy long hop hooked straight to long leg. From 60-0, India had slipped to 82-3, and all of a sudden it was England's morning.
But that was as good as it got for England. Kohli and Rahane plundered 64 in the first hour after lunch, taking advantage of the frequent four-balls and inconsistent lines of England's seamers. Having taken just 16 off his first 43 balls, Kohli levelled up, scoring 34 off his next 31 to reach his half-century, many of them straight balls clipped judiciously to leg. Rahane, by contrast, drove and carved beautifully through the off-side. And as India batted through to tea and then beyond, Root will have felt the game beginning to drift away.
With the sun coming out and the ball offering less and less, it was going to take a moment of inspiration for England to break through, and after a partnership of 159 it came from their former captain. Rahane drove at Broad, edged, and flying to his left at first slip – always the harder direction in which to dive – Alastair Cook instinctively grabbed it one-handed before slapping the palm of Jos Buttler like a surly teenager.
In many ways, it was the pivotal moment of the day. Had the partnership survived another hour, England's hopes of victory might well have been extinguished on day one. Instead, Rashid found a little turn outside off stump, Kohli – perhaps expecting the googly and eyeing a century – drove hard, and Stokes securely pouched the ball as if he were protecting it from homophobic abuse. Kohli, meanwhile, has now failed to convert his last two fifties into hundreds. Perhaps Rootitis is catching.
And so to the last hour of the day, a lively little scherzo featuring one new ball, two new batsmen and two old heads. Anderson and Broad summoned one last effort and charged back in with intent. Hardik Pandya was dropped on 14 by Keaton Jennings, a medium-difficulty chance diving forward at third slip. Debutant Rishabh Pant, the 20-year-old Delhi prodigy who packs plenty of power into his pint-sized frame, was certainly in no mood to play for stumps, clattering his second ball in Test cricket back over Rashid's head for a staggering six. Kids these days, eh? But it was Anderson who had the last word, finally finding the edge of Pandya for Buttler to take a simple catch.
But still: India's day, just about. And with the dangerous Pant capable of turning a match in a session, and Ravi Ashwin to begin on Sunday morning, they will retain realistic ambitions of a big first-innings total. It's a long road back for them, of course. The agony of Edgbaston and the calamity of Lord's will not be erased in a hurry. But here – with the sort of resolve and resilience that has largely eluded them to date – they took their first, measured steps towards restitution.
Register for free to continue reading
Registration is a free and easy way to support our truly independent journalism
By registering, you will also enjoy limited access to Premium articles, exclusive newsletters, commenting, and virtual events with our leading journalists
Already have an account? sign in
Register for free to continue reading
Registration is a free and easy way to support our truly independent journalism
By registering, you will also enjoy limited access to Premium articles, exclusive newsletters, commenting, and virtual events with our leading journalists
Already have an account? sign in
Join our new commenting forum
Join thought-provoking conversations, follow other Independent readers and see their replies