England battle back against Pakistan to set up blockbuster finish
Despite bowled out for 219 and giving up a first-innings lead of 107, the hosts somehow wrestled back more of the initiative that they deserved
Vithushan Ehantharajah
Sports Feature Writer
Friday 07 August 2020 19:53 Comments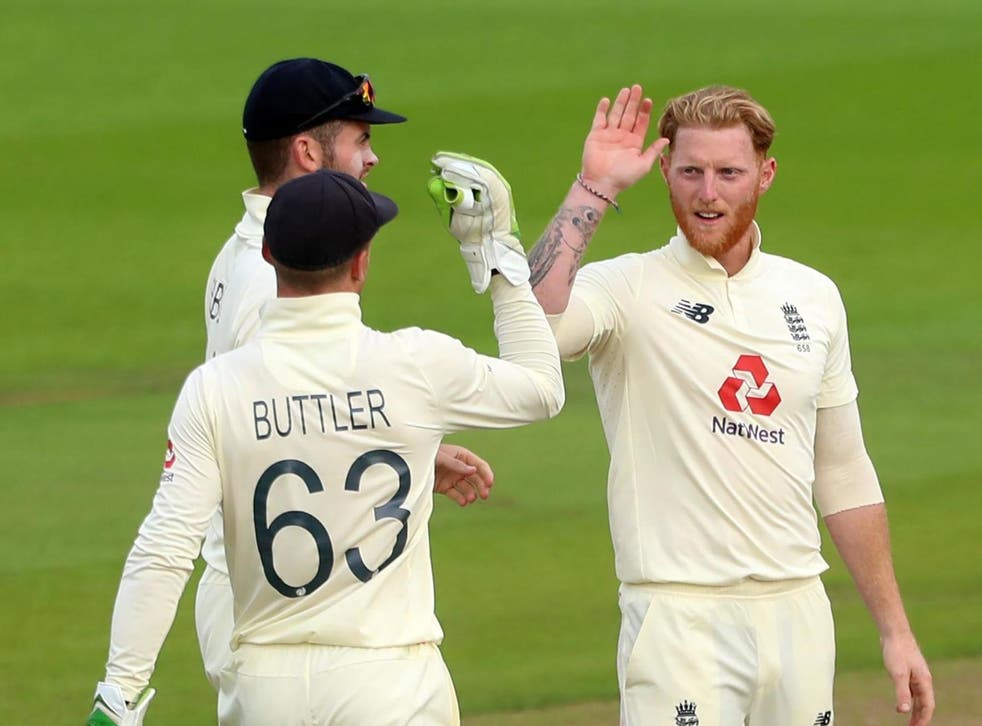 If you were wondering if a combination of a global pandemic, lockdown and their own enforced bio-secure lockdown has dulled this England side's propensity for entertaining cricket, fear not. Saturday, day four of the first Test against Pakistan, is perfectly primed for a blockbuster.
The long and short of it is that after being bowled out for 219 and giving up a first-innings lead of 107, the hosts have somehow wrestled back more of the initiative than they deserved. Pakistan, out in front after Shan Masood's 156 in the first innings, were sprinting ahead thanks to four for 66 from wrist-spinner Yasir Shah in the second.
But they were pegged back by an inspired third innings bowling performance from England that was absolutely necessary to keep this a contest. Azhar Ali's side still have two wickets in hand to extend their lead beyond its overnight 244. Were it not for the endeavour summed up by Ben Stokes – a doubt on the bowling front for this match but pitching in with two important dismissals – even a draw might have been wishful.
England did the first bit well. Granted, it could not have gone worse than a middle session that saw them lose four wickets for 38. But what optimism there was within the first hour of play was merited. Ollie Pope had made it to a fifth half-century from 81 deliveries as he and Jos Buttler remained valiant against a sustained spell of high-quality pace bowling.
It was by no means perfect. Naseem Shah produced an unplayable delivery to Pope that the right-hander could not evade, seeing him off for 62 via a catch at gully for Shadab Khan. With 39 years between them, it is a match-up of bat and ball that we will see a lot of. The 17-year old tearaway won this round.
Yet at 159 for five at lunch, with Buttler growing in confidence on 38, England were 167 behind with five more wickets in hand. They had weathered a sustained spell from Naseem and Shaheen Afridi, and had answers for the probing questions Mohammad Abbas was asking of them.
Unfortunately, Yasir was asking some especially awkward ones. With his second ball after lunch, Buttler was bowled through the gate with a leg spinner that did not spin. One that did spin also bounced to deflect off the shoulder of Dom Bess' bat. Asad Shafiq, at first slip, was agile enough to take the looping catch at gully.
The last of his four innings wickets would be of Chris Woakes playing across the line to one that did not get up as much as the batsman expected. It meant Yasir's five overs after lunch returned the remarkable figures of three for five runs, with two maidens. And with England 170 for eight, 156 behind, the first Test was slowly moving beyond them.
That was the inevitability, along with a five-wicket haul for Yasir. But while Shadab Khan picked up the final two, England were able to at least 49 extra runs, with 29 courtesy of some Broad hoiks. And with the deficit a little closer to double figures, there was some hope to
With that came the perfect start. First innings hero Shan Masood was done for an 11-ball duck when he feathered a leg-side tuck through to Jos Buttler at the end of Broad's opening over.
Bess and then Woakes made interventions in their first overs: the former drawing a rogue slog-sweep from Abid Ali (20) that was caught by the former, who removed the dangerous Babar Azam for just five. Stokes would complete that dismissal, diving to his left to take a catch having shelled a very similar one when Abid had just seven.
Woakes would nab his second of the innings – and 15th of the summer – when Azhar Ali played to type, falling over to the off side and leaving his front pad in the way. Pakistan were four wickets down and just 170 ahead.
That was extended to 208 by Asad Shafiq and Mohammad Rizwan in a fifth-wicket partnership that, really, should have taken the game further out of England's reach. Instead, a drop and run from Rizwan asked too much of Shafiq, as a new slimline Dom Sibley lurched and threw down the stumps at the striker's end.
Whatever argument there was to be had regarding who was at fault was paused for only 4.3 overs when Rizwan joined Shafiq back in the changing room. He would be the first of Stokes' wickets after the allrounder was called upon to deliver the 37th over. Two balls into his second over, the Rizwan was done: a review not saving him with on-field call of out and the bails trimmed.
The was more certainty for the successful review for the seventh wicket. Shadab wore a delivery from Broad, which umpire Ray Illingworth thought was going over. As it happens, leg stump would have come out of the ground had his knee role not been in the way.
Stokes' second was all him: banging the ball down in his half so it could reach high enough to trouble the six-foot-five Shaheen. His flail made it into the hands of Rory Burns at gully to leave Pakistan 137 for eight at stumps.
Possessing their lead is still the better side of the deal. The pitch has shown enough for Pakistan's bowlers already, and after the hottest day of the Test, with 86.3 more overs into it, chasing the current target of 245 will be tricky enough. England's job is to ensure it is not much more than that.
Register for free to continue reading
Registration is a free and easy way to support our truly independent journalism
By registering, you will also enjoy limited access to Premium articles, exclusive newsletters, commenting, and virtual events with our leading journalists
Already have an account? sign in
Join our new commenting forum
Join thought-provoking conversations, follow other Independent readers and see their replies