England vs Pakistan: Moeen Ali stands up to be counted when it matters most to take pivotal wicket in unlikely victory
Moeen's unusual dismissal of Azhar Ali proved a turning point as England ensure they cannot lose Test series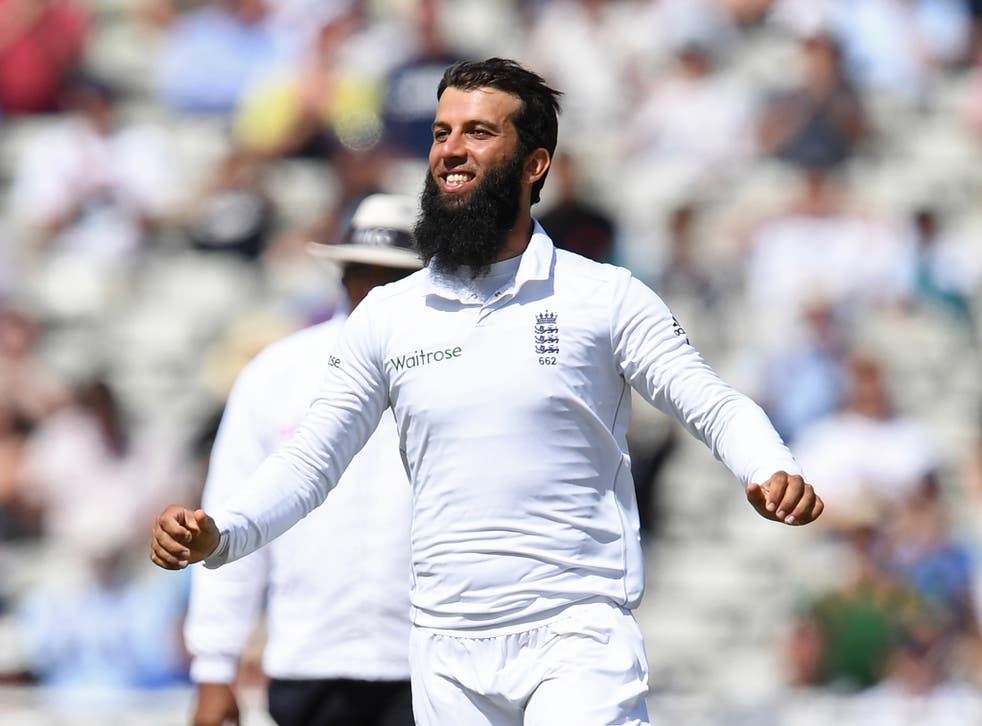 A nailed-on draw was the general view of those who'd watched this third Investec Test to the end of day four. Yet, Test cricket is rarely that predictable. For one thing, and this includes all those who feel such events can be predicted by algorithms, you cannot anticipate for who might seize the moment for one team or the panic which can spread through the other once the wickets start falling.
And so it proved here for England who beat Pakistan by 141 runs at Edgbaston, after Misbah-ul-Haq's side were asked to score 343 in 84 overs to take a 2-1 lead, or bat them out to secure the draw.
An England win was low on the list of most people's expectations including, it seemed, the England team, at least until Stuart Broad strangled opener Mohammad Hafeez, dismissing him in a manner, caught long leg, that was neither deserved nor planned. Before that, it looked same old same old, which was a scoring rate of three runs an over and an average of two and a half wickets a session.
Most of the blame for this was placed on the pitch, whose unyielding nature and lack of wear over the first four days caused some with short memories to be critical. Back in the day there used to be plenty of pitches like this and plenty of draws.
Occasionally during last day deadlocks, or even when the opposition look like winning (possible here too for Pakistan who went in to lunch at 69 for one), a player or two intervenes, normally a bowler, to change the course of the match. One recent example involved Broad, whose decisive intervention against Australia at Durham in 2013, when he took six of the last seven wickets to fall as Australia sniffed victory before falling flat on their behinds.
Rewind further in time to 1981 and you get the irrepressible Ian Botham taking five for one on this very ground, to slay the Aussies for the second time that summer. With Australia 114 for five and needing to make 151 to take a 2-1 lead in the series, that was a classic carpe diem moment as they were dismissed for 121, their world crushed once more by a man known as Guy the Gorilla.
But with the wickets shared around, who was that man for England, who took a drifting game by the scruff of the neck and gave it a good shake?
It is arguable that the most important wicket, given his form and ability to bat for long periods, was Azhar Ali, and Moeen Ali got him out. The dismissal came from an unusual field-setting, a second slip, so Alastair Cook, who took the sharp catch there, should take some credit as well.
Then there was Anderson, springing in from the Pavilion End, pulling Pakistan's batsmen this way then that with some fine reverse-swing in his second spell. His dismissal of the experienced Younus Khan, caught behind pushing at an outswinger, was carefully planned too, judging from the way the bowler, Cook and Joe Root choreographed their celebrations.
That wicket, and what Anderson was managing to do with the ball, was the moment England suddenly believed they could win the match, though by now Cook was giving his pace bowlers short, sharp, spells.
Teams target captains to demoralise opponents and Pakistan were always likely to wobble more once Misbah-ul-Haq was dismissed. Trouble is nobody predicted he would fall to Steven Finn, England's least effective bowler of the summer, and then to a rare bad shot.
Buoyed by taking his first wicket of the series, Finn doubled his tally though not before Chris Woakes, arguably England's best bowler of the summer, had got rid of Asad Shafiq and Sarfraz Ahmed, Pakistan's wicket-keeper.
Woakes was on his home ground though he cannot have seen many pitches here stay as true to batting as this one has. Which begs the question, with no gremlins in the surface, why Sami Aslam, who'd negotiated 166 balls in the innings without perceptible difficulty, should suddenly leave the 167th one, from Finn bowling round the wicket, and lose his off bail.
That laid the scene for Anderson and Broad to take England to the cusp of victory and an unassailable lead in the series, whereupon Pakistan's last pair showed some unexpected resolve, which took the match into the last hour.
In fact, it took a sharp return catch by Moeen, with 13.1 overs remaining, to clinch a win made all the more remarkable for England overcoming a 103-run deficit on their first innings.
Only 3.8 per cent of sides winning Tests have overcome such a handicap to triumph. But on a pitch that looked as if had gone to sleep permanently England's bowlers were magnificent, seizing the final day through collective rather individual effort, which is how good teams operate.
Register for free to continue reading
Registration is a free and easy way to support our truly independent journalism
By registering, you will also enjoy limited access to Premium articles, exclusive newsletters, commenting, and virtual events with our leading journalists
Already have an account? sign in
Register for free to continue reading
Registration is a free and easy way to support our truly independent journalism
By registering, you will also enjoy limited access to Premium articles, exclusive newsletters, commenting, and virtual events with our leading journalists
Already have an account? sign in
Join our new commenting forum
Join thought-provoking conversations, follow other Independent readers and see their replies