James Anderson hits out at criticisms from former players of England ahead of second Test with Pakistan
The 35-year-old dismissed suggestions either he or Stuart Broad should be dropped
Chris Stocks
Headingley
Wednesday 30 May 2018 17:44 Comments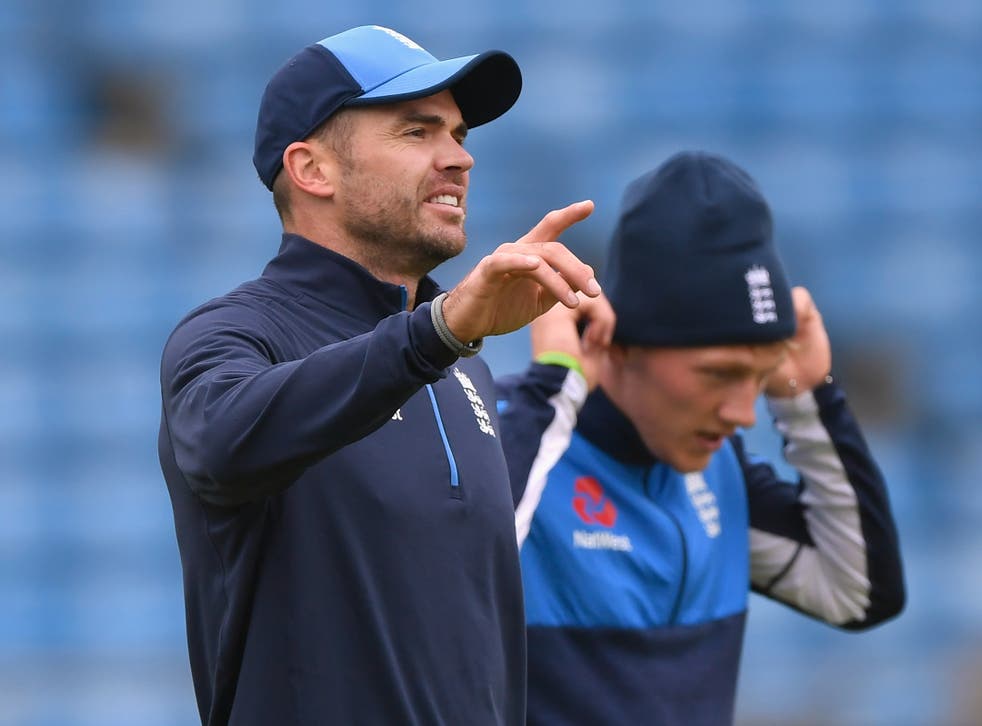 There will be no lack of motivation at Headingley this week when England's Test team look to break a barren run of form following the nine-wicket hammering by Pakistan at Lord's.
England's preparations for the Test have been dealt a potentially huge blow by the news key all-rounder Ben Stokes is an injury doubt with a tight left hamstring.
The all-rounder, who will be assessed in the morning before a decision is made on whether he will undergo a scan, is hugely important to this team and his absence would be a huge blow to England's hopes of levelling the series.
Sam Curran, Surrey's 19-year-old all-rounder, has been called up the as cover, an indication that England are genuinely worried Stokes will not recover in time.
James Anderson, however, was in bullish mood in Leeds on Wednesday, launching an impassioned defence of his team, who are on a run of seven defeats in 10 Tests, dismissing "noise" from critics such as former captain Michael Vaughan, and hitting out at those who have questioned his methods despite taking 535 Test wickets in his 15-year career.
England Test squad

Show all 12
For all the reasons given for England's horror run in Test cricket, one which continued in the first match of the summer at Lord's following a soul-destroying winter in Australia and New Zealand, Anderson believes there is a simpler answer.
"I don't think there is a problem," he said. "I just think we're potentially low on confidence when we go out in the middle. You suffer a few defeats and you need something special to turn it around.
"It needs something just to turn it round, a bit of luck or something. I think it's quite easy for the confidence of the team to take a hit when you have a defeat like that. So it's going to take some special individual performances this week. If you get one or two individuals standing up then people can piggyback on that and get confidence from other people's performances as well.
"So we'll try, as well as using our skill, use our heart. To use the fight we have in the dressing room to show people what we can do."
Headingley is a ground where Anderson has taken 34 wickets in nine previous Tests. If anyone is to produce "something special" it is likely to be the 35-year-old.
No wonder then he gives short shrift to calls from Vaughan, England's 2005 Ashes-winning captain, that either himself or Stuart Broad should be dropped for the Leeds Test.
"Obviously I'm going to say no," said Anderson. "We've 950 Test wickets between us. We're doing the best we can for this team. We're trying to perform well enough to turn this team around. I know we've been on a really bad run of form this winter and the first Test here and I think in these situations you need players to stand up and put in match-winning performances. We'll try to block out the noise from whoever is shouting out.
"When you suffer a heavy defeat there's always a lot of noise around. Lots more opinions come out. This has to be done; that has to be done.
"The outside noise is always there and it's a bit louder when you perform badly. That's something you've just got to deal with as a sportsman and block out as best you can."
The pressure is also on coach Trevor Bayliss, the Australian whose tenure of the Test team is now being openly questioned after a run of 16 defeats in 30 matches since England sealed their series win in South Africa at Johannesburg in January 2016.
Anderson, though, said: "Trevor can't come out there with us and tell us how to bowl. It's up to us to take that responsibility on our shoulders."
As for the accusation he bowled too short at Lord's?
"I didn't have my best game, I know that," said Anderson. "But I'm aware of what lengths that need to be bowled on certain pitches. Some people think they might know better than me but I'd like to think that, after 15 years of playing Test cricket, I know which lengths to bowl on certain pitches.
"It's not as simple as saying 'we've got to bowl fuller' and just chucking it up there and get smashed everywhere and hope they edge one. There's a bit more to it than that. There's more to Test cricket. You've got to be patient. I've always looked at it as almost a game of chess. You've got to out-manoeuvre the batsman. For me, it's more than just trying to throw it up there and nick one."
Keaton Jennings, meanwhile, has revealed his Test recall this week has seen him miss an exam for the accountancy degree he is studying for on a part-time basis.
"I was meant to be writing an exam this afternoon," said the opener. "A lot of things happen in life that pull you different ways and I think Test cricket is one of those special moments you've just got to enjoy.
"It might be the last Test that I play, so I really want to enjoy the feeling and the five days of tough, hard cricket."
Register for free to continue reading
Registration is a free and easy way to support our truly independent journalism
By registering, you will also enjoy limited access to Premium articles, exclusive newsletters, commenting, and virtual events with our leading journalists
Already have an account? sign in
Join our new commenting forum
Join thought-provoking conversations, follow other Independent readers and see their replies