England vs South Africa: Alex Hales fails to hide weakness as bowling attack gains confidence
Those who are likely to bowl for England at the start of the Test series all went through their paces against SA Invitation XI
Stephen Brenkley
Potchefstroom
Thursday 17 December 2015 00:13 Comments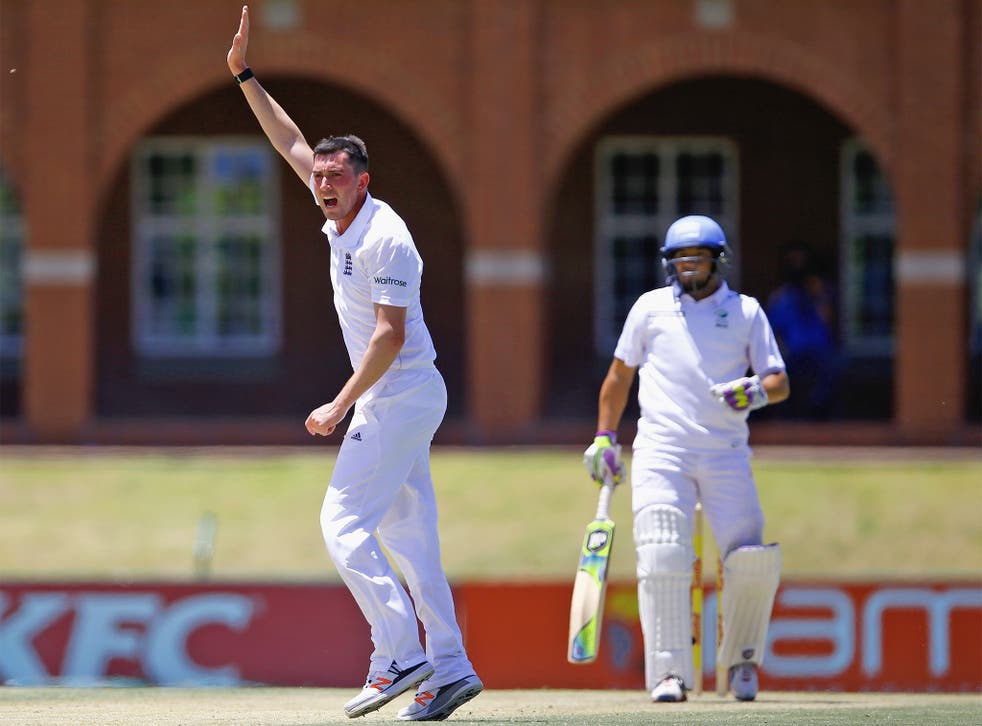 As an exercise in removing the dust sheets and oiling the cogs it was perfectly serviceable. Those who are likely to bowl for England at the start of the Test series all went through their paces – if perhaps at a rather different pace – and had on the receiving end a set of raw batsmen ready to oblige.
Its relevance to the internationals to come, beginning on Boxing Day, may be tenuous but it is all a vital part of the groundwork: fail to prepare and all that and we all know what follows. England bowled out the SA Invitation XI for 188, giving them a lead of 282, and were 99 for 3 in their second innings.
There was no point in enforcing the follow-on because certain batsmen needed practice as well. The two who mattered at the top of the order, Alastair Cook and Alex Hales, did not get it, or at least not enough of it.
Cook made a robust 37 before being lbw for the second time in the match, Hales faced 42 balls in scoring eight. There are no worries about Cook, for those days are thankfully behind us, but Hales could have done with a score of some kind before his probable Test debut at Durban next week.
He was determined to the point of tightness in his play. He was a little unlucky to be out, shortly after steering a boundary through third man courtesy of an errant fielder. But his defensive shot could have been firmer and he could do nothing about the ball rebounding on to the top of the stumps.
The anguished shake of the head spoke volumes. There is one more practice match before the Tests, against an authentic South Africa A side in Pietermaritzburg. Weaknesses may already have been spotted and need addressing quickly. Junior Dala, who has bowled him twice in this match, said: "With the video analysis we do in cricket, we felt we could expose a few of the English top order and maybe that could be good for the Proteas in the Test series.
"I knew he hasn't played a Test yet so I knew he was under pressure. I just came in and went hard at him, trying to expose the fact he is keen to score runs. It looks like he is trying to open up the off side every time he faces the ball. I just tried to keep it simple, tuck him up, and he struggles on the leg side. It's nice when a game plan comes together.
Nick Compton had a workmanlike stay before advancing to the spinner Johannes Diseko and finding mid-off. Joe Root, who looked like a million dollars on the first day before being inexplicably dismissed, was more cautious this time but he always exudes mastery.
The day was as much about bowling. Stuart Broad and Mark Footitt shared the new ball. Broad took a wicket with his fourth ball and everything looked in good working order. Footitt had to wait until the last ball of his first spell for his maiden wicket. He was fast, slightly imprecise and by all accounts will play his first Test before this campaign ends.
After lunch, Jimmy Anderson entered for the first time, bowled four overs, tried a few things, took a catch at slip but did not overburden himself. Anderson is a kind of cricketing royalty these days and it was mildly surprising there was no red carpet for his arrival. England know they need to look after him.
Of all the bowlers on display perhaps the most encouraging sight was that of Chris Woakes, a deceptively accomplished cricketer not often give his due. The year has been blighted by injury which has kept him out of the team but he is under definite consideration as the third seam option in the opening Test, and rightly so.
Woakes was neat and crisp. The unfussy way he goes about his work is always a pleasure to watch. He was superb in the early part of the day and deserved more than his solitary wicket.
It may be pertinent that England did not achieve the reverse swing that they sought. They know how much that might matter against South Africa.
Register for free to continue reading
Registration is a free and easy way to support our truly independent journalism
By registering, you will also enjoy limited access to Premium articles, exclusive newsletters, commenting, and virtual events with our leading journalists
Already have an account? sign in
Join our new commenting forum
Join thought-provoking conversations, follow other Independent readers and see their replies