English cricket, institutional racism and why enthusiasm for change cannot be allowed to go cold
The ECB is gradually discovering the grim reality of racism within cricket, writes Vithushan Ehantharajah. Now it must seize the moment
Wednesday 30 September 2020 10:09
Comments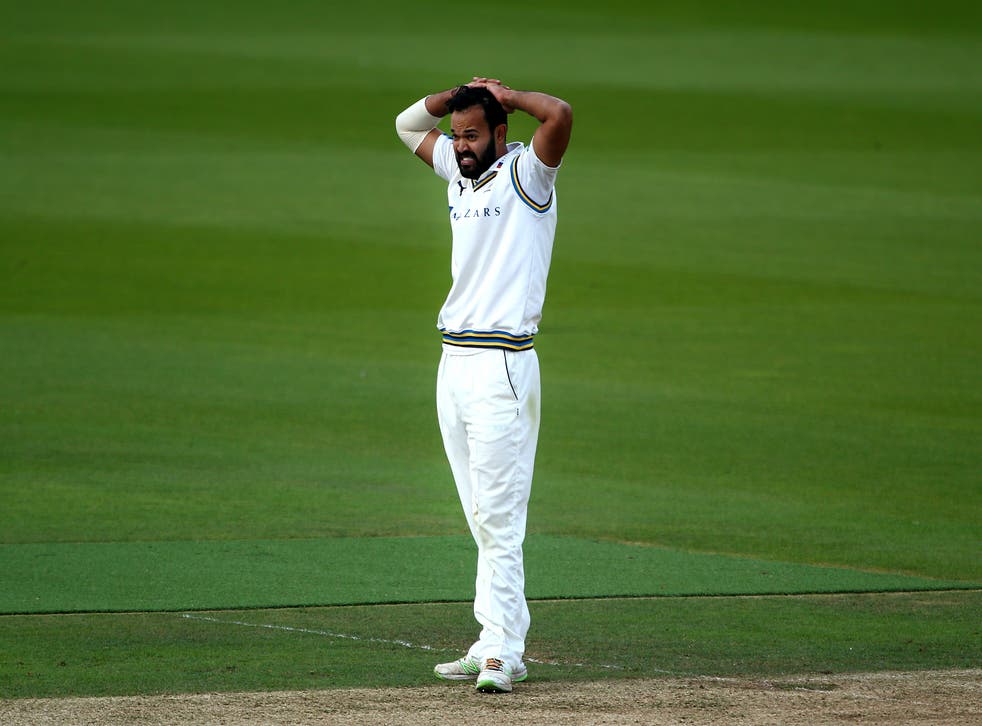 "I hope he knows what he's getting into," says an English cricketer of South Asian descent.
The "he" in question is Azeem Rafiq, the former England under-19 captain. Over the last month, Rafiq has documented allegations of institutional racism against his former county, Yorkshire. Rafiq revealed the treatment he sustained at the club almost drove him to suicide. The club has appointed a sub-committee to investigate.
Another is also wary. "How far do you reckon he can go?" they ask, not so much about what Rafiq might be able to change. But how transparent can he be? Can he name the openly racist captain, or the high-profile player who told him, Adil Rashid, Ajmal Shahzad and Pakistan's Rana Naved-ul-Hasan that "there's too many of you lot"?
The concerns of these two are not through doubting the legitimacy of Rafiq's complaints. They are unsurprised by the language that has been alleged, or the comments. They have experienced similar first-hand. The worry is the risk.
The risk of being labelled as difficult and, thus, putting yourself out of contention for roles within the game, whether as a cricketer or a coach. The risk of having your dream job taken away from you because you spoke up. A reason why both of the players above have asked not to be named.
Rafiq, though, wants no future in the professional game – certainly not as a player. His revelations came to light in an interview with Wisden Cricket Monthly, going further on The Cricket Badger Podcast before gaining global traction with ESPNcricinfo. Each interview represented another chance to reassess and stop. Rafiq, though, powered on, perhaps because he is able to leave this world behind, even if at 29 that might seem a waste.
The concept of risk is important here. Until this summer, English cricket has not really had to delve too deep into its issues around diversity and race. And though the England and Wales Cricket Board have been concerned about how the pyramid gets whiter as you move up, the reasons laid out to them have never been as stark, as more individuals feel safer to come forward and share their experiences.
ECB chief executive Tom Harrison has spent the last few months talking to those who have gone public with their stories, including but not restricted to Rafiq, Ebony Rainford-Brent and Michael Carberry. He also sought out those who had previously been reluctant to come forward.
Some of the stories were familiar. Most, lower down the chain, were not. All were galling, particularly, for example, the many reports of the use of slurs like "Paki". For those of south Asian heritage, including myself, it is word that still pops up every now and again. I've heard it at least twice in a press box in the last five years.
That there was shock is perhaps the best reflection of a lack of diversity at the top of the game. But there is an appreciation that these blindspots are a gross failing.
"I think we've been a bit naive," said an ECB spokesperson speaking to The Independent. "We should have known better and we should have educated ourselves."
Unlike previous iterations of the governing body, there has been movement, not the usual throwing together of panels and workgroups that only serve to kick the can down the road.
Of course, there are red-tape matters, such as changes to be made to the County Partnership Agreement to ensure counties to adhere to targets relating to gender and race, such as ensuring their boards are reflective of the diversity of their local communities. This also relates to social backgrounds and age.
Bursaries are being created to improve the imbalance that sees only six of the 93 coaches at the 18 counties hailing from ethnic minority backgrounds. Within this coach development programme are more specific details around accessibility and funding that prove the biggest stumbling blocks. For the time being, financial help will be regarding "specialist and advanced coaching" programmes with a view to making them available across all programmes as soon as possible. This will be alongside the implementation of the Rooney Rule in county cricket, where at least one black or minority ethnic person must be interviewed for a role when it becomes available.
In regards to its own house, the ECB is taking a more head-on stance. They have put their own internal staff through unconscious bias training and, following Harrison's private conversations, a more formal review of race in cricket is in the offing, along with an anti-discrimination charter.
While in more official terms it is to ensure venues and clubs are more welcoming places, it will also bring in measures that previously did not exist whereby anyone attending matches found guilty of discriminatory abuse can be banned from all English grounds for a period of time.
This, really, is the only way to progress. For all the education that can be done, part of making English cricket more inclusive is by ostracising those against that inclusivity. Many will tell on themselves, whether it is a Yorkshire league chairman taking umbrage with Rafiq, the detractors to England's international and domestic sides showing solidarity with the Black Lives Matter movement this summer or even simply the casual county fan who finds no problem in the fact there are just 33 players from ethnic minorities in county cricket.
Too often as the summer comes to a close, the fear is the issues close with it. Cricket's niche, seasonal ways have often allowed it to avoid these tougher conversations or put them off long enough so that we have to start again a few stages back. And so, those who came forward with their stories must contemplate going back to the well of their harrowing experiences to bring them back up again. Each time contemplating whether they can bear to cut themselves open once more if no good comes of it.
"You've all seen me cry my face off," Rainford-Brent tells The Independent regarding her impassioned speech on her experiences which were broadcast on the first day of the international summer way back on 8 July. "Those clips went viral, and had the desired effect of showing people what's going on. Whatever they need to know about my struggle is there. But I'm done with that side of it.
"The stories are out there, the figures are out there. The conversations have been had. This is where the action needs to begin."
Since her powerful segment alongside West Indies legend Michael Holding, Rainford-Brent has consulted with the Harrison and new ECB chairman Ian Watmore over how best to move forward, drawing on her work with the African Caribbean Engagement (ACE) initiative at Surrey, launched at the start of the year to bring 11 to 18-year-olds into cricket and increase black representation.
Rainford-Brent, though, is one person, with her own career and goals, whose sole responsibility should not be to fix a system the ECB themselves acknowledge is institutionally racist. And that is why as winter approaches, the enthusiasm for change should not be allowed to go cold, not should it be carried exclusively on the shoulders of her and Rafiq.
It needs to be carried by those who have been unaffected. Those who kneeled throughout the summer. Those like Sky Sports who gave people the platform to tell their stories. Those that championed and cried alongside them. And most important of all, those who run the game. As Tyler Tynes, a writer for The Ringer, put it when discussing how sports need to react to support their athletes highlighting social injustices: "We don't need allies anymore, we need accomplices."
That relates to all within the English game: the ECB, players, fans and the media, too. Though cricket faces a gravely uncertain future through the coronavirus pandemic, one thing is for sure: if you do not want to be an active part of the solution then you are part of the problem. It really is that black and white.
Register for free to continue reading
Registration is a free and easy way to support our truly independent journalism
By registering, you will also enjoy limited access to Premium articles, exclusive newsletters, commenting, and virtual events with our leading journalists
Already have an account? sign in
Register for free to continue reading
Registration is a free and easy way to support our truly independent journalism
By registering, you will also enjoy limited access to Premium articles, exclusive newsletters, commenting, and virtual events with our leading journalists
Already have an account? sign in
Join our new commenting forum
Join thought-provoking conversations, follow other Independent readers and see their replies