The making of Eoin Morgan: how an avid Irish batsman became England's ODI captain and record scorer
Eoin Morgan was mocked for wanting to play an 'English' sport when he decided he wanted to play cricket and represent England
Jack Watson
Friday 26 October 2018 07:49 Comments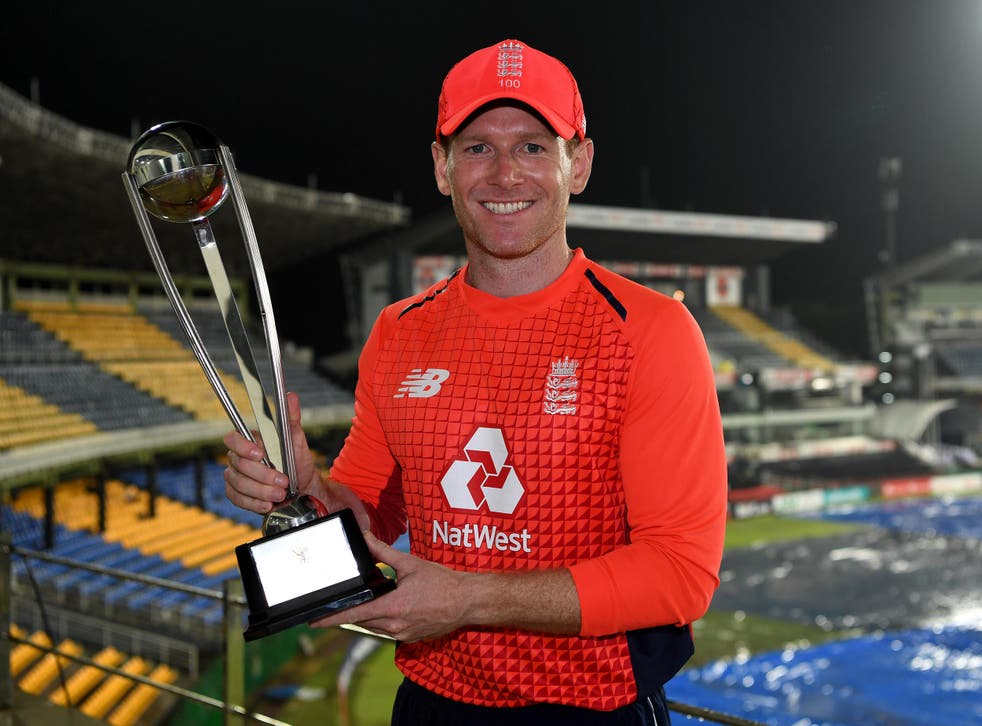 The abuse Eoin Morgan received for playing an "English" or "British" sport when he was younger instead of getting involved in a football kick-about like most of the youngsters on the St Catherine's Estate on the outskirts of Dublin will feel like a world away when he leads England out as favourites in the World Cup next summer.
Born in a family of avid cricketers, the decision to take up the game was easy, but without a professional team or infrastructure for young cricketers in Ireland, Morgan decided from an early age that he would have to make the difficult decision and represent England to best fulfil his exciting potential.
"Growing up in Ireland, being such a small community, there's always a story somewhere in a town or village locally where people haven't quite made it or there's an excuse, they haven't given themselves the best shot or they found it difficult being away from home," he recalled in an ECB documentary. "If I was going to be good or make the most of my potential I wasn't going to be able to do that in Ireland."
What he left behind was what he uses as a foundation and base for his life and cricket: structure, discipline and determination. At the age of 7 he was playing competitive matches with 11-year-olds, and by 13 he knew he had to move away from Ireland. "Being 13 or 14 years old I realised that I had to go away in order to pursue what I wanted to do, that was a sacrifice I had to make. To make the call early was pretty gutsy," he said.
"There'd be people playing football watching us thinking 'they are mad'. And even probably to the point where they would definitely look down on you if you mentioned it. A few comments you'd get was always around, 'why are you playing an English sport, British sport?' It didn't bother me at the time, but it's wrong when you think back, completely wrong.
"Declaring that I wanted to play for England early was a little uneasy for people around me but it sat pretty nicely with me. I might get called cocky, over-confident or getting carried away, but there's no harm in shooting for the lights. Irish cricket was completely amateur and a million miles away from turning professional or getting enough fixtures to improve their cricket."
Morgan recalled that travelling around the country for matches included going north of the border during their height of some of the troubles in Ireland. "Being in situations where you can't control, as a kid, is quite scary," he said.
"You can't go into the wrong area because people will turn the car upside down and burn it. So experiences of that and associating cricket with British or English sport always reminisces with me when I think about travel up to the north in the middle of the summer."
Morgan's exciting and zero-fear batting attracted the attention from T20 franchises around the world and he was quickly globetrotting to perfect his short-form game. His ODI performances for Ireland saw him easily transition into the England side, becoming the fifth player to represent the two countries, and a Test call followed in 2010. After just 16 matches for the Test side, Morgan put it to one side to focus on the white-ball game and is now preparing to lead England in a home one-day World Cup next summer.
"Regardless of the form I've been in, no matter how bad the situation, I've always maintained either the determination or belief, maybe a bit of stubbornness as well that I can get out the other side of it and that's been an important part to me getting to where I am today," said Morgan
"You aspire to get to something and when you achieve it, it makes you feel a huge sense of satisfaction. Playing for England right now means absolutely everything, the sacrifices I made, and my family made means all those sacrifices have paid off. It's an extremely proud moment every time you put on the jersey and you feel like a different person, somebody who represents a huge amount of people around the country and around the world but also your friends and family, because they're part of the journey that you're representing."
Register for free to continue reading
Registration is a free and easy way to support our truly independent journalism
By registering, you will also enjoy limited access to Premium articles, exclusive newsletters, commenting, and virtual events with our leading journalists
Already have an account? sign in
Join our new commenting forum
Join thought-provoking conversations, follow other Independent readers and see their replies