Self-sufficient and self-assured, Eoin Morgan has shaped himself into one of England's quiet revolutionaries
Exclusive interview: Morgan has been – in his own impassive way – one of English cricket's most revolutionary figures of the last 30 years. Here, he tells The Independent his story
Jonathan Liew
Chief Sports Writer
Friday 08 June 2018 08:19 Comments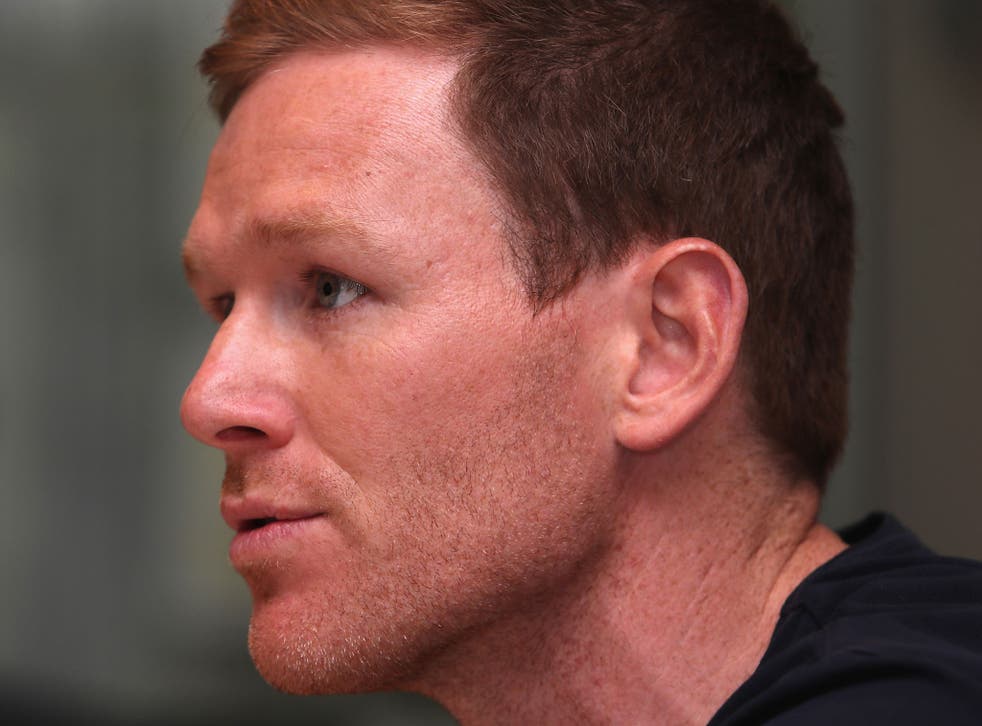 A handshake is offered, and Eoin Morgan accepts it without hesitation. It is only when you grip the hand itself that you notice the bandages wrapped around the third and fourth fingers. The legacy of a painful chipped bone suffered while fielding for Middlesex the previous week.
Briefly, you are confronted by the possibility that you have just squeezed the England captain out of the forthcoming series against Australia. But if Morgan is in any discomfort, he isn't showing one bit of it. As opposition bowlers, opposition captains, team-mates and journalists have discovered at length over the years, Morgan has a poker face to rival any.
It is this immaculate frontage, this implacable wall of dispassion that has always been Morgan's most fascinating feature, as a captain and as a man. From his arrival in the England team almost a decade ago, through revolutions, reinventions and reversals of fortune, Morgan seems almost to have dedicated himself to eliminating emotion from his sporting persona.
When England were cruelly beaten in the final over of the World Twenty20 in 2016, as shattered players slumped to the turf, Morgan simply walked among them: shaking hands, patting backs, offering warm words. His press conference afterwards was almost remarkable for its lack of intrinsic emotion. He captains as he bats as he lives: rationally, impartially, judging every situation on its merits.
In a sense, of course, this is simply a defence mechanism: a sanctuary from the bumph and bluster and babble that swirls around the international athlete wherever he or she goes. Morgan gave up reading the press long ago, unless it is the Racing Post form guide. He can't trust it.
"It's an industry," he explains. "People are trying to do their jobs and sell the game, people that might have agendas. But you can't see that at face value. And it hasn't worked for me. When I first started playing international cricket, people around me started telling me what was being said. And you're never as good as anybody says you are. I try to stay quite logical about things."
It wasn't always this way, of course. Morgan's teachers at school remember a shy, quiet kid: stacks of talent, of course, but anything but leadership material. His team-mates at Ireland age-group level and his early years in the professional game remember a sensitive, deeply emotional young man who would occasionally shed tears after a crucial dismissal. So how did we get from there to here?
Perhaps Morgan's journey – leaving Ireland as a teenager, moving to Middlesex to make a new life in a strange city – offers a clue. "That was part of it, I think," he admits. "I travelled a lot as a kid, trying to achieve my dream – which, from where I come from, was a pretty far-fetched dream. I had to believe in myself from quite a young age. And I had to grow up pretty early."
"Coming to Middlesex, there was one coach in particular who backed me. But outside of that, it's a pretty lonely place. You have to be ten times better than the young guy coming through the academy in order to be signed, or kept on. So I've always had that mentality of trying to stick with what I do. To believe that what I do works. Because that's what I started with."
Self-sufficiency, self-belief and perhaps a touch of stubbornness too. There is something quite refreshing about the way Morgan has steadfastly toed his own line over the years. In refusing to cry about his lost Test career, in refusing to apologise for accepting the many Twenty20 franchise contracts that have come his way, in refusing to sing the national anthem before games, in refusing to tour Bangladesh in 2016, in refusing to salve the sensibilities of Middle England and tell the game's traditionalists what they want to hear, Morgan has been – in his own impassive way – one of English cricket's most revolutionary figures of the last 30 years.
Not that it has a smooth ride, by any stretch. The 2015 World Cup, into which Morgan was thrust as captain at short notice after the sacking of Alastair Cook and watched listlessly as England were eliminated at the group stage, was, he admits, "one of the worst times of my career". Weary, overwhelmed and bereft of answers, Morgan emerged from the tournament with one main motivation: never again.
"I hadn't been through anything like it before," he says now. "It's completely different to being out of form, or just losing games. We weren't unlucky to be knocked out. We never looked like going through. And that's hard to take. Moving on, that almost becomes a marker. You don't want things to be like that ever again."
So in tandem with new coaches Trevor Bayliss and Paul Farbrace, Morgan set about remaking England's white-ball side in his own fearless image. And for all the words and column inches devoted to the transformation of England's cricket over the last three years, comparatively little attention has been paid to how Morgan has transformed its psyche. Indecision, negativity, disruptive elements: all have been purged like a bad smell. "It's about identifying feelings or people coming in with a certain mindset, and nipping them in the bud pretty quickly," he explains. "And for myself, it's a case of moving away from the processes I went through during that period."
Since that World Cup, England's ratio of 41 wins to 18 defeats is the highest in world cricket. They are the only team to score at more than a run a ball. They have almost as many 300 scores as India and Australia combined. They have hit 20 per cent more sixes than anyone else. And last month, they overtook India to become the world's No1-ranked side.
One of the unforeseen consequences is that Morgan's prospects of playing Test cricket, which ended more than six years ago, have withered on the vine. And yet he must have watched the recent series against Pakistan, seen the way Jos Buttler was stunningly recalled to the Test side despite playing little red-ball cricket, sensed the winds of change and wondered: what if? How much longer can England afford to spurn a batsman of his talent?
"Ah, jeez," he says, blowing out his cheeks. "If I got an opportunity to play, of course I'd play. I don't see that happening at all. The way my career path has led me is in completely the opposite direction. It's not through choice, it's through opportunity, and I want to make the most of the opportunity. But to have Jos back in is pretty awesome."
For now, Morgan is still focused on his current job. This Sunday's one-day international against Scotland in Edinburgh, and the five-match series against Australia that follows it, marks the start of England's approach to next year's World Cup, one the home side will be expected to win. We are meeting at an event to launch the one-year countdown to the tournament, and Morgan is keen to stress that for all the hard work England have done to reach No1 in the world, the real graft starts now.
"We have to continue to learn as we go along," he says. "Twelve months is a very long time in the game, and things can change, particularly as younger teams come in and develop. We saw that with Pakistan in last year's Champions Trophy. So it's important for us to keep driving things forward."
Register for free to continue reading
Registration is a free and easy way to support our truly independent journalism
By registering, you will also enjoy limited access to Premium articles, exclusive newsletters, commenting, and virtual events with our leading journalists
Already have an account? sign in
Register for free to continue reading
Registration is a free and easy way to support our truly independent journalism
By registering, you will also enjoy limited access to Premium articles, exclusive newsletters, commenting, and virtual events with our leading journalists
Already have an account? sign in
Join our new commenting forum
Join thought-provoking conversations, follow other Independent readers and see their replies