Eoin Morgan 'unbelievably disappointed' with England's early Cricket World Cup exit as Peter Moores claims 'we'll have to look at the data'
Morgan and Peter Moores were at a loss to explain England's disastrous campaign at the World Cup
Jack de Menezes
,
Tom Farmery
Monday 09 March 2015 13:47 Comments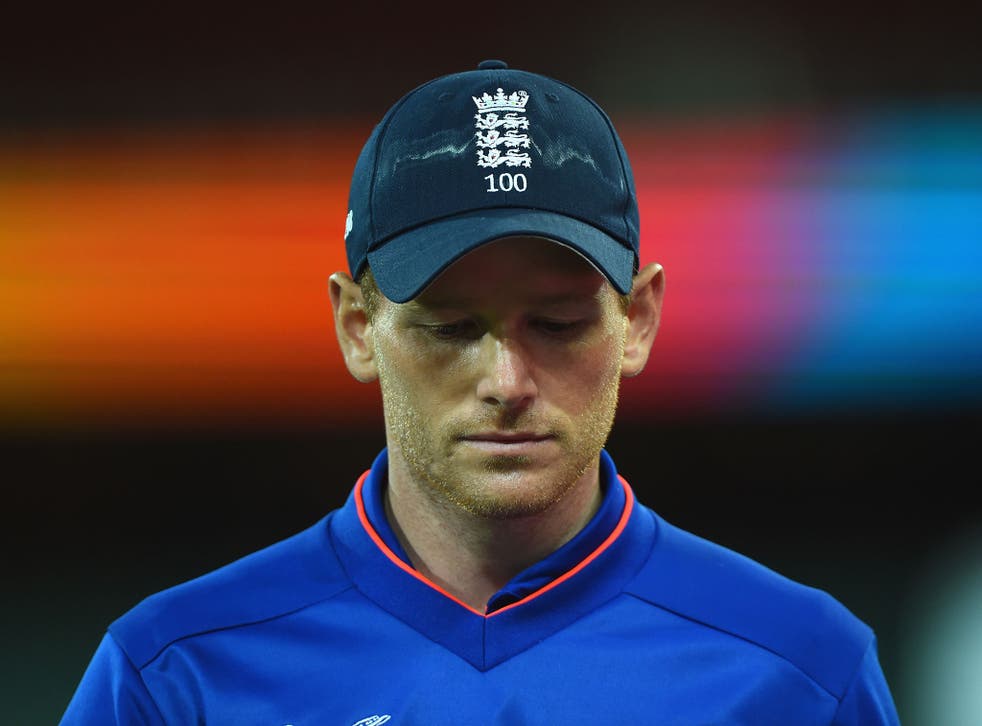 Eoin Morgan admitted he was "unbelievable disappointed" to crash out of the Cricket World Cup at the group stage after suffering a shock 15-run defeat to Bangladesh.
Speaking immediately after the game, in which Morgan scored his second duck of the tournament and the fifth time he has failed to register a run in his last nine One-Day International innings, Morgan said that he was at a loss to explain why England had performed so poorly in their four defeats at the World Cup, while they weren't entirely convincing in the sole victory over Scotland.
Cricket World Cup 2015: 10 young players to watch

Show all 10
"I'm gutted, we've struggled and fallen away since we arrived here. We wanted to get to the quarter-finals and from there fight through three games. The changes which we made at the start of the tournament were necessary and I believe they were right to be made. It comes down to performance, some of our guys performed but we didn't do it as a unit.
"That's happened too often since we landed in Australia. I've no idea what happens from here. It's a surprise we've been knocked out so early."
Questions will also be aimed at head coach Peter Moores following his unsuccessful return to the England helm, and he added: "We feel hollow, we haven't played well enough. I don't know what to say, what to feel... you feel like you've let people down. I don't think we bowled as well as we could have done in the middle but we started well and ended well. The bowlers haven't bowled as well as they wanted to do, that's been reflected in results.
"We should have chased that down tonight. We haven't got a settled team, we lost two key players at the top of the order - Jonathan Trott was our number three - we accept that and move on from it. We picked the side we thought was the best team. We went for more explosive batters but we know historically we were taking a risk because more experienced teams do better in World Cups.
"I don't think Eoin Morgan is a bad captain, just because we lost tonight. The analysis we do is not how it is talked about in the press. That's not the issue, we just haven't played well enough."
Asked why it took him the whole tournament to work out his best side, he said: "I don't think it does take them a whole tournament. We've got to take it on the chin and that's all we can do. We didn't play well enough. We thought 275 was 'chasable'. We'll have to look at the data."
The severe disappointment felt at England's defeat quickly spread through social media as former England batsman Kevin Pietersen, Michael Vaughan and Geoffrey Boycott had their say on the defeat.
Kevin Pietersen tweeted: "I CANNOT BELIVE [SIC] I JUST CANNOT! But, well done Bangladesh! You deserved it.
"DO NOT SAY WE HAVENT PRIORITISED ODI CRICKET! We played a back to back Ashes to make sure England played 6 months of ODI's before this WC!"
"They looked more energetic, they put in a lot of effort and I thought they were up for it," Boycott said on BBC Test Match Special. "The pitch was flat and the outfield was quick, and you get 275 more often than not. They did alright until the Bangladesh seamers started bowling tight to Bell and root, and the batsmen could not rotate the strike."
Michael Vaughan tweeted: "Don't worry… I am sure some positives will have come out of this WC for @ECB_cricket #MyA***."
Register for free to continue reading
Registration is a free and easy way to support our truly independent journalism
By registering, you will also enjoy limited access to Premium articles, exclusive newsletters, commenting, and virtual events with our leading journalists
Already have an account? sign in
Join our new commenting forum
Join thought-provoking conversations, follow other Independent readers and see their replies