Harry Brook eyes family record as dream start to England Test career continues
Brook ended day one of the second Test against New Zealand unbeaten on 184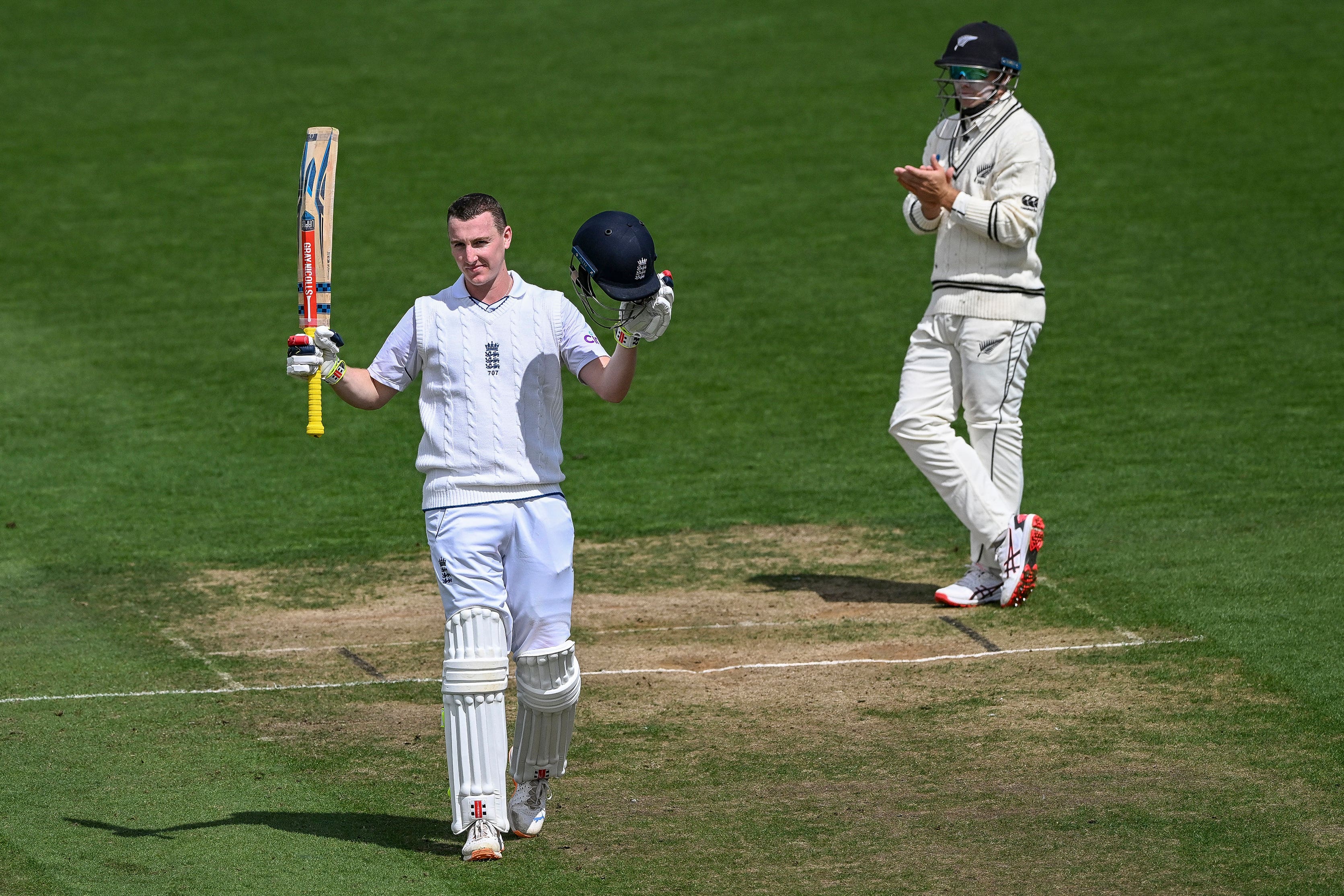 Harry Brook was being talked about in the same breath as some of Test cricket's all-time greats after his fourth century in six appearances, but the England batter would settle for having the highest score in his family.
Brook's knock of 184 not out on day one of the second Test in Wellington followed up his tons in Rawalpindi, Multan and Karachi as he continued his sensational start to life on the big stage.
By the time England reached stumps on 315 for three he had moved to 807 runs in nine innings, more than any other player has scored at the same stage, with a remarkable average of 108.
That places the 24-year-old on course to become the fastest ever to the 1,000 mark, a record currently held by his fellow Yorkshireman Herbert Sutcliffe and West Indian Everton Weekes. His early statistics even bear up to comparison against the great Sir Donald Bradman, who also started his illustrious career with four hundreds in six Tests.
But for Brook the magical number is 210, father David's personal best from his days in league cricket with Burley.
Speaking after his game-changing 294-run stand with Joe Root, who also banked an unbeaten century, Brook said: "I haven't thought about (records) really. But my dad's highest score is 210 and my highest score is 194 so that's in the back of my mind.
"I'm sure he'll be messaging me, reminding me. I was only two years old at the time."
Brook senior hit 29 fours and seven sixes in his day out against Woodhouse in 2001, and his son brought the same kind of style to a New Zealand attack which he treated like a club outfit.
He struck 25 fours and five maximums, showing off some serious muscle as he and Root lifted England from trouble at 21 for three to their serene position at the close. Brook is all too aware that golden runs of form like this do not go on forever, but is basking in it while it lasts.
He said: "It was my best yet, definitely. It's good times at the minute but just around the corner there might be bad times so you've got to enjoy these moments and cash in as much as I can.
"One of the things I've really tried to do is stay as level headed as possible, but it's been a good few months. I'm sure the average will come down very quickly but I'm just trying to live in what's happening at the minute."
Brook and Root, two men who rolled off the same Headingley production line, proved a perfect partnership as they took a perilous position and turned it into a commanding one.
They dovetailed brilliantly, Brook going at a fierce pace and sitting deep in his crease while Root stood well out of his ground and played the percentages at a gentler rate.
"I've always enjoyed watching Rooty bat and I've enjoyed batting with him even more," he said.
"Obviously being from Yorkshire we've spent a lot of time together, we have quite a bit of banter and we were both enjoying it while we were out there. I think he was more excited than I was when I got to my hundred.
"It's a regular occurrence for him, he's got 29 of them now."