India vs England: Virat Kohli's spinners offer a bowling masterclass to leave visitors' batsmen stumped
Ravichandran Ashwin and Ravindra Jadeja took full advantage of the conditions on offer to overshadow England's spinners and help guide India to victory in the third Test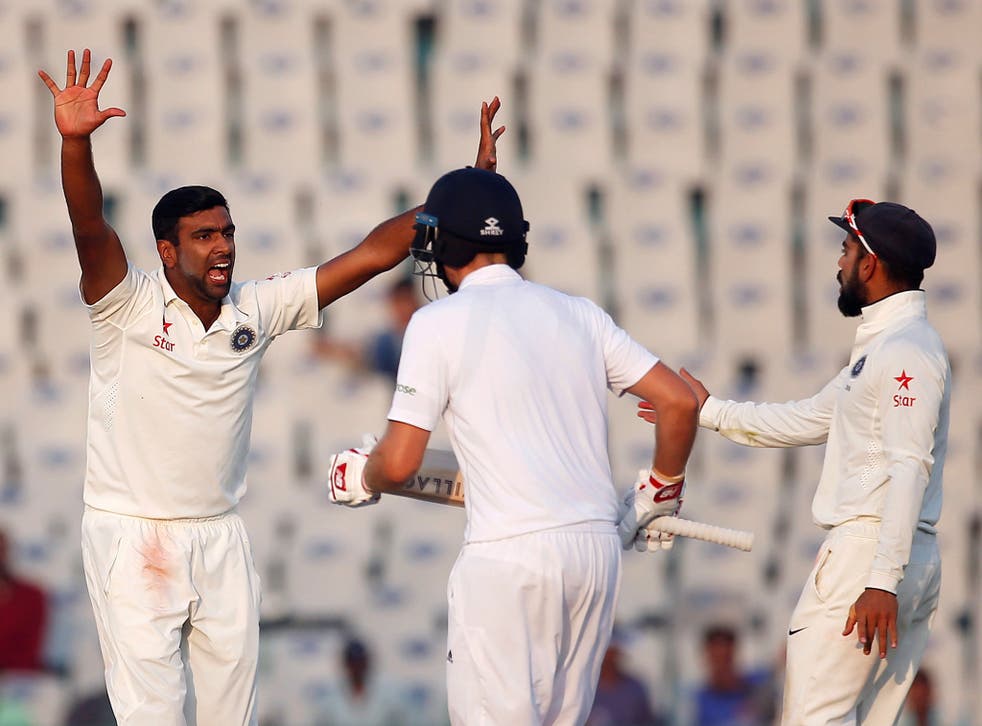 There has been one glaring mismatch so far in this series - that between India's spinners and those from England - and it has brought two swingeing defeats for the visiting side.
England knew their spinners were likely to be overshadowed on these dry, bare pitches but they did not know the extent of the imbalance, which was why they have picked three of them in a classic case of quantity over quality. Unhappily for them, the safety in numbers option has not worked.
India have also played three spinners but relied mostly on the duo of Ravichandran Ashwin and Ravindra Jadeja. The pair are experienced, especially in India where they will have seen every combination of conditions possible. The only exception was at Rajkot, which held its maiden Test, and where the extra pace and bounce of the pitch gave batsmen more scoring options against spin.
Being in possession of that kind of knowledge means the only real variables for Ashwin and Jadeja are the batsmen at the crease. Which means they can fully concentrate on working them over rather than worry about finding the right pace to bowl for the conditions, something England's bowlers have had to do.
Ashwin is the No 1 ranked Test bowler at present but where he and to a lesser extent Jayant Yadav, his fellow off-spinner, have been far superior to England's spinners, is in the dip they get during the ball's flight.
To be effective, spin bowling needs to create a deception, which comes in two forms: off the pitch with turn, but also in the air with flight. It is this latter quality in which India's tweakers have surpassed their opponents due mainly to the powerful overspin they impart on the ball, a force that seems, at times, to defy even Newton's laws of gravity and motion.
Good batsmen can often cope with sideways movement on its own, yet become vulnerable when spinners mess up their footwork with dip and flight. That, and mis-reading the length, are the causes of most dismissals against spin at this level.
With their naturally supple and subtle wrists, India's spinners have an advantage over most of their counterparts in varying the ball's flight without detection. It is what allows them to put extra energy on the ball, or take it off, without giving batsmen any obvious clues that they have done so.
Two perfect examples of this sleight of hand were the second innings dismissals of Moeen Ali and Jos Buttler in Mohali. Both batsmen were being aggressive and trying to use their feet to open up boundary options. Yet, both Ashwin and Yadav read their intent and intentionally held the ball back in its flight enough for both men to miscue their shots and give catches to fielders placed specifically for the deceit.
The speed of spin bowling is important too. If the pitch is worn and taking turn regularly, you will rarely see India's spinners mess around much with tossing the ball up. This is where Jadeja, with his brisk pace and flat trajectory, excels. Instead of merely landing the ball onto the broken parts of the pitch, as England's spinners do, he drives the ball into the surface. That way he not only gets more purchase, but greater extremes in bounce too, whenever the ball locates a crack.
Side spin remains important but, with the advent of the Decision Review System, perhaps not as vital as it once was. Clearly spinners would not fool batsmen for long if the ball just went straight on all the time, but they only have to turn it the width of the bat to be effective, now that lbws tend to be given even if the front leg is plonked well down the pitch.
Anil Kumble, India's greatest spin bowler, never had DRS during his career but his total of 619 Test wickets would have been added to by over 100 had he done so. For a wrist-spinner Kumble was unusual in that he did not turn it much and bowled it almost at medium pace. But when the pitch was broken, he was virtually unplayable, too quick for batsmen to use their feet to smother any spin, but with the dip to turn their footwork to jelly.
On figures alone, Adil Rashid, England's wrist-spinner, would seem to have done well in Indian conditions, his 17 wickets at 28.7 looking fairly impressive. So far, though, he has yet to threaten with a match-turning performance, the main reason being he cannot bowl it quickly enough to hurry India's batsmen and still maintain any semblance of control, unlike Kumble.
With DRS bolstering the prospects of finger spinners, who can bowl it more quickly without compromise than most wrist-spinners, the latter have become a rarer breed in Test cricket with India, South Africa and New Zealand dispensing with their "leggies" for more orthodox options.
Perhaps we shouldn't be surprised at the mismatch in this series. England's spinners have rarely won Tests on their own in India. Usually, the most they have been able to give their captain is control while the seamers and swingers have done the telling damage. Only in Mumbai four years ago, on a red soil pitch that turned from the outset, have a pair of English spinners, Graham Swann and Monty Panesar, completely outperformed their Indian counterparts.
Yet, India's batsmen are better against pace now than previous generations which has upset the dynamic further, and why this England team have yet to find a solution to their many problems.
Join our new commenting forum
Join thought-provoking conversations, follow other Independent readers and see their replies