England's astonishing collapse hands India Twenty20 series victory
England lost their last eight wickets in just 19 deliveries for a paltry eight runs as the visitors fell 75 runs short of India's impressive score of 202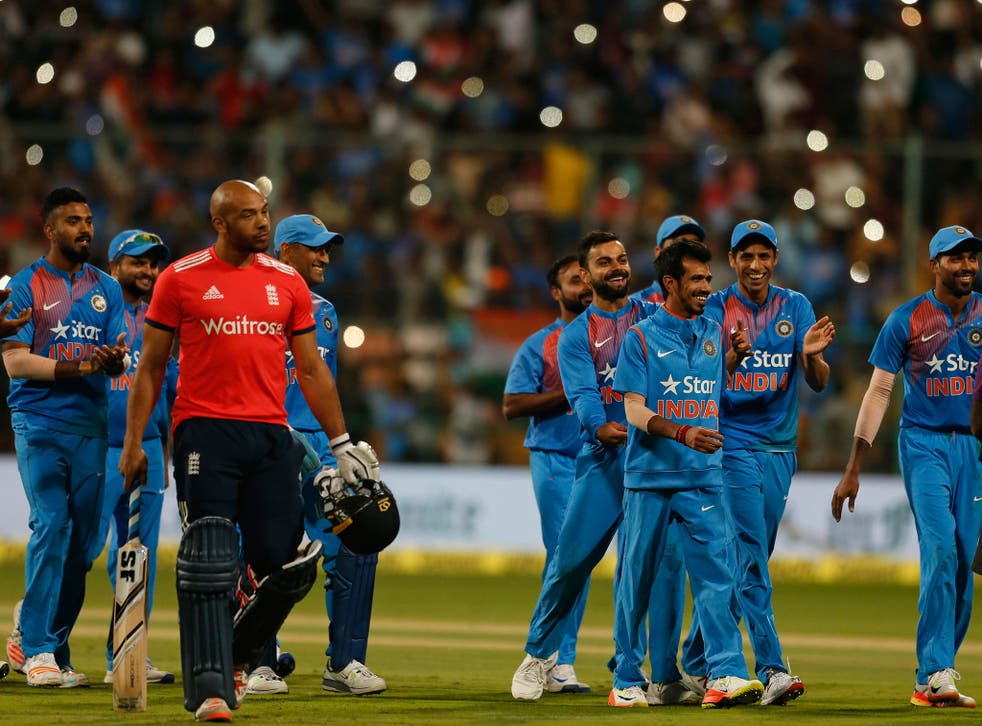 Bilateral T20Is can seem desperately in need of greater meaning, but it did not seem that way as a boisterous crowd at the Chinnaswamy Stadium were left intoxicated by a brilliant, series-clinching spell of legspin from Yuzvendra Chahal. With England well-placed to chase down 203 with eight overs left, the crowd were treated to the re-emergence of that phenomenon that had lay dormant in the previous five limited overs games: the gruesome England batting collapse. And here was one for the ages, as England surrendered the series with a loss of 8-8 over 19 balls, a daze of desperate hoicks and heaves.
For Chahal, here was the greatest day of his professional life. His only experience of international cricket prior to this series had been in Zimbabwe, but marrying considerable turn of his leg break with a lethal quicker ball, a googly that England could not decipher and wonderfully exuberant celebrations, he transformed a match that, risible as it seemed, England had appeared on course to win. And so, as Chahal was lifted up by his teammates on his home ground, toasting the third greatest T20I performance of all time and a passage of play that defied reason or analysis, England faced boarding their flight home in dismay. A broadly encouraging limited overs tour had ended with a collapse for the ages: no international T20 side had previously lost eight wickets for under 16 runs.
It was not the close denouement the match and series had seemed to be building up towards, but was all the more thrilling for being so unexpected, out of kilter with the rest of the match and series.
Twelve overs into their chase, England had been well-placed at 114-2, needing 89 from eight overs to complete a series victory. The match changed first subtly, not through a mad barrage of wickets but through dot balls: Amit Mishra, the other half of India's legspinning pair, only conceded three from the 13th over, flummoxing Joe Root.
That was the prelude to the bedlam that followed. Out of necessity Eoin Morgan, who earlier heaved Suresh Rain for three consecutive sixes in a sparkling knock, slog-swept Chahal's googly to midwicket; next ball, a flipper was too quick for Joe Root's attempted pull. As the tannoy bellowed our We Will Rock You, England now needed to score at 14 an over with two new batsmen at the crease.
They promptly heaved their way to oblivion. Chamal added three wickets in his final over, Moeen Ali with another googly, Ben Stokes top-edging a short ball, and Chris Jordan stumped, charging without a clue about where the ball would pitch or which way it would turn, to end with the best best T20I figures in history.
England, perhaps, deserve a little sympathy: they might have saved a little ignominy from putting up the white flag earlier, but the notion of meekly plodding to a 50-run defeat is antithetical to the values of this team.
"We committed a cardinal sin," Morgan said. "We haven't produced a batting performance as bad as that in maybe two and a half years." After the loss of two wickets in two balls, he rued, "It might have taken a smarter bit of cricket to try and get things going against." Yet his anguish was more with England squandering a match-winning position in Nagpur in the second T20I, when they should have sealed the series before then even got to Bangalore.
It was a sad epitaph to a limited overs tour that has showed off the thrilling promise of their white ball side to India, but also exposed some frailties too: England have now eight of their last 11 winner-takes-all deciding matches in series or global events across the two white ball formats. In England's chase - oddly enough, and proof of how distinct T20 is from the other format - the most culpable batsman was their top scorer. Joe Root lacked fluency, and, by the standards of modern T20, his 42 from 37 balls were positively cumbersome - and, indeed, surely contributed to Morgan's dismissal.
With the series on the line at the Chinnaswamy Stadium, an intimate ground nestled in the heart of the city and, the evening had a climactic feel. Those in Bangalore had good reason to expect runs and more runs: the average score batting first at the Chinnaswamy Stadium in the last IPL season was 197.
That figure owed much to Virat Kohli, who scored three centuries for Royal Challengers Bangalore here last year, and has made more runs at the venue than any man has made at any ground in T20. Yet he added only two to that tally today before succumbing bizarrely. In the second over, a ball from Chris Jordan ricocheted off Kohli's pads into the legside, prompting him to try and scramble a run. But Jordan picked the ball up in his stride and threw down the stumps, leaving Kohli aghast. Perhaps he was angry with himself; perhaps - and it initially seemed that way - he was even angry with Kl Rahul, his partner, for not harrying down the pitch to his score. Either way, the sight of Kohli trudging off after seven balls was not what any of the 35,000 crowd had come to see.
What they had come to see were sixes, and lots of them. Chinnaswamy is accustomed to as much: the stadium averages eight sixes an innings in T20 cricket since 2014, the highest in the globe. That statistic rather highlights how admirable Jordan and Tymal Mills were in denying India a single boundary until the end of the third over.
Another eleven came in India's innings thereafter, including five from Suresh Raina, and three wonderfully crisp, disdainful sixes from Yuvraj Singh in a pulsating ten-ball cameo; his comeback already feels like one of the great cricketing stories of 2017. MS Dhoni hit a comparatively sedate two sixes in his 36 balls, but in the process he finally scored his first T20I half-century. How incongruous it seems that Dhoni, the man more than any other who made India fall for T20 cricket in 2007, waited until his 76th international to register the landmark.
The effect was to leave England toiling, just as they must have envisaged on such a benign batting surface, with Jason Roy's fielding mishap in the final over - he allowed Hardik Pandya's blow to spill through his hands and go for six - helping India clear 200. While Jordan was pulverised on his IPL home grown last year, Mills has reason to smile. He snared Yuvraj with a wicked slower ball, which so deceived him that it looped off the back of his bat to Jos Buttler: opportune timing indeed with interest in Mills from IPL franchises growing.
All this, though, was long forgotten by the end, England punch-drunk after a collapse as ignominious as those in the final two Test matches, when consecutive defeats were sealed by losing six wickets for 15. There was only one Indian survivor - Kohli, who aptly secured the series with a stunning catch at slip - from those Tests. Yet, for all these changes, the most salient contrast between the teams - India's overwhelming supremacy in spin bowling - was the same.
Join our new commenting forum
Join thought-provoking conversations, follow other Independent readers and see their replies