England beware, India want to show the world just how good they can be
Fresh from a historic win against the odds in Australia, India welcome England with their big names back and designs on building a dynasty, writes Bharat Sundaresan
Thursday 04 February 2021 10:23
comments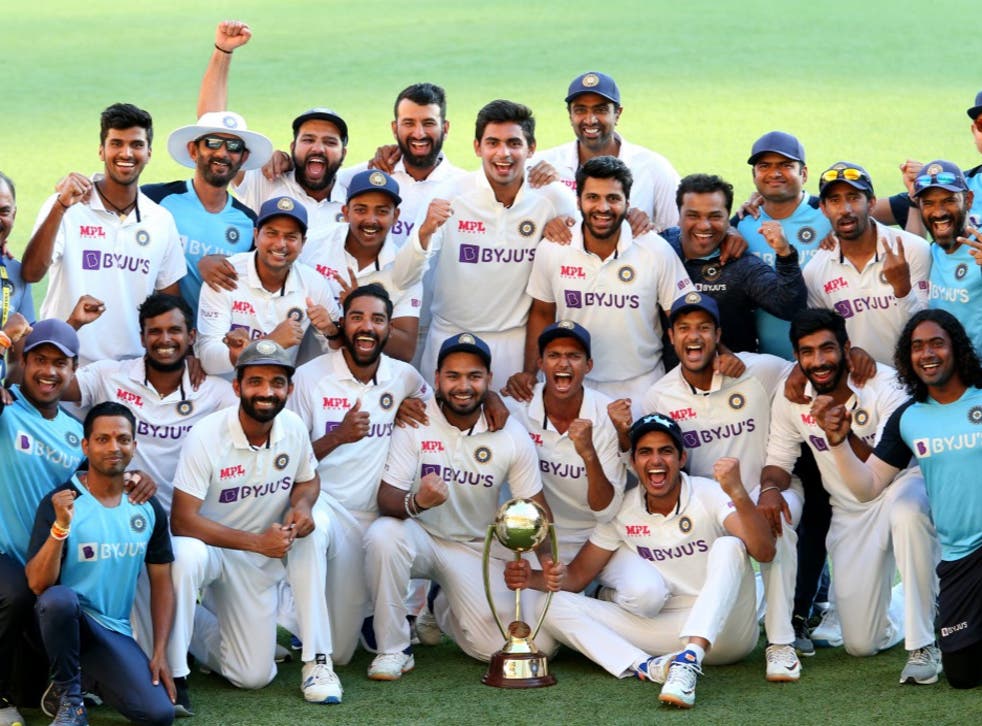 Upon seeing the squad that India have announced for the first two Tests against England, you'd be excused if the immediate reaction as a true romantic is rolling your eyes before following it up with a rueful sigh. For, there goes your chance of witnessing a miracle or even a heist. The net bowler won't be getting a game. You won't get to see a reserve who hasn't played first-class cricket in nearly half a decade playing a Test as a lead spinner. And no rank outsiders like the 51-year-old fielding coach or the sole journalist of Indian origin on tour with the out-of-control mane and the innocuous wrong-foot left-arm action will be in line for a shock debut.
No, normalcy will be restored instead at least in a cricketing sense in this abnormal world. A majority of the big names are back after all. Virat Kohli returns to take over as captain, Ishant Sharma and Jasprit Bumrah are fit again and even Hardik Pandya has been given a Test recall, mostly as a pure batsman.
Having breached Australia's Gabbatoir with a rag-tag fantasy XI, the Indians are now back home at nearly full-strength to safeguard their own fortress that has only been raided successfully twice in the last 21 years - the English incidentally being the last team to do so in 2012. It's almost like the real Indian team is about to stand up for the first time since the long-forgotten debacle of 36 all out only one and a half months ago.
From the England team's perspective, all this only makes their task look more daunting than it already is. Indian cricket is at an all-time high after an incredible series win in Australia that seemed to be scripted by someone who was high. But neither Kohli nor the team management led by Ravi Shastri will dwell on their unmatched glory Down Under for too long. They have bigger plans in mind. They have a dynasty to build. And they're unlikely to rest before they get one step closer to crowning their current supremacy as a Test team by qualifying for the World Test Championships final at Lord's against the Kiwis.
That time Alastair Cook's world-beating outfit achieved the rare feat of overcoming India in a Test series on their home soil, they did so against a team at the end of an era. This current one looks primed however to define one.
If it was Indian cricket's brief tryst with the Attitude Era (to borrow a WWE trope) that we got a glimpse of in Australia, where you simply had no choice but to expect the unexpected, Kohli & Co now look set to embark on their own era of Ruthless Aggression much like the indomitable Australians did at the turn of the century. That of course has a lot to do with the number of players in this mix who seem to look at what's to come in their Test careers with an unsatiated appetite rather than be content with throwing longing glances at the rear-view mirror.
Despite all the rogue chatter in some circles about Kohli's Test captaincy being on the line following Ajinkya Rahane's heroics as the leader, this remains Virat's team. But he will want to impose himself regardless on the English very early on in the piece with bat in hand to just in case show who's the boss. At the other end would be Cheteshwar Pujara, who for all his daredevilry against the Aussie fast men in Brisbane, has not scored a Test century at home since November 2017. Preceding them in the batting line-up is the most attractive opening combination, Rohit Sharma and Shubman Gill, India have probably ever put forth. Rohit is still looking for that one big series against a high-profile team to cement his authority over the Test opening slot while with Gill you want him to get big scores so that you get to see more of him bat. That Mayank Agarwal might sit out of the playing XI after averaging 99.50 across 5 Tests with two double-tons the last time India played at home, is testament to the scary depth of India's batting resources. Then there's Rishabh Pant, the superstar of the Australian tour, who will be desperate to show that he can watch balls, whether they're spinning or seaming, safely into his gloves like he guides them on to his bat.
Most of the Indian players have swapped one bubble for another since returning from Australia. R Ashwin though has been residing in his own little mental one since the Adelaide Test in December. The 2012 Test series was arguably the only time Ashwin's effectiveness in home conditions was questioned. Now having conquered Steve Smith and Australia, the Ashwin that the English will face is easily the most confident he's been with his bowling in a long time. The visitors will at least have the leeway of not having to contend with Ravindra Jadeja, their tormentor in Chennai from four years ago.
There's been a lot of talk around England captain Joe Root's proficiency against spin bowling. And an overemphasis on the visiting team's hopes being solely dependent on how they tackle the Indian spinners. England will obsess over spin at their own peril.
It's the fast bowlers who've been winning Tests for the hosts in recent times after all. Umesh Yadav and Mohammed Shami, both of whom are currently out with injury, averaged 12.18 and 14.76 respectively against South Africa at home with the ball. It's the same pairing, along with the leader of the attack, Ishant, who tormented Bangladesh again averaging 10.75 and 15 with the ball.
Not to forget, Ishant has also been waiting to play his 100th Test for a while now.
The might of their pace attack has meant that India no longer offer rank turners to teams from outside the subcontinent. And England's best chance might well be backing their inherent strengths rather than try to beat India at their own game.
The series will also provide India with a good opportunity to show off the latest object of their pride and joy, the swanky new Sardar Patel Stadium with its 114,000 capacity, the largest by a distance in the cricket world. Even at half crowd strength it's expected to be quite the spectacle, especially for the pink-ball Test. It'll also be the perfect platform to showcase their cynosure act, Bumrah, in his Test garb for the first time on home soil, that too at his home-ground.
Though a formidable challenge, it's not all bleak for England. The narrative of Indian cricket historically has been such that after a high does come a dip. It'll really come down to whether Root's team can capitalise on any opening that comes their way and make it count.
For now, they seem to have taken a leaf out of India's rather fanciful playbook in Australia. In addition to naming squads, in lieu of rotating their players, where their first-choice playing XI are never together, they've also had one of their players suffer a freak injury two days out from the first Test. All eyes will be on the Indians to be the cerebral executioners over the next four weeks. Perhaps it's England then who might provide the much-needed romance that we simply can't do without anymore in a Test series. Not after the way we were spoiled at the Gabba.
Join our new commenting forum
Join thought-provoking conversations, follow other Independent readers and see their replies