Virat Kohli and Kedar Jadhav hit centuries as India chase 351 to beat England in first ODI
India won by three wickets with 11 balls to spare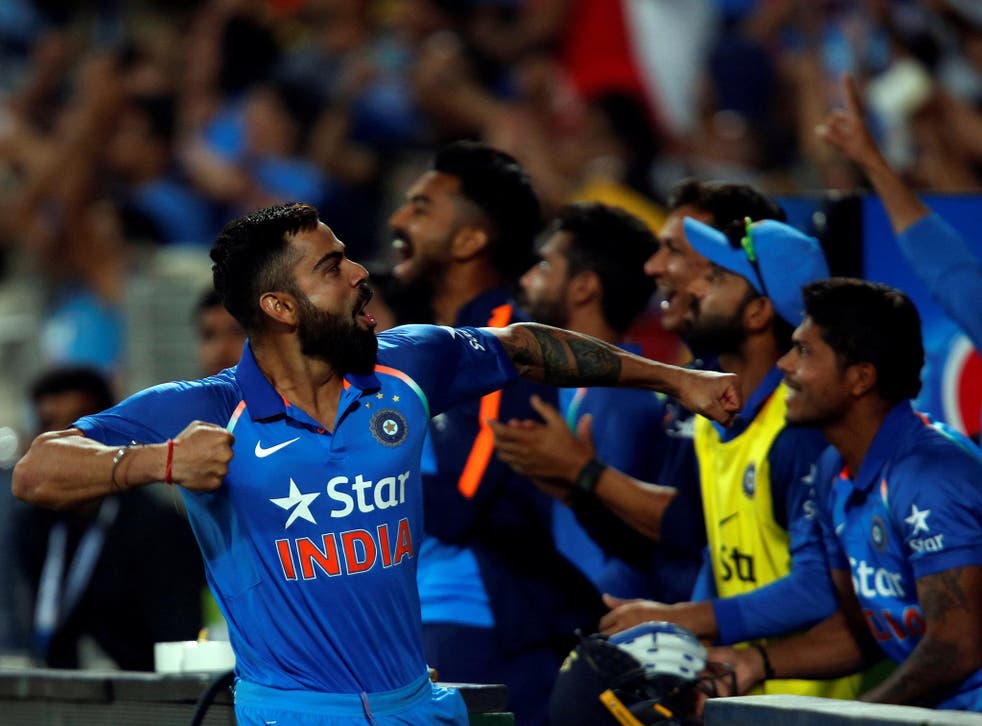 A new year, a new format, a different captain and confronting a man leading his country for the first time as full-time ODI captain: England had reason to believe that their limited overs tour of India would be less dispiriting than their Test sojourn. And yet, for all these changes, the abiding sense at Pune was of continuity, as Virat Kohli once again showcased his credentials as the best all-format batsman in the world game, and England left perplexed by how their legitimate victory hopes had given way to a comprehensive defeat.
England also confronted an unfamiliar foe: Kedar Jadhav, a diminutive 31-year-old who had previously only made an international half-century against Zimbabwe. Not that Jadhav lost much by comparison with his captain, decimating England with clean hitting down the ground, legside flicks of wonderful precision and silky late cuts like that to reach a barnstorming century, off just 65 balls. It was all the more satisfying - and celebrated all the more rapturously - for coming at his home ground.
So the bumper crowd at Pune were left not only with the result they wanted, but a pulsating and widely oscillating route there. The two sides took turns to come back from the depths: India from the hopelessness of being four wickets down and needing a further 288 to win, a position from which only one ODI in history had ever been won; and then England from the despair India's fifth-wicket stand of 200 in 24.3 overs, through sheer bloody mindedness and perseverance from Jake Ball and Ben Stokes. In the event, though, England's riposte came too late to overcome the damage wrought between Kohli and Jadhav.
The dazzling strokes rather blurred into one, but one will linger above all. Shortly after Kohli had reached his century with a straight six, a good length ball from Chris Woakes gave him no room to free his arms, yet his timing and Popeye forearms flicked the ball over deep midwicket for six: a shot few could have even conceived of, let alone had the audacity to execute. It was enough to invite a tantalising thought: is Kohli's best yet to come? If the scope for further betterment seems limited, purely by dint of the stratospheric heights he has already reached - this was Kohli's 17th ODI hundred chasing, equalling Sachin Tendulkar's record - then Kohli's alliance of regal strokeplay and harrying between the wickets suggested no absence of desire.
While Kohli's story is familiar, Jadhav's tale is an antidote to a world of athletes marked out for greatness from their teens. He had waited until 29 to make his international debut and his profile is more county journeyman than Kohli; when he arrived at the crease, with India in disarray at 63-4, Jadhav had 5,800 Twitter follows to Kohli's 13.6 million.
Amid such carnage it was obvious to ask what else could England had done. There were avoidable mistakes: England were distinctly ragtag in the line they bowled, while 11 wides amounted to a needless act of self-harm. Perhaps the team selection was also awry. Liam Plunkett's extra pace, bounce and vim would have provided a welcome alternative for Eoin Morgan; so might the guile and combativeness of Stuart Broad, who has been excelling in the Big Bash League. Still, for all these failings, England's greatest mistake of all was simply to encounter Kohli, Jadhav and a partnership for the ages.
The upshot was that England's own batting, commendably reaching 350-7 without anyone hitting an innings-shaping century, was left futile. Still, that cannot obscure their startling, and continued progress: they have now reached 350 nine times in ODIs, with seven of those after the 2015 World Cup.
Nestled within these statistics is proof of England's intoxicating ODI revolution under Eoin Morgan. And yet these numbers, however mesmerising, cannot quite obscure that Morgan needs runs. This isn't the result of his decision to miss the tour to Bangladesh - he was given a free choice so can hardly be castigated for taking it - but rather his own middling ODI returns. Since the start of 2016, Morgan has two 50s in 14 ODI innings, an average of 29.66 and strike rate of 88.33. Here he started scratchily, hit a sumptuous slog sweep for six and then fell getting a sliver of an edge, detected on review but not by the umpire, opening the face of the bat.
Not that England seemed perturbed. Joe Root played with the responsibility befitting a new father, even if his silky accumulation - only 30 of his 78 runs were in boundaries - came to look almost adhesive set against the mayhem that was to follow from Kohli and Jadhav.
Jason Roy had already given them a fine start, his crisp straight drives ensuring that England suffered little through Alex Hales' doziness in not scampering for a second run. The brilliant direct hit from Jasprit Bumrah, at fine leg, was a testament to how Kohli has transformed India's fielding through the force of his example.
At 235-4 off 40 overs, England had reached the sort of promising juncture from which they would once have stuttered to 305. No longer. Instead, they proceeded to add 115 in the final 10 overs, powered by pyrotechnics from Ben Stokes and Moeen Ali, who produced an astonishing flat-batted pull for six to take advantage of the gap vacated by deep midwicket moving a little squarer. Never have England made so many batting first and lost - but seldom have they encountered the overwhelming force of such greatness.
Register for free to continue reading
Registration is a free and easy way to support our truly independent journalism
By registering, you will also enjoy limited access to Premium articles, exclusive newsletters, commenting, and virtual events with our leading journalists
Already have an account? sign in
Register for free to continue reading
Registration is a free and easy way to support our truly independent journalism
By registering, you will also enjoy limited access to Premium articles, exclusive newsletters, commenting, and virtual events with our leading journalists
Already have an account? sign in
Join our new commenting forum
Join thought-provoking conversations, follow other Independent readers and see their replies