India vs England: The buck stops with the bowlers - they failed to provide the visitors with any real cutting edge
England's batsmen cannot be faulted all that much - they posted competitive first innings total in four of the five Tests. Instead, it was the bowlers that led the side down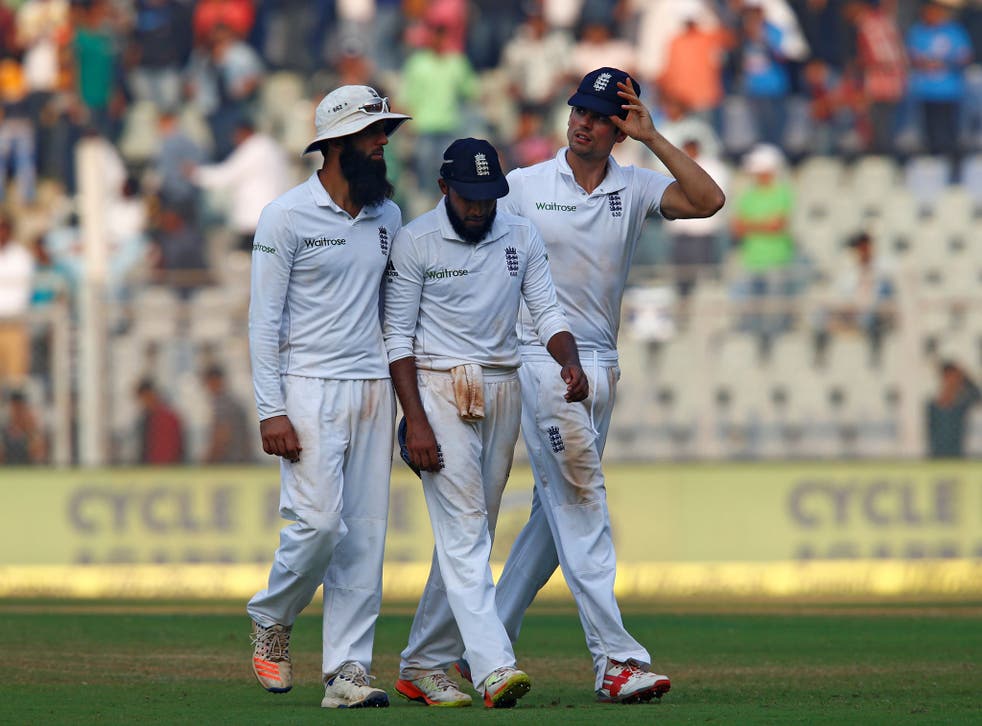 It was left to England's batsmen to salvage a scintilla of pride on the final day in Chennai after a stinker of a Test series against India. But with resilience levels low and their opponents' spirits high, hanging on for a draw proved beyond them and they were dismissed with 30 minutes of play remaining.
However one dresses it, four-nil is a hammering. Yet England's batting cannot be faulted all that much. Competitive first innings totals were posted in four of the five Tests. Instead it was the bowling that misfired, culminating with a horror show in Chennai where India scored 759 for seven declared, the most runs ever conceded in a Test innings by an England team.
It was a savage reckoning. For India to average 550 in their first innings over the series, another record, on pitches offering plenty to the spinners and something for the others, was as chastening as it gets for a side whose bowling has long been considered its most reliable resource.
The lack of cutting edge from England's bowlers meant that chances were not created that often. Of those that were several crucial ones, Virat Kohli in Mumbai, Murali Vijay in Visakhapatnam, were spilled, to great cost. In fact, England missed 20 chances over the series, a number matched by India though their bowlers created many more opportunities.
Why were England so poor with the ball? The main reason was a confusion borne of poor strategy, muddled roles, and the lack of a settled attack. Injury to Stuart Broad and James Anderson at various times during the series meant that England's premier new ball pairing only played together once and only then after Anderson had returned from a long lay-off. Also, reverse swing, which appeared earlier than convention would suggest in the opening Test in Rajkot, rarely featured thereafter, its absence a blow to bowlers lacking the hurrying speed of their Indian counterparts.
England's spinners have rarely decided Tests in India but they have given past captains the control necessary so that pace can be used to make the decisive breaches. The exception to that was four years ago when Graeme Swann and Monty Panesar destroyed India in Mumbai. Whether Cook's thinking was influenced by that this time is unclear. What isn't, is that his spinners gave him neither control nor a cutting edge.
While individuals must take responsibility for their own performances, Cook has not helped matters with his captaincy. It was obvious from the start that he did not trust Adil Rashid, and while he grew to trust him as the series wore on, it was a begrudging trust, a mixed message that unfortunately transmitted itself to the bowler. Of course, some players respond favourably to a captain's displeasure but most get dejected, with Rashid firmly in the second camp.
Rashid's performances are where raw data can be misleading, and where context is everything. The wrist-spinner took 23 wickets in the series at 37 runs apiece, but he rarely threatened when it counted most. Indeed, he seemed to go missing whenever Cook wanted to attack, the pressure of expectation raising anxiety levels to the point where he bowled too many bad balls. It is nigh on impossible to create pressure when that happens and it is pressure, and the wickets than ensue from it, that turns Test matches.
It never became clear, even to Cook himself, who his best spinner was during the series - his go-to man when conditions and match situation demanded a decisive spell. That lack of clarity came to a head in the fourth Test in Mumbai after England had made 400 on a challenging pitch. India's batsmen are weaned on playing spin but any tweaker good enough to represent his country should have been able to dominate them in such conditions. As it was, Kohli made 235 and India posted 631, a fantasy total given the circumstances.
Whether the nature of modern cricket, with its analysts, lends itself to linear thinking, but Cook appears to have very fixed ideas on how to win cricket matches. As such he appears unable to riff or improvise. While formulaic cricket can bear fruit in places like England you need to react quickly or even predict things in India, where the moment to strike can pass quickly.
Take Cook's use of Ben Stokes, his best bowler in Bangladesh and the most dangerous looking bowler, in terms of making something happen, in India. Stokes reverse-swung the ball appreciably in Bangladesh, though the different cricket balls used in India did not afford him the same movement. As such, Cook, presumably because he equates reverse-swing with Stokes, under-utilised him despite the fact that the bowler possesses the pace, aggression and the self-belief which many feel to be the main ingredients needed to conjure wickets in unpromising circumstances.
The captain boobed on other matters too despite the advantage conferred upon him by winning four of the five tosses.
England had two good chances to win - during the first Test in Rajkot and again during the fourth one in Mumbai. As already discussed, the spinners bottled the opportunity presented in Mumbai but in many ways everything that befell England in their 4-0 defeat, stemmed from the missed opportunity in Rajkot where Cook's lack of adventure enabled India, outplayed for the only time in the series, to escape with a draw. After England's drawn series in Bangladesh, most of us felt they would take a hammering from India. Maybe Cook felt the same. England's good performance in Rajkot certainly seemed to take him by surprise. But instead of riding that wave of unexpected excellence and pushing hard for the win, his instinct was safety first and it has cost him the series and, if the usual laws of sport prevail, the captaincy as well.
Join our new commenting forum
Join thought-provoking conversations, follow other Independent readers and see their replies