India vs England: Debutant Haseeb Hameed's tortoise approach more fruitful than Ben Duckett's hare
Hameed managed 31 on his England bow in Rajkot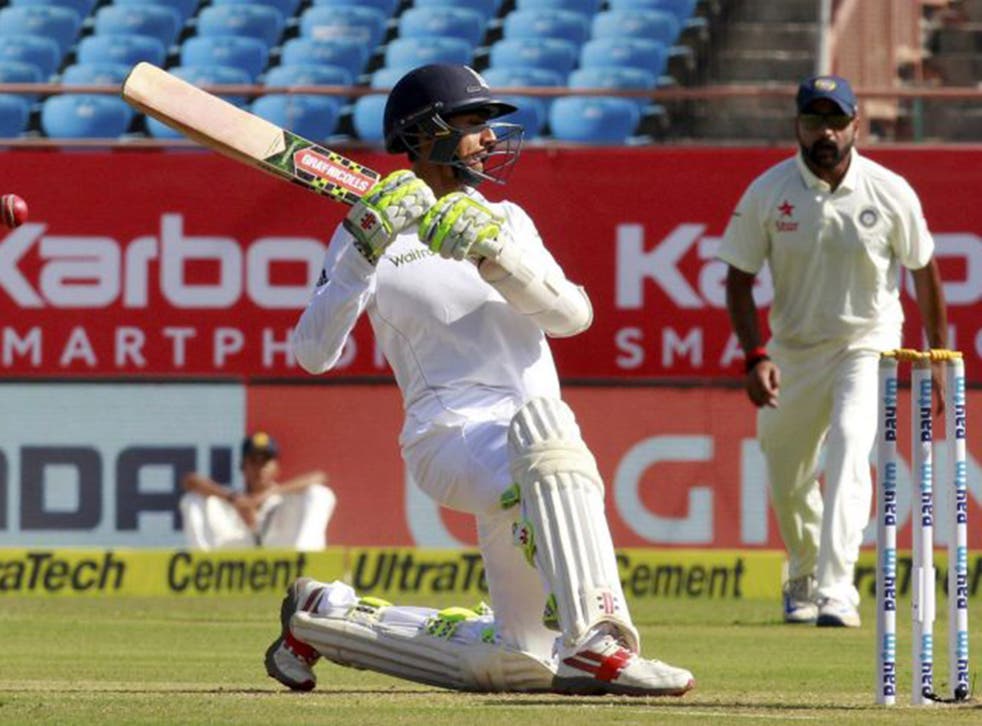 England's latest cap, Haseeb Hameed, cut a fascinating figure on his debut in Rajkot after he made 31 of his team's 311 for four against India, which included a hundred from Joe Root and an unbeaten 99 from Moeen Ali.
At 19 years and 297 days old, he is the youngest opening batsmen to play for England. It showed too, not in the way he batted, but rather in the way he wandered out among grown-ups in kit and whites whose cumbersome look accentuated the impression that this was a boy among men.
Before the match, his captain Alastair Cook had pronounced the teenage Hameed to be unflappable and so it proved, though perhaps not in the way his captain had hoped.
Hameed was at the non-striker's end when, in the 16th over, Cook was given out lbw to Ravindra Jadeja, India's left-arm spinner, bowling over the wicket. Cook sought Hameed's counsel about calling for a review but if he was hoping for approval from his young charge it was not forthcoming and he walked off without invoking the Decision Review System for just 21.
All credit to the young man for not bowing to seniority, something unthinkable had he been playing for India, whose cricketers observe an almost feudal respect in that regard. Yet, for one who looks so studious he showed poor judgment on the geometry of the dismissal which was all wrong. But then Cook, with 136-Tests worth of experience, should have known that as well.
While some faulted Hameed for the misjudgement, most scorn should be saved for the umpire, Chris Gaffaney, who gave it out in the first place. His decision was a shocker, the ball not even going on to hit a fourth stump had one been present.
That aside, and to be fair to Hameed this was probably the first time he has encountered the Decision Review System, he did not otherwise look out of place.
His parents, who came to England from the Gujarat where Rajkot is situated, were present to watch him, as they have been at every stage of his development through England's age-group teams from the Under-15s up. Mike Atherton, the last Lancashire player to open for England, was also on hand to present him with his cap - batsmen from different eras maybe, but not different cloth.
India can be a forbidding place even for experienced cricketers, but if you are going to make your debut as a batsman then opening is probably the best place to do so given India's strength lies primarily with its spin bowling.
Not that the opening salvo by the new ball bowlers was without incident. Umesh Yadav and Mohammad Shami are skilful and quick and both had catches dropped off them, including Hameed, who had made 13 when he was put down at first slip off Yadav.
A let-off like that usually comes as blessed relief for a debutant, but it can also trigger that little voice which says: "You lucky so and so, this is proof that you really aren't good enough to be here." Putting such doubts out of your mind is a skill and one Hameed, given the way he barely paused to take stock, appears to possess.
England's newest recruit was, ironically, also the most old-fashioned. Given Hameed's youth, one would assume an element of precocity. But his is a game based on discipline, patience and tight technique, qualities, at least in one package, that are rare in the modern game
He certainly cut a contrast to Ben Duckett, the man he replaced as Cook's opening partner and the next youngest member of the team.
Duckett was only dropped as far as number four in the order but as a child of the T20 revolution, he is in the process of adapting a frenetic game based on risk-taking to a long-form one resembling chess.
You only had to look at the way each went about playing India's two finger spinners, Jadeja and Ravichandran Ashwin to see the contrast - Hameed's way being to cover the stumps with his pads; Duckett's to give the bowlers a full view of them, Ashwin in particular.
Hameed plays the law of averages and through sound defence essentially tries to bore the bowler into bowling a bad ball. Duckett is more proactive. By revealing his stumps, he relies more on eye (his head rarely being in line with the ball) while simultaneously giving himself room to play through the off-side. His is a classic risk-reward approach whereas Hameed's tactic is to risk little but wait longer for any rewards.
On the day, and one must stress that the pitch here was far truer than the recent rank turners in Bangladesh, Hameed's strategy bore more fruit than Duckett's though both fell to Ashwin, the No 1-ranked Test bowler in world cricket.
It is a long series over five Tests, and one that should prove fascinating in ascertaining which approach - "tortoise" Hameed or "hare" Duckett - will prove to be the more successful.
Join our new commenting forum
Join thought-provoking conversations, follow other Independent readers and see their replies