India vs England: James Anderson hopeful Alastair Cook will stay on as captain after series
Cook's decisions, particularly his call to only field two spinners in Mumbai, have been questioned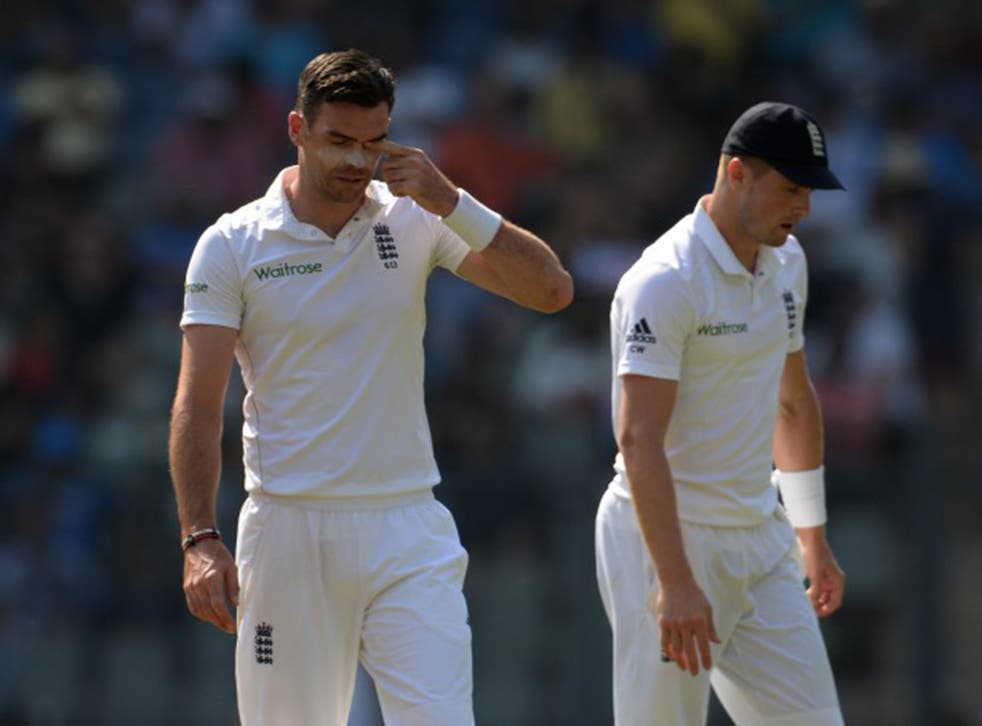 James Anderson believes Alastair Cook will remain as captain beyond this series despite England slipping to the verge of defeat in this fourth Test.
The tourists still trail India by 49 runs after reaching the close of the fourth day on 182 for six.
Cook's captaincy has come under the microscope during this series, especially during the 182.3 overs his side spent in the field as India piled up a first-innings 631.
With the 31-year-old discussing his future with Andrew Strauss, England's director of cricket, in the New Year, the opener may decide to relinquish the captaincy and concentrate on his batting.
With England, 2-0 down, almost certain to lose this Test and the series, it might be an opportune moment to stand down.
But asked if he thought Cook would remain, Anderson said: "I've no idea, I hope so. He's still very keen to be England captain as far as I'm aware, I still think he want to be. I know I'm biased because I'm his good friend, but I think he's still a very good captain."
Virat Kohli's 235 – the India captain's third double hundred of the year – powered his side to a huge total. England were left chasing shadows in the field, especially during Kohli's 241-run eighth-wicket stand with Jayant Yadav, the No9 batsman who made 104 after India resumed the fourth day on 451 for seven.
"We came here thinking if we got three wickets quickly we were in the game," said Anderson. "Unfortunately that didn't happen. It was probably our worst morning of the whole tour from a bowling point of view and control. We were clawing it back from there.
"To be fair, the fielding was pretty good, as was the energy. When the ball is flying around it is harder. You need to be led by the bowlers and we didn't have that.
"We tried to stick to our plans. We changed it up a bit as well to try and take them out of their comfort zone but couldn't find the right formula. But they played really well.

"We had success against Kohli in England but the pace of these pitches takes any flaws out of the equation. He stays patient and waits. He plays spin very well."
Despite England's hopeless situation, Anderson believes defeat is not inevitable.
"We've got to keep believing," he said. "We've still got batting to come. We're not going to come out of this game with a draw; we want to win this game. We're going to have to bat extremely well tomorrow."
Join our new commenting forum
Join thought-provoking conversations, follow other Independent readers and see their replies