India vs England: Jonny Bairstow hails tourists' fighting spirit despite likely defeat
Alastair Cook's side face an imporbable run chase or batting out five sessions if they wish to salvage something from this Test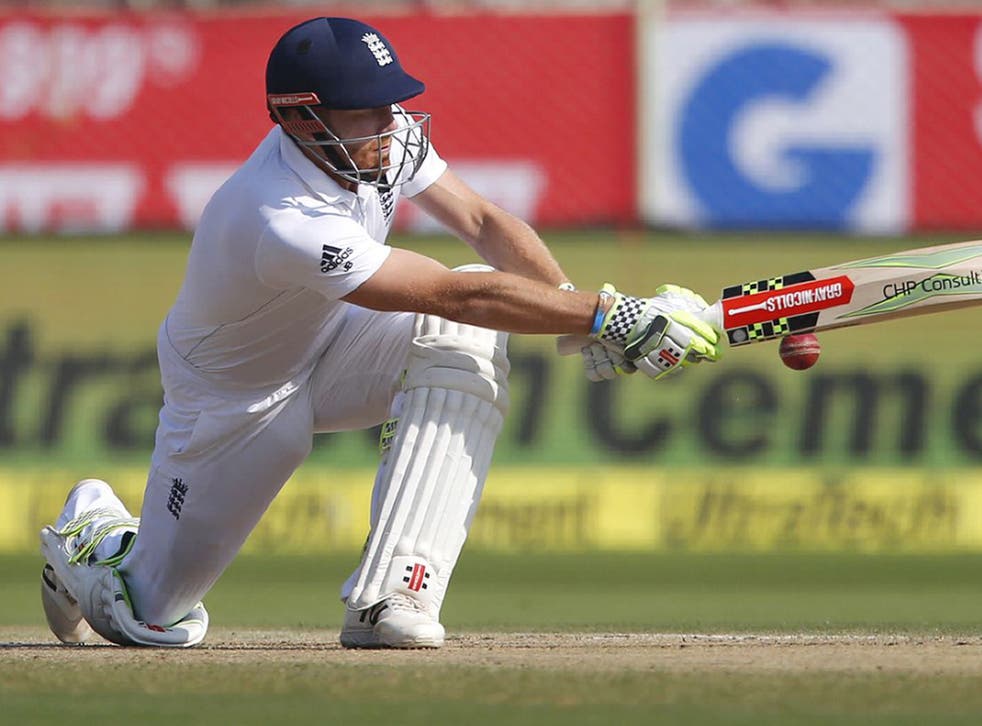 Jonny Bairstow has praised England's fighting spirit on the third day of this second Test against India and believes it could still yet save them from defeat.
The hosts look destined for victory – and a 1-0 series lead - after they reached stumps 298 runs ahead on 98 for three in their second innings.
It means Alastair Cook's side will be left with the option of either attempting an improbable run chase at some point on the fourth day or trying to bat out close to five sessions to salvage a draw.
Bairstow, though, believes the character shown by England today has given them belief anything is possible.
"We'll try to chase down whatever's set," said the wicketkeeper. "I think there are runs to be had on the pitch. That gives us confidence. Everyone can see a bit of uneven bounce. If a ball's got your name on it what can you do? You just grit your teeth and bat on. We've shown before we can bat for long periods of time on sub-continental pitches. We've got people within our batting line-up who are able to score the runs, whatever that may be."
Assistant coach Paul Farbrace had criticised England's lack of character after they collapsed to 90 for five on the second evening.
Still trailing by 352 on the third morning, Bairstow and Ben Stokes led the fightback with a 110-run stand that helped England get up to 255 in their first innings.
And that was backed up with the ball as the tourists reduced India to 40 for three in their second innings.
"We needed to show more fight, and need to show it for the rest of the game and the rest of the tour," said Bairstow.
"Whether that's in the first innings or the fourth innings. Fight comes in many different ways – in the bat, with the ball, in the field. "In the field it can create more opportunities. We showed some nice fight today and taking three wickets in the evening session was a strong comeback from us."
The omens did not look good for England when Bairstow injured his knee walking out to bat before the start of play.
He said: "I tripped up and made myself look like a wally. My spike got stuck in the grass. I ended up looking a bit like an idiot but I really hurt my knee. But I should be fine. It was sore. It's one of those things. I don't think it affected me too much."
Meanwhile, the results of scans Stuart Broad had on Friday evening show he has a strained a tendon under his right foot. But after getting through six overs today he is expected to be fit to bowl again in this match.
Join our new commenting forum
Join thought-provoking conversations, follow other Independent readers and see their replies