India vs England: Virat Kohli finally fails but KL Rahul century keeps hosts ticking over as fifth Test draw looms
England 477, India 256-3: Kohli was dismissed by Stuart Broad for 15 but Rahul's well-structured century keeps India on course to pass England's first-innings total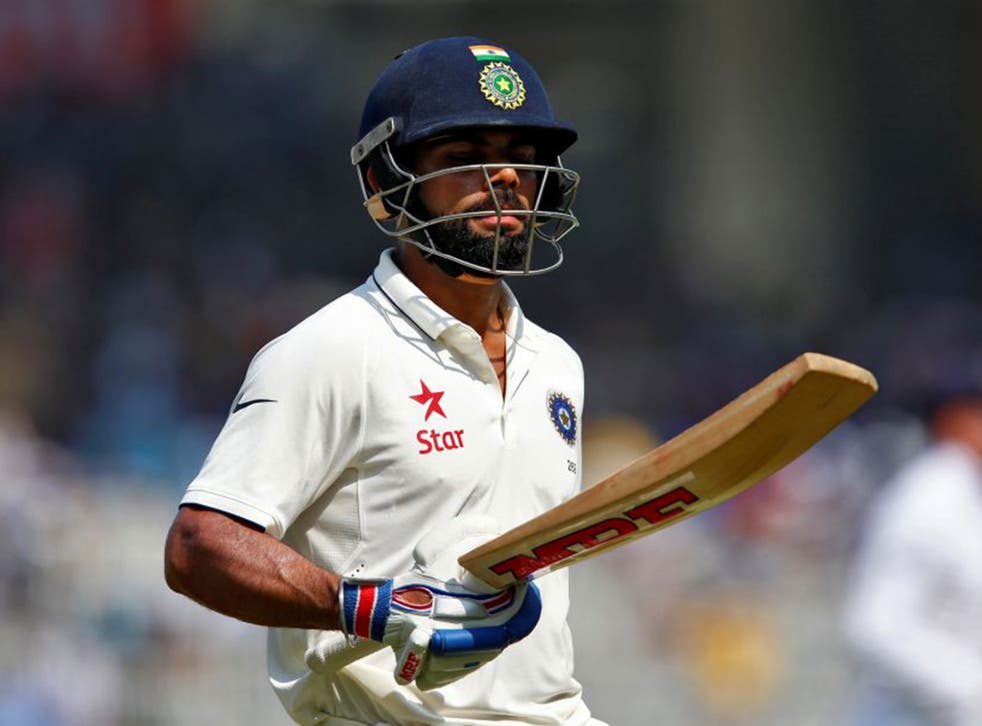 Stuart Broad helped England put the brakes on India as Virat Kohli went cheaply for once, but centurion KL Rahul was still there to help the hosts to a teatime 256 for three on day three of the fifth Test.
Rahul's unbeaten 133 made a draw the likeliest outcome at the MA Chidambaram Stadium in this finale to a series India have already won, with a 3-0 lead in the bag.
Wickets began to fall around him as India replied to England's total of 477, however, including Kohli's for a rare failure as England captain Alastair Cook hatched a plan against his opposite number which was successfully executed by Broad.
India's progress therefore stalled as Rahul found himself alongside the inexperienced Karun Nair, with his regular opening partner Murali Vijay still yet to feature after injuring his shoulder fielding.
It became increasingly difficult before lunch to imagine how a wicket might fall as Cook ran through all but one of his bowling options to no avail on an utterly benign surface.
But Parthiv Patel (71) got a little greedy against Moeen Ali to bring an unexpected end to a stand of 152, India's highest for the first wicket against England on home soil.
The first hour was mostly featureless, with just three discernible highlights.
Rahul's two mighty sixes off Liam Dawson, straight and then into the empty stand at mid-wicket, were two.
The other was an edge past slip by Parthiv in Moeen's first over.
It evaded the diving Ben Stokes, and sadly for England did not signal any more signs of life in a pitch apparently becoming slower by the minute.
Parthiv followed Rahul to his half-century but at the better strike rate, with five boundaries off 84 balls.
Batsman error was by far the most likely source of a wicket by then, and so it proved as Parthiv - trying to follow up a four over mid-on two balls earlier - closed the face too early against the turn and chipped a leading edge to cover as Moeen held one back just a little.
It was Stokes, the only bowler idle through the first session, who nipped out a second wicket shortly after lunch.
First, he succeeded in having an out-of-shape ball changed and then found a hint of late movement away, enough to have Cheteshwar Pujara fishing an edge to slip.
Rahul soon reached his fourth Test century - and his first at home - thanks to an overthrow when Dawson shied at the stumps.
New batsman Kohli was the man England wanted most, of course, and they got their wish when the India captain, who had already threatened to bring the short-cover catcher into play as Broad bowled with great discipline, duly fell into the trap with a slightly mistimed drive low to Keaton Jennings.
It was Kohli's first sub-40 dismissal of his prolific series, and a window of opportunity for England.
PA
Register for free to continue reading
Registration is a free and easy way to support our truly independent journalism
By registering, you will also enjoy limited access to Premium articles, exclusive newsletters, commenting, and virtual events with our leading journalists
Already have an account? sign in
Register for free to continue reading
Registration is a free and easy way to support our truly independent journalism
By registering, you will also enjoy limited access to Premium articles, exclusive newsletters, commenting, and virtual events with our leading journalists
Already have an account? sign in
Join our new commenting forum
Join thought-provoking conversations, follow other Independent readers and see their replies