India vs England: Nothing certain as old victims Virat Kohli and Ravichandran Ashwin turn the tables on the tourists
Two players who have often failed to produce their best against England finally turned up on day three in Visakhapatnam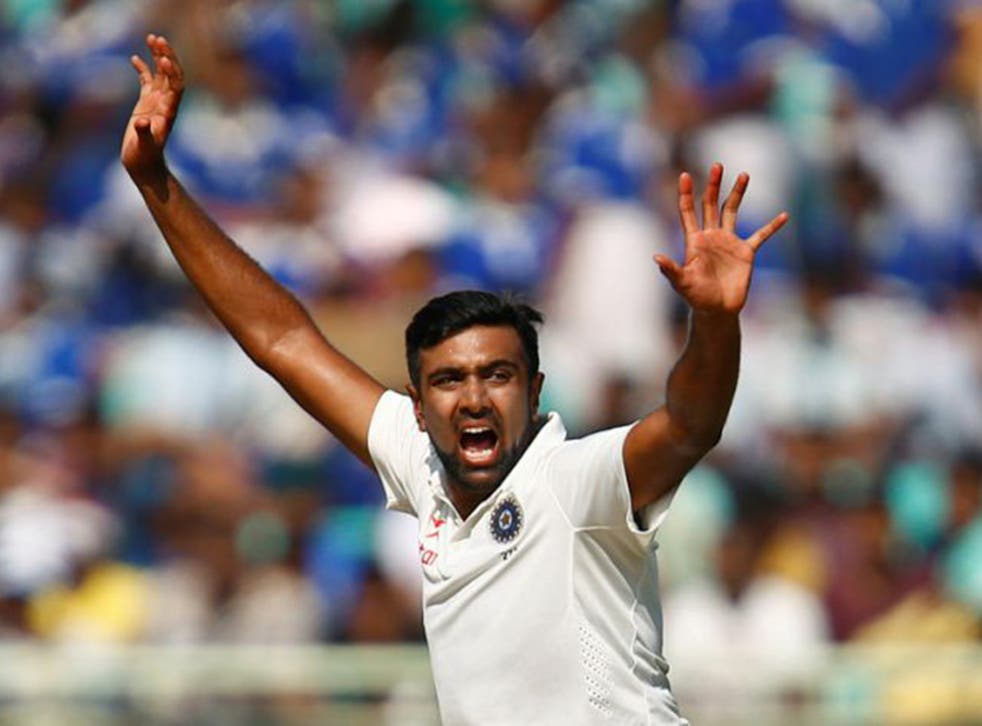 The old certainties for England are being overturned in Visakhapatnam, with ominous consequences.
First, their bunny Virat Kohli makes 167 then Ravichandran Ashwin, a man whose modest returns against them belied his status as the world's No 1 Test bowler, takes five for 67 to leave them in need of a miracle if they are to escape north with pride and series intact.
Before this Test Ashwin had taken 20 wickets in seven Tests against England at an average of 53, the kind of figures that see most consigned to the provinces to see out their days. But he has not become the world's leading bowler without possessing skill and control, two things he brought to the fore in this Test with match-turning consequences.
The big wicket, excluding Joe Root's guilt-ridden departure the previous day to Ashwin, was that of Ben Stokes. Since learning to still the tempest that rages within and work on his defence, Stokes has become a very fine batsman, capable of occupation as well as demolition.
To have any chance of departing Visakhapatnam unscathed, especially now the Monsoon has departed, England needed to take a lot of time out of the game. Stokes and Jonny Bairstow did that, to an extent, absorbing 157 and 152 balls respectively in a partnership worth 110 until Umesh Yadav bowled Bairstow off his pads with a reverse in-swinger.
It was the pair's fourth hundred partnership in the 13 Test innings in which they have batted together. Both have enjoyed a fine 2016 with the bat, Bairstow breaking the record for the most runs by a wicket-keeper in the calendar year and Stokes closing in on 1,000 runs.
With his old mucker gone, Stokes was left to farm the tail which he looked like doing to good effect until one of Ashwin's subtle variations brought the error - the slight hesitation that can spell doom for batsmen on a pitch that requires precision decision-making, especially from their feet.
Looking at the way Stokes thrust his bat at ball, late, he misread the length. We don't know whether Ashwin's appeal was for lbw or caught, after the ball ended in the hands of silly point, but Dharmasena's out decision was for lbw, which Stokes reviewed.
The Decision Review System is pretty robust these days yet human error remains, occasionally, in its application, made in this instance by Chris Gaffaney, the TV umpire. After looking at every angle and replaying the action in super slow motion, Gaffaney, who played a good level of cricket in New Zealand, upheld Dharmasena's on-field decision despite what most watching would have seen as strong evidence of an inside edge.
In the event the right outcome - Stokes being out, caught - was made albeit from the wrong decision, so justice was served which should be the sole purpose of DRS.
Having got one of England's crown jewels Ashwin's next two wickets, Stuart Broad and James Anderson, were the perks one gets for good service against the top order.
Both left-handers were lbw, in successive balls, which puts him on a hat-trick in England's next innings. If the decision against Broad's was a bit iffy (had a review been available it would have probably shown the ball to be missing leg-stump), Anderson's was as plumb as can be.
The lack of bounce in this pitch, and the lack of consistent turn, actually helps bowlers like Ashwin, especially now that India have decided to employ DRS.
Extra bounce can be beneficial to bowlers but it tends to give batsmen more scoring options off the back foot as well as allowing them to escape lbws when errors are made, the ball often passing over the stumps.
In such circumstances, bowled and lbw, rather than caught, become the modes of dismissal most likely to transpire. And so it proved, Ashwin effecting three lbws and a bowled in his five wicket haul against England who were bowled out for 255.
He also benefitted from seniority, at least in his relationship with Kohli his captain. Kohli, a restless soul, loves to tinker with his bowlers and their fields. In the penultimate over before lunch, bowled by Ravindra Jadeja, he changed the field at least six times.
Ashwin was largely immune from such fussing so was allowed to develop the rhythm most bowlers need to rack up the wickets, but that has been earned as has this eventual success against England.
Join our new commenting forum
Join thought-provoking conversations, follow other Independent readers and see their replies