India vs England: Electric Virat Kohli shows why he is the world's most watchable cricketer
Like a young Marlon Brando or Jack Nicholson, the India captain steals every scene in which he appears, being the consummate showman that he is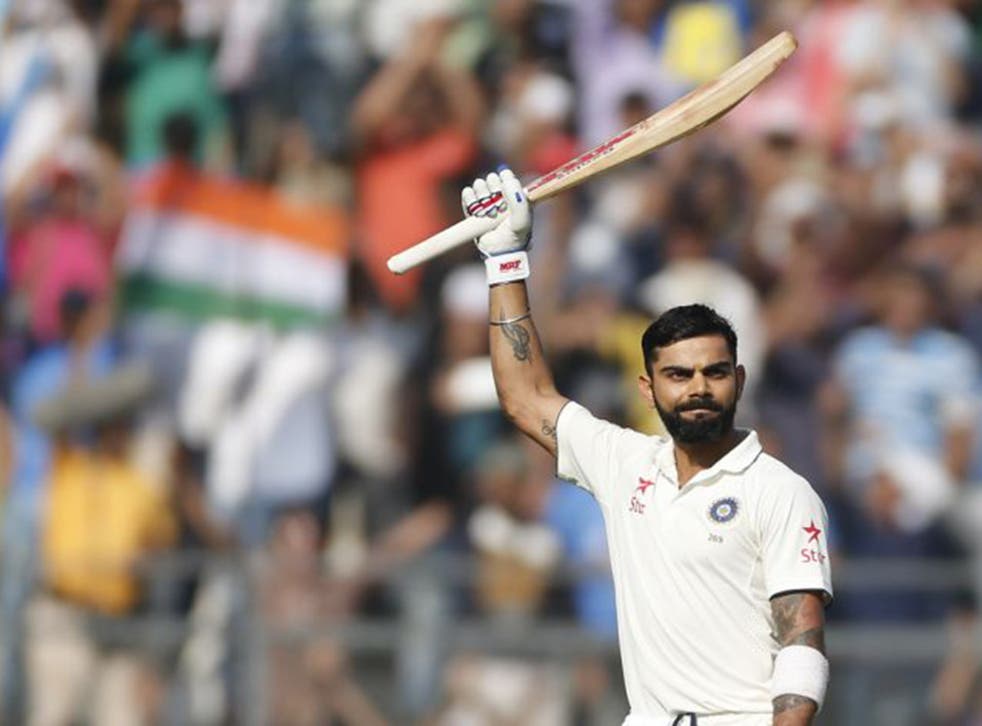 Some players score their runs and take their wickets almost anonymously, as if fulfilling a contract. But not Virat Kohli, India's captain. A man seemingly running on a higher octane that everyone else, Kohli turns even the most mundane moments on a cricket field into high drama and, as such, is the most watchable player since Shane Warne.
Kohli ended the third day unbeaten on 147, but while the runs were crucial in creating a 51-run lead for his team that did not seem possible 24 hours earlier, the entertainment was not only to be found when he faced England's bowlers or in his near flawless matching of stroke to ball.
Like a young Marlon Brando or Jack Nicholson, Kohli tends to steal every scene in which he appears. One of those people who crackles with electricity and pent up energy, even his fidgeting, in which he unzips the velcro of his right glove before every ball he faces, is done with the flourish of the consummate showman. Here, you sense, is a man who gives a performances even during sleep.
He was in his element again in Mumbai, in front of a crowd very much awake and weaned on the icons of India cricket. True, he had to play second fiddle while Murali Vijay scored his second hundred of the series, but even then it was conspicuous that well though Vijay played he did not look as classy or secure at the crease as Kohli.
On a pitch offering plenty of assistance to England's spinners, it was a wonder to behold how he made it look as if the ball was not misbehaving at all. Much stems from natural gifts such as superb eyesight, fast flexible hands and co-ordination, but also from a confidence in his own ability - something which has not always been as bullet-proof as it appears now, especially way from home.
While most struggled, Kohli played almost without error. Like Brian Lara, he obviously picks the ball up early which enables him to judge its length quicker than most. That, in turn, enables him to tailor his footwork and therefore his shot selection accordingly, so that he is rarely inconvenienced except by the unpredictable, of which England's bowlers provided little. But then great batsman can do that, their reputation making bowlers nervous and therefore rarely able to summon their best against them.

The other curious thing is that while Kohli is feisty and quick to flare-up when the verbals start flying, there is little impetuosity in his batting, which he keeps under an almost zen-like control. That calm gives his shot selection and placement a precision that is the gift of the sainted few, especially in trying conditions like these. Put simply, he looked like he was playing a different game to everyone else.
Inevitably, on a pitch affording the spinners grip and turn, he needed the odd moment of good fortune and Adil Rashid should have caught him off his own bowling when Kohli was on 68. In was a loose shot though in his defence India had just lost two wickets to Joe Root and he wanted to counter-attack to claw back the momentum.
It was a rare moment of self-indulgence which he did not allow again until India had taken a lead, but by then he had already brought the house down at Wankhede with his second, and the best hundred, s of the series.
As adulation goes it nearly matched the mass veneration afforded Sachin Tendulkar after India won the World Cup at this ground in 2011. On that occasion a young Kohli helped to carry Tendulkar around the ground on a lap of honour - stating afterwards that as Sachin had carried India on his shoulders for 20 years, it was only right that the compliment should be returned.
Other milestones were passed during his innings, such as 4,000 runs in Test cricket. It also meant that he has made more runs than anyone else across all formats in 2016, his 2,491 runs overhauling Joe Root's 2,399.
Before he was made captain Kohli was the epitome of modern India - brash, proud and unwavering in the belief of his own greatness. Although that has been tempered to an extent, the roots remain. It is why he has clashed during this series with Ben Stokes, another big, bold alpha male determined to mark his territory.
Leadership, though, has become him and his batting average has leapt considerably, from 41 to 67, since his appointment to the captaincy.
Power and responsibility it brings obviously inspire him but not as much as winning the match for India. That, for all the theatre, is what dominates his focus as England have discovered, not for the first time in this series, to their cost.
Register for free to continue reading
Registration is a free and easy way to support our truly independent journalism
By registering, you will also enjoy limited access to Premium articles, exclusive newsletters, commenting, and virtual events with our leading journalists
Already have an account? sign in
Register for free to continue reading
Registration is a free and easy way to support our truly independent journalism
By registering, you will also enjoy limited access to Premium articles, exclusive newsletters, commenting, and virtual events with our leading journalists
Already have an account? sign in
Join our new commenting forum
Join thought-provoking conversations, follow other Independent readers and see their replies