India vs England: Joe Root's latest display of batting brilliance puts tourists in charge of first Test
England 555-8; India yet to bat: In almost nine hours at the crease the England captain scored 218 to leave India toiling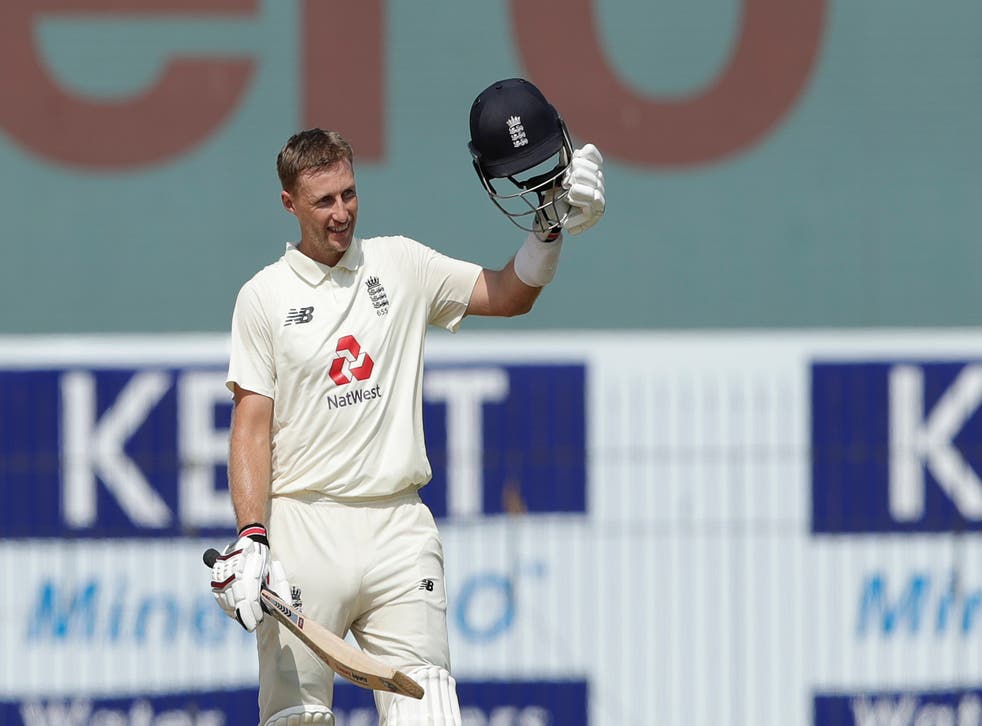 In a Covid-19 world with no guarantees, and a sport that revels in uncertainty, Joe Root showed yet again that one can somehow exist as a sure thing.
Having pocketed a third century in as many Tests this year, the England captain turned it into a double as he and his side reasserted their dominance, finishing day two on 555 for eight. A 218 now joins 228 and 186 to suggest that while the start of 2021 carries the same trepidation as 2020 for the rest of us, it may be truly unique for one 30-year-old, in the best way possible.
He wouldn't quite bring up three figures on the day, 10 short having picked up his innings on 128 not out. But dwelling on that is a bit like visiting the Great Wall of China and fuming that the gift shop is closed. There was more than enough to take in.
That's now five double centuries, of which three have come as leader. Root is the second captain after Don Bradman to score150-plus in three successive Test matches. This year has already brought him 644 runs at a surely unsustainable average of 128, though the career average has conveniently ticked above the "good-great" threshold of 50. He also set a new standard as the first to celebrate 100 Test caps with a double.
From a team perspective, his presence in the middle for 64.3 of Saturday's 90.3 has taken defeat out of the equation. India toiled admirably, rewarded with a cluster of dismissals in the final session to ensure an end is in full view.
The 20 wickets they will have to give up for an England win won't come easy, even the 10 to bat again on a pitch that has plenty in it for the host's batting card to replicate what their opponents have done. What they will have to find is someone to come close to matching Root's contributions, which even for a blockbuster star like Virat Kohli will take some doing. The handshake between the two when Root's innings finally came to an end after 377 balls faced was as much an acknowledgement of the work to do as it was congratulation.
In almost nine hours at the crease, Root has dragged the team from a precarious 63 for two on Friday morning, right the way through to Saturday evening to a far more comfortably 477 for six. As has already become customary this year, he passed another on the all-time runscorers list: Alec Stewart the one bumped down a peg as Root (8,467) moved into third from an English perspective. There is the daylight of 433 runs between him and second-placed Graham Gooch. Hitting them like this, he will probably leave this tour with that spot in his suitcase too.
Just as with Dom Sibley's contribution on Friday, Root was aided by Stokes in the morning and afternoon, though the manner of assistance was wildly different. If Sibley, 87 from 226 deliveries, drove the moving van for England to find a comfortable position in this match, Stokes got them settled in by catapulting the furniture through the windows.
His 82 off 118 in his first Test knock in five months was more than twice as much as Root's contribution to their fourth-wicket stand. Within that were some hair-raising moments, good and bad. Two chances in space of 12 balls saw him sting the palms of Ravichandran Ashwin for a return catch and Cheteshwar Pujara at midwicket, on 31 and 32 respectively. He almost ran out Root on 151 with a single that only Stokes himself would have made.
But he settled watching nerves with some spine-tingling shots: three sixes - the best, his first, an extended defensive shot down the ground off Ashwin - part of the 13 boundaries that included many a risk taken out of the rough in front of his off stump. Two reverse swept fours took him to a 33rd score of 50 or more. One final heave to square leg - a catch taken by Pujara with the help of his thighs - would see an end to the fireworks to leave England 387 for four. For all the punishment dished out to Shahbaz Nadeem, conceding 167 in 44 overs sent down, this first of two wickets in only his second Test provided some joy.
Naturally, the run rate calmed down when he left, though the residues of the Durham allrounder's tenacity was evident when Root skipped down to the track and lifted Ashwin over the top for a second six of his own to move to 201 from his 341st delivery. Ollie Pope's 34 in his first Test innings since last August helped add 86 to the score before he was next to go, beaten LBW on the outside edge by a smart bit of hoodwinking from Ashwin.
Root's eventual demise to Nadeem – an LBW upheld after an instant DRS review – dropped the scoring even further. And it felt like an abrupt end was on the card when Jos Buttler (30) and Jofra Archer (0) had their off stumps knocked out in consecutive Ishant Sharma inswingers to have England 525 for eight. The 30 runs added by Dom Bess and Jack Leach were as valuable as the minutes they whittled away to stumps.
The expectation is a mid-morning decoration on Sunday, though India would be batting already were it not for a few missteps. Buttler was given not out when he edged behind on 18 with all reviews gone and Bess gifted a catch that Rohit Sharma at midwicket did not take. There have also been 19 no balls so far.
These exhausting days often feature such frustrations and are often reflected by a lacklustre reply from those run ragged in the field. As much as England will be backing their own bowlers to take advantage of their stance in the match, they will also hope India's fatigue will play its part.
Join our new commenting forum
Join thought-provoking conversations, follow other Independent readers and see their replies