James Lawton on the Ashes: Battling Peter Siddle again proves Australia are far from ready to lie down and roll over
They were supposed already to have one foot on the road to cricketing perdition
James Lawton
Thursday 11 July 2013 11:56 Comments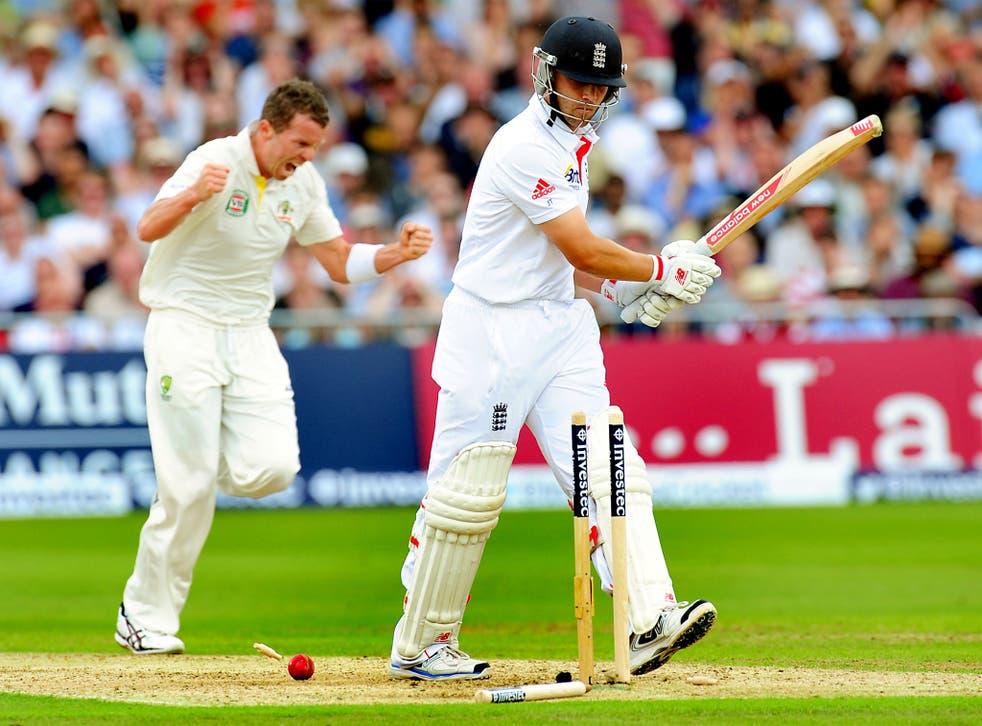 For a little while Australia disputed so hard the vast and detailed English belief in their own superiority they carried us back to when the baggy green cap still meant a whole lot more than a forlorn symbol of cricket failure.
Peter Siddle fuelled the time machine. The 28-year-old Victorian pace bowler of limited grace but remarkable, heart-warming endeavour could not have reminded us more dramatically that it wasn't so long ago.
It was in Brisbane in 2010 that he claimed the ninth hat-trick in Ashes history, having Alastair Cook snapped up in the slips and sending back Matt Prior and Stuart Broad with glorious yorkers.
His effect was pretty much the same – minus the hat-trick. He filled The Gabba with an old sense of Australia's Ashes destiny and here he said again that the vast gap between the new cricket cultures of Australia and the old country is simply an English invention.
He suggested this strongly enough by running through the cream of English batsmanship. Joe Root, the smiling young hero of the home game, was his first victim, clean bowled. Kevin Pietersen, marring his hugely heralded return with a poor nudge into the slips, went next, then Jonathan Trott, Ian Bell and one of the Brisbane casualties, Prior.
Unfortunately for Australia, though, Siddle could only wear down the big English guns on a bad day when Trott was so appalled by his own lazy swish at a wide delivery he had to stop himself doing violence to his shattered stumps.
Siddle could harass England all day long and finish with the most impressive figures of 5 for 50 in 14 overs. But what he couldn't do for more than an hour or so was disguise the fact that there is indeed a huge gap between the old enemies. It is, we had to believe before the end of the day, still as wide as the Tasman Sea.
Aussie captain Michael Clarke, who has been described by his predecessor Ian Chappell as the most natural-born aggressive captain in all of Test cricket, must have had a chilling sense of this when he was clean bowled by James Anderson. That left the Aussies three down and with just 22 runs in answer to England's own desperate underperformance. It also opened up again the dreadful prospect of the 5-0 whitewash – with another following in Australia – so freely predicted by former England captains David Gower, Sir Ian Botham and Andrew Flintoff.
"Lord" Gower went one step further when he pointed out that you couldn't have a culture clash with a nation that lacks a culture. It was a witticism he has already softened because, if the Australian world of cricket is indeed embattled as it lives through some of its worst days, it was still just perceptible at the end of a day which had threatened a level of disaster which did not quite materialise.
For this Clarke's team had much to thank the polished and combative all-rounder Stevie Smith, who finished on an undefeated 38. Unintimidated by the weight of an England attack in which Steve Finn and Anderson struck devastating early blows, Smith went for some pleasing shots and this morning represents Australia's best chance of make significant inroads into England's lead of 140.
It is a paltry margin, even with Australia's front-line batting removed, and for England there is absolutely no reason to begin to take at face the value the biggest claims being made on their behalf.
When Australia scored the last Ashes whitewash, in 2006-07, they still had players of the highest class. Glenn McGrath and Shane Warne still had the last of their brilliance and Ricky Ponting still had the capacity to ravage an attack.
There was no such authority in an English batting line-up which was supposed to build an unshakeable bridgehead when Alastair Cook won the toss and elected to bat. He was no doubt expecting to be sitting on a total of at least 300, even though the wicket did not behave as decorously as expected. The unavoidable fact was that Pietersen, who was supposed to come in in his most masterful style, penitent for past sins but also ablaze with ambition to restate his claims to be the most gifted batsman in the world, looked seriously distracted from his purpose.
The Aussies, led by the resilient Siddle, who started off quite dismally in his first stint then responded to his challenge quite as fervently as he had at The Gabba, did manage to apply some genuine pressure. James Pattinson may not have introduced himself as the major talent he has been touted to be in some desperate Aussie circles, but he bowled with nagging purpose and genuine speed and from Mitchell Starc there were two beautiful strikes that conjured the possibility of another hat-trick to lift a battling Australian team. Between them, Pattinson and Starc shot out the rump of English batting and seemed to be saying they will not be so easily discouraged this English summer.
It is a mighty task for a team which has been so firmly assigned to a sharply lower order of talent but last night they did not have to be too downcast. If the early batting had looked fearfully brittle against the bite of Anderson and Finn, there was in the end something less than a full-scale collapse.
The Australians were supposed already to have one foot down the road to a serious case of cricket perdition. But then some of their bowlers had some decent figures and from Smith there was the style of a batsman who still believes he could achieve something significant.
It meant that the team who were supposed to roll over and die were still showing some signs of life. Their existence is perilous, no doubt, but they are still alive and you can still see that they have the remnants of a culture.
It is a hard one, which still knows how to fight and has no better representative than Peter Siddle, the man who fights so gamely against the worst of times.
Timeline: How the first day unfolded at Trent Bridge
11.01: First ball of the Ashes
England win the toss and bat first. James Pattinson bowls the first ball – a bouncer judged to be a wide, prompting ironic cheers from the crowd. Let the Ashes battle begin!
11.40: Wicket - Cook c Haddin b Pattinson 13. Eng 27-1
Captain down. Alastair Cook is drawn into a drive by Pattinson and he's caught behind.
12.39: Wicket - Root b Siddle 30. Eng 78-2
The youngster, who looked very composed, is bowled by Peter Siddle's yorker. England need to be careful now.
1.46: Wicket - Pietersen c Clarke b Siddle 14. Eng 102-3
The danger man is gone. Kevin Pietersen, the batsman Australia fear the most, perishes, nicking an outswinger to second slip.
2.24: Wicket - Trott b Siddle 48. Eng 124-4
Siddle bowls an outswinger which Jonathan Trott edges on to his stumps. Siddle has figures of 3 for 41 in 9.5 overs.
3.21: Wicket - Bell c Watson b Siddle 25. Eng 178-5
Ian Bell goes and England's tail-enders follow suit. Hosts add just 37 runs as they reach 215.
5.05: Watson c Root b Finn 13. Aus 19-1
Steven Finn's on fire. Two wickets in two balls, dismissing Shane Watson then Ed Cowan. Crowd erupt for his hat-trick ball, but Clarke drives safely. Best moment of the day.
5.23: Clarke b Anderson 0. Aus 22-3
Aussie wickets continue to tumble: James Anderson bowls Clarke before trapping Chris Rogers lbw.
6.31: Stumps, Aus 75-4
A crazy day ends and England have roared back after a trademark collapse. Visitors have Steven Smith (38) and Phillip Hughes (7) in.Giles Lucas
Register for free to continue reading
Registration is a free and easy way to support our truly independent journalism
By registering, you will also enjoy limited access to Premium articles, exclusive newsletters, commenting, and virtual events with our leading journalists
Already have an account? sign in
Join our new commenting forum
Join thought-provoking conversations, follow other Independent readers and see their replies