James Lawton: Stuart Broad's refusal to walk shows that the Spirit of Cricket is well and truly dead
Broad knew that he could stand there, defiant, unbowed and unashamed
James Lawton
Friday 12 July 2013 22:12 Comments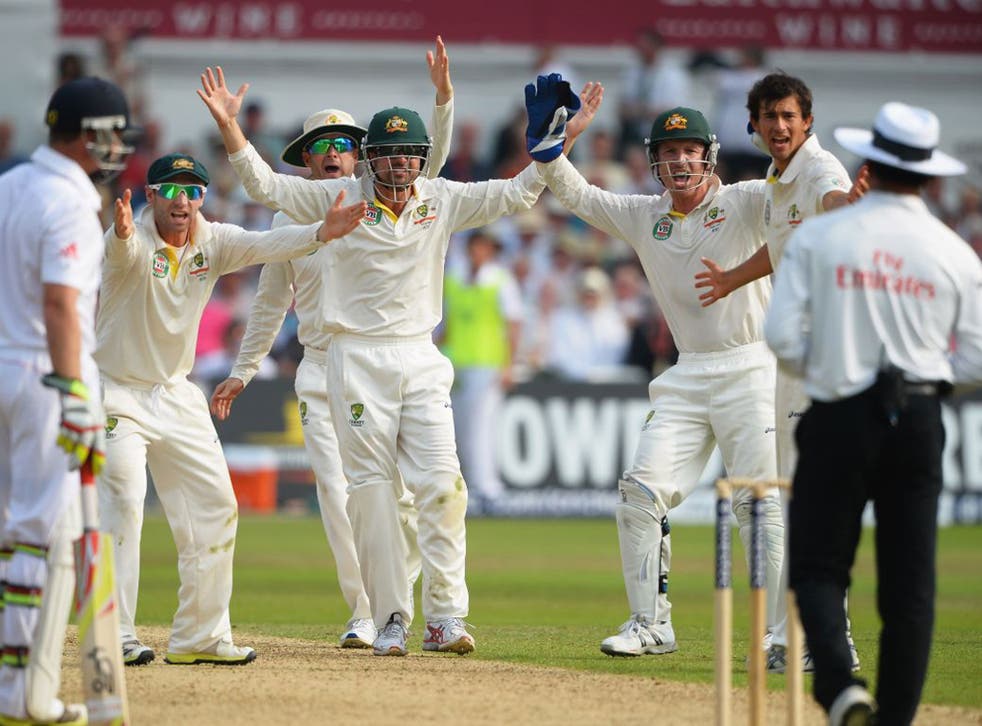 Stuart Broad never had the diplomatic service as a career option and as the latest Ashes battle picked up some of its oldest aggressive tendencies in the sunlit evening of the third day of the first Test we were once again reminded why this was so.
Broad doesn't do anything that might be seen as a concession to an opponent and today he stood mute and mocking in the face of Australian claims that he should walk from the crease.
If cricket hadn't long lost any sense that it was the game of manners and superior sportsmanship, he would certainly have done that when he sent a delivery from the spinner-cum-batting sensation Ashton Agar off the face of his bat against the thigh of wicketkeeper Brad Haddin and into the hands of Aussie skipper and first slip Michael Clarke.
He was out, completely and demonstrably, and he knew it as well as any of his outraged opponents. He also knew that the Australians had frittered away their DRS chances with some half-baked challenges and he could stand there, defiant and unbowed and unashamed, just as long as he liked.
For years cricketers attempted to bamboozle umpires with appeal after appeal in hectoring pressure and cheap opportunism – and sometimes it worked. The decision review system was introduced to ease some of the worst of the problem and so was an airy charter known optimistically as the Spirit of Cricket.
Broad showed us the spirit of modern cricket vividly enough in last night's flashpoint, one which might well colour the rest of a series which was supposed to feature not tonight's raw animosity and edgy attrition, but a series of formal English victories. Broad's spirit of cricket could be encapsulated easily enough in the classic Aussie phrase, "Stuff you, mate."
The Nottingham player's apologists were quick to say if the positions of the antagonists had been reversed the moral outrage of Clarke would have been something much more pragmatic. Increasing the Australian ire, no doubt, was their feeling that after two brilliantly combative days – and one when they appeared to have gone a step further into a potentially winning position – the English were on the point of completing an impressive recovery.
They had threatened to do this from the start of the day when captain Alastair Cook and chief batting power Kevin Pieterson began, in their hugely different ways, to build on their second-innings score of 80 for 2. That left them a mere 15 runs ahead after the extraordinary pyrotechnics of Australia's teenaged No 11 but Pietersen began to accumulate boundaries in a steady rhythm. Cook was mostly becalmed but this was Test cricket, after all, and as long as Pietersen was periodically finding the gaps he too was helping to secure his team's position.
Unfortunately, Pietersen's concentration – which is something that tends to breed supreme confidence only on his most serene days – collapsed when paceman James Pattinson delivered a full-length delivery. Pieterson played on and when soon after Cook nudged the emerging Agar into the slips the Australians were once again filled with self-belief.
It developed still further when the first-day hero, Peter Siddle, got a shortish delivery to sit up more sharply than expected and saw Matt Prior miscue it into the hands of Ed Cowan at midwicket.
Once again the Australians were suggesting they might confound the widespread belief that they were perhaps the weakest squad in Ashes history.
The prospect filled them with an instinct to fight which has been rarely visible, at least outside of a late-night Birmingham bar, since they arrived in the late English spring. It was one that might just have delivered a crushing advantage but for the unfolding defiance – and some would say cynicism – of Broad and the extremely good influence of his batting companion, Ian Bell.
Bell, for all he has a batting average well into the mid-forties, which is the kind of mark hit by those who have made themselves at home in Test cricket, has been less than a keynote influence recently. He has the class, of course, but not always the competitive vigour.
Today, though, he was the man who delivered the most important contribution on a day which England knew might well prove utterly decisive. In the end it wasn't quite that but, with Bell just short of a century, and Broad in need of three runs for a 50 which, if it happens, may prove not all that much more contentious than the bodyline series, England plainly have the game within their grasp today.
With a lead of 261, England can contemplate a position of some sharp advantage on a wearing pitch to be exploited by James Anderson and Graeme Swann.
So far, it has been a superbly balanced engagement but there was a moment before Broad's flat refusal to conform to an old cricket principle when he was also close to declaring that finally a break in the balance of power had arrived. He did it with a shot that arrived like an extra burst of sunshine, a rippling drive through extra cover off the generally impressive paceman Mitchell Starc.
In that moment Broad was not the natural-born agitator of warring spirits, an individual who might have brought discord to the Last Supper. He was a tall and classic English cricketer producing a moment of superior class. Australian shoulders slumped somewhat, rather as the English ones had done when the startling Agar produced some of his most fluent shots, and that moment there was indeed a sense that one of the fighters had moved to the centre of the ring.
It was a hard, clean punch to the boundary and it said that England had gained finally a clear advantage.
That might have stored away an extra edge of frustration when Broad not only refused to walk but implied that the very idea of doing so was an affront to a fully paid up modern sportsman. This, no doubt, is an Ashes series filled with promise but no one has said it is going to be perfect. Suddenly, this seemed just as well.
Register for free to continue reading
Registration is a free and easy way to support our truly independent journalism
By registering, you will also enjoy limited access to Premium articles, exclusive newsletters, commenting, and virtual events with our leading journalists
Already have an account? sign in
Join our new commenting forum
Join thought-provoking conversations, follow other Independent readers and see their replies