An England call-up and West Ham going big: Why Jamie Porter's dream week is a triumph for old-fashioned values
Called up to the England Test squad for the very first time and excited by recent developments at West Ham, life for Porter is pretty sweet right now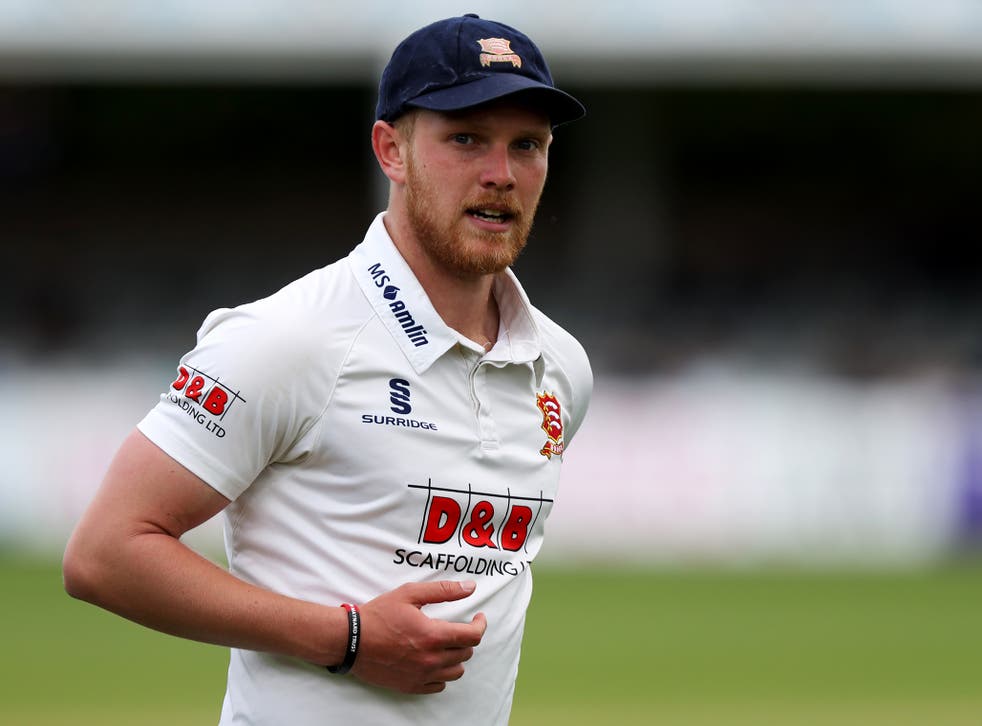 The sun is shining, West Ham are splashing the cash and the world's best cricket are in town.
For Jamie Porter, life is pretty sweet right now.
The Essex man's England call-up for the first Test against India, which starts at Edgbaston on Wednesday, is reward for old fashioned values.
Firstly, Porter has turned up to play in the County Championship. And secondly, he has taken wickets. Plenty of them.
The 25-year-old Hammer was the leading wicket-taker in last season's County Championship, claiming 75 scalps at a cost of just 16 as Essex romped to the title – finishing 72 points ahead of their nearest challengers, Lancashire.
That wasn't enough to earn him a call-up to last winter's Ashes series but it did place him firmly on England's radar.
Particularly at a time when fast bowling resources are as a scarce as raindrops in the most parched summer since 1961.
While the focus on Thursday was firmly on Adil Rashid's shock call-up, just months after he had turned his back on the red-ball game, Porter's rise is equally as seismic given that he spent the winter of 2013/14, not playing Grade Cricket in Australia but behind a desk at an office in London.
"I had played a lot of second team cricket for a long time," he tells Independent Sport. "I just thought, at the time, that it wasn't going to happen so I went to work in an office.
"It wasn't the worst thing I had ever done. I didn't mind it but it didn't compare to cricket in any way. I actually quite enjoyed working on the sales side of things, chatting to people all day, that was good fun. I did get to March and see all my mates go to pre-season with the clubs and think, yeh, maybe my heart isn't in this."
Within six months, in September 2014, Porter had made his first class bow for Essex following a spate of injuries at Chelmsford. And he hasn't looked back.
Watching on has been his football-crazy family and a father who had a potential career in football cut short by injury while still a teenager.
"I played quite a bit of football growing up," he says. "My dad was a good footballer and played to a pretty high standard. My grandad loved all sports but his number one passion was always West Ham – I remember he always used to strike fear into the ref's eyes when I was playing.
"My dad's career was over before it had started really. I know he played a game against Holland under-21s but when he was 18 he had some injuries and ended up moving out to America. He had a car crash and that was that, really. He didn't play to a decent standard again. Because my dad grew up in the football environment, where you have a lot of pushy parents, he was probably the total opposite.
"When I told him I was going to stop trying to make it, he just told me to do whatever I felt was right for me. He's very grounded. We spoke at the start of the week, I said that I thought I might be in with a sniff of Test selection.
"He didn't really react. When I told him I had been picked that was a bit of a different story – I hadn't really heard that kind of emotion from him before."
There won't be a dry eye in Essex if Porter gets the nod at Edgbaston and rips one through Virat Kohli's defences.
He has taken 28 wickets at 26 for Essex in Division One again this season and has once again bowled with the kind of skill that he will need to take wickets at the very highest level.
Not blessed with the pace of a Mark Wood, Porter's main attribute is making the batsman play at every ball and doing just enough to bring the slip corden into play. And if the chance presents itself next week then, like the Essex close catchers, he's ready to take it.
"I'm feeling confident," he says. "At the end of the day, no matter what happens I'm going to be better off than I was last night. I'm going to go out there, hopefully get a game and try and enjoy it.
"I love playing for Essex, I love playing red ball cricket and having the opportunity to play and take wickets."
Recruitment can wait. The headhunter has been headhunted.
Join our new commenting forum
Join thought-provoking conversations, follow other Independent readers and see their replies