Aussie rules, art and playground batting: the making of England captain Joe Root
In an interview with The Independent, England's youthful captain looks back on his humble beginnings in heartland Yorkshire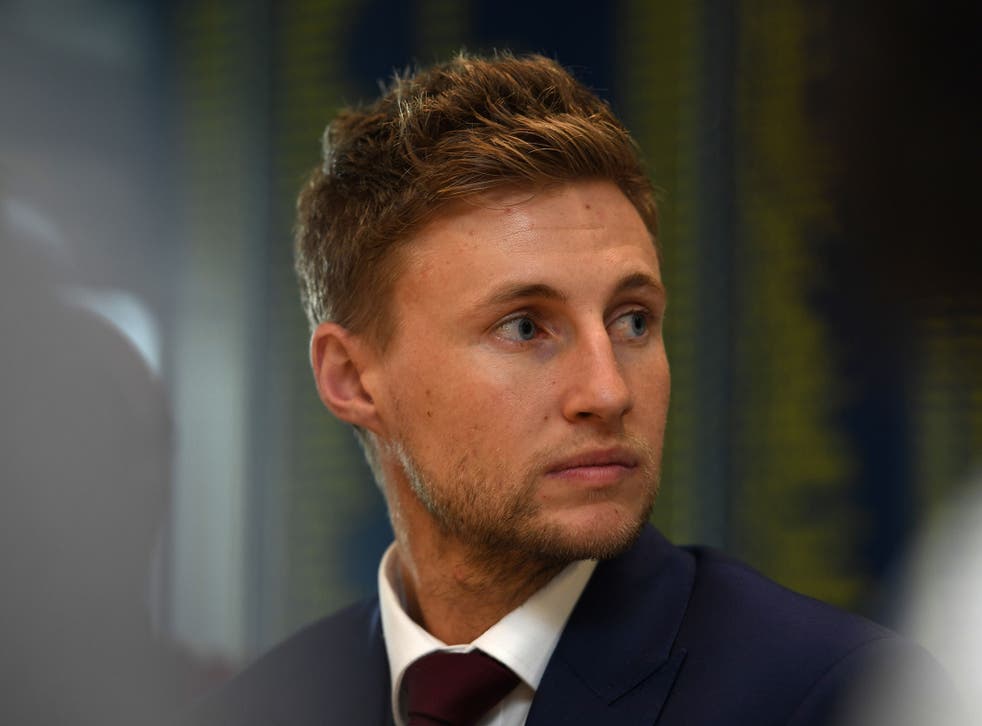 "I sat over there," says Joe Root, pointing to a spot on the opposite side of his old Year 6 top floor classroom where, back in 2001, he would gaze out of the window dreaming of playing Ashes cricket. The notion was as improbable then as him leading out an England team within weeks, given the late April snow which is drifting down off the Pennines.
Year 6's reward for a day's good behaviour was putting on an Oasis CD for five minutes at the end of it and though that evidently did not always happen, the new England captain's return this week to his old primary school, in the south west Sheffield suburb of Dore, leaves the unmistakeable sense of a boy who compiled knowledge here. "Shot selection he picked up on the yard here," says his old head-teacher Ian Wileman. "The main thing was he would listen to people who had got something to tell him about how to play."
Root's discussion of captaincy and leadership reveals his preoccupations about not overthinking the new role. He must wait two months before leading his Test side out at Lord's on 6 July. So he's read a few books "here and there", collected Michael Vaughan's idea of the 'metaphorical cap' – "he would take [it] off when he was fielding and put on his peg if you like and put a different one on when he when out to bat so that he felt that was him as a batsman and him as a captain" – and put the rest out of mind. "I don't want to feel like I'm over-prepared or ready now and then miss out somewhere down the line when it unfolds in front of my eyes," the 24-year-old says.
He is with the Chance to Shine's charity work spreading the cricket message, so two teams of five are picked from the 100 or so pupils who gather for an assembly in the school hall, with Root skippering the white T-shirts of England against some Australia yellows. The aim is to hit a plastic wicket from ten yards and the 'Aussies' are 3-0 ahead, with Root unable to hit the stumps himself, before England sneak victory on a 'next wicket wins' rule. Only one hand goes up when the assembled children are asked to name the Australia captain Root will be up against this winter, which says something about the sport's fight for relevance, even in the Yorkshire heartland.
There was never such a problem for Root, given the presence both of Vaughan, another of the Dore Primary alumni 16 years before him, and of his own father, Matt Root, a mainstay at the Sheffield Collegiate club down the road, where both of the future England captains cut their teeth. The making of Root quite obviously also had something to do with the extraordinary sporting environment Wileman created at the little primary school, where all manner of sporting educations were offered.
"We had some Aussie fella doing Aussie Rules with us," says Root, which may amuse those of an Australian disposition this winter. The Sheffield Eagles rugby league Challenge Cup winners were in the school at the same time. The swimming team were Sheffield schools' champions ten years running. Root was an impressive table tennis player (they played three lunchtimes a week and were city champions). He was the school's football captain. But it was the cricket sessions on the back field which astonished his teachers.
"Year 6 - about 10 or 11 - we just couldn't get him out," says his class teacher Chris Stewart. "We used to play tennis ball cricket or wind ball cricket on the playground and we could not get him out - we would try all sorts - left arm spin, off spin beam him bounce him we just couldn't get him out."
Root did have some other school interests – art classes, sketching landscapes and, memorably, drawing a new Audi TT his father bought at that time – but there clearly was not much space for other stuff.
The little state school has no ostentation - "the box down there was my year three classroom," Root relates, pointing to a corrugated demountable hut – and matches against the private schools such as nearby Birkdale were clearly the ones they savoured. "[It was] 'get your whites on,'" recalls Wileman. "We'd go in for the whole thing. We thought the sandwiches was really important: sandwiches and a plate of chips for the kids at half way through and then change over. Our biggest problem was that… the opponents [might be] six for seven. We beat most of the private schools. We didn't tend to get beat. We played Birkdale and as soon as we got there we heard: 'Got to get Root out. If you get Root out you get everyone else out.' But if you get Joe out then you get his brother come in. Bill - two years younger than Joe - comes in."
Billy Root, a Nottinghamshire player-to-be, was a different prospect, though, as one partnership between the brothers in an innings of 123 for 7 went to show. Joe opened and anchored things, completing the 20 overs at 46 not out. Billy had instructions not to slog indiscriminately, but put the second ball "over the rugby field" and would end up out for 70-odd. "That was the difference between the two," says Wileman.
The walls of the school are a kaleidoscope of the children's work, with few pieces more compelling than the child's letter urging the Prime Minister to "change our opinion on the Syrian refugee crisis" and relating the story of a "man named Firaz" who had suffered." There is empathy within these walls.
"That was my upbringing," says Root when the letter is mentioned. "That is how you treat people, with respect. Make sure you look after people around you and it holds you in good stead going forward in terms of leadership. Look [at] all the best leaders and they have those qualities."
No-one here knew they had an England captain on their hands but Root's former head knew there was something interesting there. Captaincy "was just something that came to him quite naturally and you wouldn't think it was odd," Wileman reflects. "He'd just say: 'move around there a bit, you need to be a bit further back.' And because it was Joe and people respected what he said and did, that would just happen. He was a captain who led by example rather than what you might get from some kids: 'Stand out there; that's rubbish; get off' – that kind of thing. He was not that sort of all. He was an encourager."
Joe Root was visiting Dore Primary School to launch Yorkshire Tea National Cricket Week with Chance to Shine. This year it runs Monday 19th - Friday 23rd June, sign up here.
Join our new commenting forum
Join thought-provoking conversations, follow other Independent readers and see their replies