Joe Root rejects Graeme Swann barbs and backs captain Alastair Cook
England take on India in the second ODI on Wednesday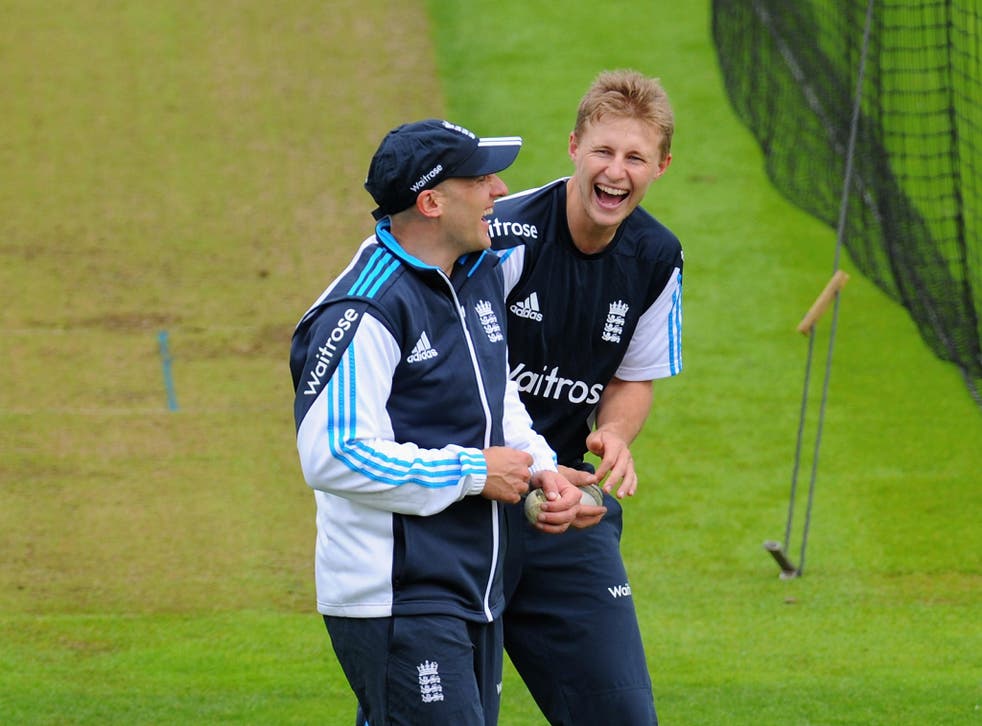 Joe Root launched a stout defence of England captain Alastair Cook yesterday after the team's one-day cricket was rubbished by former players Graeme Swann and Michael Vaughan on Monday.
Swann, who retired last winter, is a close friend of Cook but did not spare him. He advised the skipper to quit the 50-over game and suggested England did not have "a cat in hell's chance" of winning next year's World Cup.
Vaughan was no less forgiving. Both men attacked England for playing a conservative style of one-day cricket they believe is no longer effective today, yet Root insisted the team were on the right track as they prepared to face India in today's second one-day international at Sophia Gardens.
"Graeme Swann is paid to give his opinions and he is entitled to give them," said Root. "We know as a side where we are at. We are comfortable and ready to go. Alastair Cook is our leader in one-day cricket as well as Tests. He's done well over a number of years and we all back him.
"He's a fantastic player and has got all of our support. His style complements that of players like Alex Hales and hopefully that can be shown in this series.
"I think there is enough firepower in the team. We've got guys like Eoin Morgan and Jos Buttler down the order who, as you've seen, can win games on their own. Mixed in with everyone else we're in a good place and this series will be a good judge of that."
Hales' inclusion is eagerly anticipated as England have lacked explosiveness at the top of the order for some time. The opening pair of Cook and Ian Bell were rarely capable of dominating bowlers from the word go, whereas Hales has shown in Twenty20 cricket for England that he can do exactly that.
The Nottinghamshire batsman ought to make his 50-over debut in this game, opening the innings with Cook as Bell drops down to No 3. Both Vaughan and Swann had called for more players in the mould of Hales to be included, such as Jason Roy of Surrey and Hampshire's James Vince.
Swann revealed that, during his time in the England one-day side, the coaches became obsessed with statistics. Such plans were often rendered ineffective against particularly attacking sides, such as the Sri Lanka team that required just 39.3 of the 50 overs available to blow away England in the quarter-final of the 2011 World Cup.
Root bristled at the suggestion that Hales' arrival would make England a more dangerous batting side – "I don't think there's much of a problem with the batting, to be honest" – and he denied that the side were guilty of paralysis by analysis.
"I would not say that is the case," he argued. "We have obviously got certain things in place, but we feel that if we get things right and express ourselves the way we want to out in the middle, everything else will take care of itself.
"There are certain stats you look at but we want to be able to go out there with freedom to play and show people what we can do. We have to judge it while we are out there, weigh things up and do what we think is right for the team.
"We want to prove we can do that, we know we are capable of doing it and this is a great opportunity for us."
Register for free to continue reading
Registration is a free and easy way to support our truly independent journalism
By registering, you will also enjoy limited access to Premium articles, exclusive newsletters, commenting, and virtual events with our leading journalists
Already have an account? sign in
Register for free to continue reading
Registration is a free and easy way to support our truly independent journalism
By registering, you will also enjoy limited access to Premium articles, exclusive newsletters, commenting, and virtual events with our leading journalists
Already have an account? sign in
Join our new commenting forum
Join thought-provoking conversations, follow other Independent readers and see their replies