Jonathan Trott comment: Batsman's volte face over why he quit the Ashes and clumsy choice of words to explain it harm those who really suffer from depression
Former England captain Michael Vaughan has been among those to criticise Trott
Robin Scott-Elliot
Monday 17 March 2014 18:53 Comments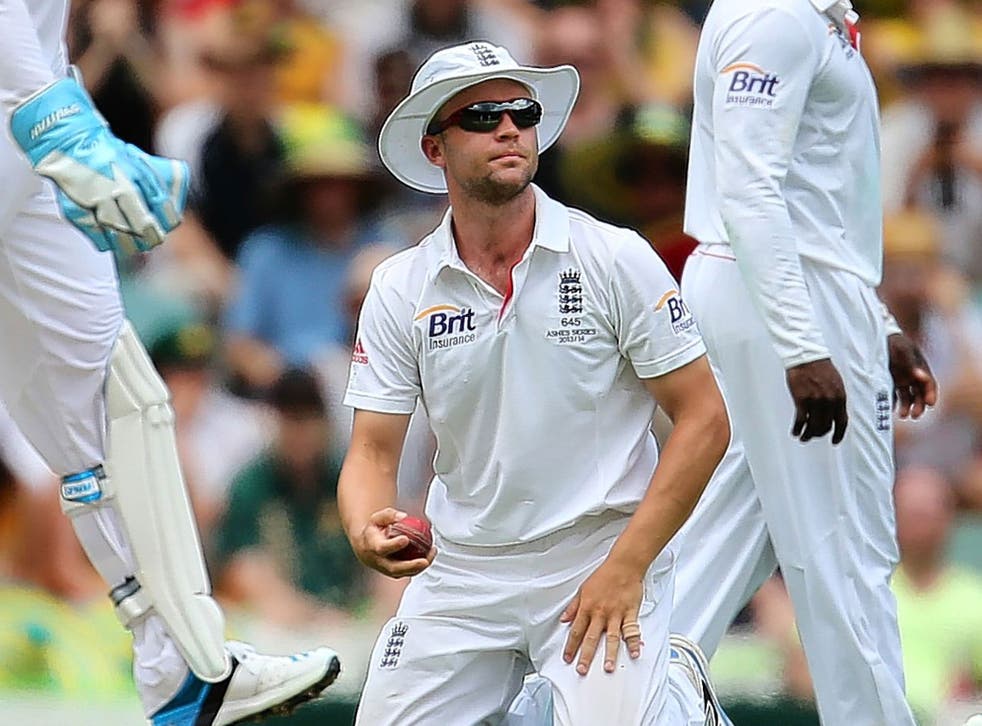 When Marcus Trescothick was spirited away from England's tour to India eight years ago it was because of a virus. So the England and Wales Cricket Board had it. Before the next English season Trescothick sat down with Ian Ward of Sky Sports and spoke about what had happened in India, why he had come home in a hurry.
"The main reason was I picked up a bug while I was out there," Trescothick told Ward. He returned to the West Country with the blessing of his captain, Michael Vaughan. Vaughan had seen what was happening to his opening partner and had an idea what this "virus" was.
Spool forward to last winter, and seemingly a more enlightened, better educated sporting age, and the ECB's announcement that Jonathan Trott was on the way home with a stress-related illness. Another fast forward and here is Trott sitting down with Ward and Sky Sports to inform us all that no, he was not a "nutcase", rather he had been burnt out by his job.
It was a carefully stage-managed return – as so much is drearily stage-managed around top-level sport today – and it appears to have backfired terribly.
Vaughan witnessed at close quarters what Trescothick went through, and writes of friends dogged by depression. Real, unashamed depression. This is an issue Vaughan has sought to promote awareness of. No wonder he has been damning of Trott's backtracking, saying he felt conned. And there must be others left far from impressed by the latest mess to come out of a tour that appears to have followed a script written by Mel Gibson in one of his blackest anti-English moods.
If the definitive, warts-and-all story of England's 2013-14 Ashes is ever written it will be a sports book like no other.
What must Trescothick or Michael Yardy or indeed Andrew Flintoff make of the curious case of Jonathan Trott?
Ian O'Brien, the New Zealand bowler, decided to come out – it can feel that momentous within a dressing room – after hearing a radio programme hosted by Vaughan on the subject of depression in cricket three years ago. "It's not an easy thing to talk about," he said at the time.
Cricket is an oddity of a team sport, where the individual's contribution is absolutely measurable. There can be personal despair among a group triumph, and so it can be the most selfish of team sports: I give you G Boycott of England, Yorkshire and himself.
Ed Cowan, a thoughtful and interesting writer in between his cricketing duties for Tasmania and formerly Australia, believes there are far more players who battle with differing levels of depression than those who have revealed their problems. That no doubt holds true in life beyond the boundary but there are particular facets of the game that do leave the first-class cricketer potentially more exposed to facing this crippling issue. There is the unique pressure of high-level sport – although as Vaughan points out, failing to deal with that is not simply a sign of declining mental health – the long spells away from home, the time to dwell on failure; and failure comes round more often than success.
This is O'Brien again, on his illness and his sport: "Go back to the very start and you have to ask the question, is it cricket that acts as a catalyst for mental illness or is it the people who are drawn to it? I'm serious here because the sport does kick your arse very quickly. You can have a great day and then be a nobody the next. If you went around the dressing room, you could pick someone who was suffering from obsessive compulsive disorder, you could pick someone with Asperger's syndrome and then there's those affected by depression. There would be a small minority who would actually be quite normal."
The team itself, especially on tour, can provide an element of counselling but in a dressing room struggling to stay together and receiving a damn good hiding on the field that will be in negligible supply. It is of course easier to stay together when all is well. There appeared to be several troubled souls in England's team over the winter. Graeme Swann jumped overboard and got himself out of there. Matt Prior, enduring a desperate time of it, stayed and tried to do his bit. And that is without getting into you-know-who. What did Trott do? Has he deep issues going back the best part of a decade? He now says no, England had said yes.
That he was going through an intensely difficult time in Australia is undeniable. Those that saw him out there knew something was wrong, and those that have seen him in the last couple of weeks say he does indeed look, sound and seem better. But better from what?
"I thought I was suffering from depression but I was just out of form," wrote Vaughan yesterday of one of his own low times in the game. There is, though, the possibility that Trott is in some kind of denial, and certainly the symptoms mentioned do smack of a mental- or stress-related illness. Trescothick tried to come back to international cricket but a year on returned home from Australia and that was the end of his England career.
What Trescothick has done since, and the manner in which he and the ECB eventually handled it, have been pretty much exemplary. Whatever the true facts surrounding Trott, this has been anything but.
Imagine being an O'Brien now, sitting in the corner of the dressing room, sitting on your secret, and hearing Trott use language like "nutcase" and "crazy". Yesterday, by coincidence, Time to Change, a programme to end discrimination against people who experience mental health issues, was promoting its cause on Twitter. A cricket player truly suffering from depression and bedevilled by the doubt and insecurity it brings is less likely to step forward and look for help if he or she believes it will be greeted with scepticism from out there.
It takes courage to put up your hand and admit publicly, first to team-mates then to the wider world, that you have a problem – and you are in a world where your moves will attract greater attention than most who battle with this condition.
It is not an easy thing to do. Far from it. To cry wolf over this, or even to further muddy already murky waters, is a damaging and selfish act by either the player or the governing body, or possibly both. At best it was clumsy and ill-thought out and someone is certainly not being straight about this. At worst it may have for some just made the loneliest of team sports even lonelier.
Register for free to continue reading
Registration is a free and easy way to support our truly independent journalism
By registering, you will also enjoy limited access to Premium articles, exclusive newsletters, commenting, and virtual events with our leading journalists
Already have an account? sign in
Join our new commenting forum
Join thought-provoking conversations, follow other Independent readers and see their replies