Joyful England soar to summit
Ruthless display from Anderson sparks another Indian collapse to take home side to No 1 spot in Test rankings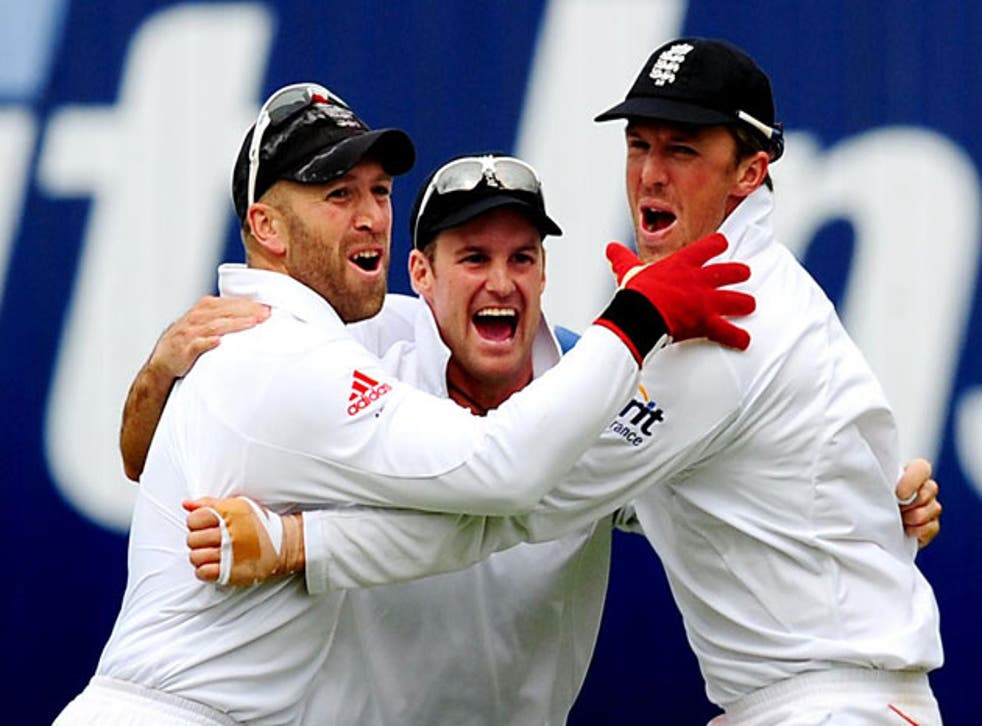 England are on top of the world. The crushing defeat of India yesterday by an innings and 242 runs put them 3-0 ahead in the series and confirmed their status at the summit of Test cricket.
It was an exhilarating victory entirely befitting a team who have carried all before them in the past nine months. Of the eight wins England have achieved in their past 12 Tests, six have been by an innings. It has been the stuff of champions, the stuff dreams are made on.
India never had a prayer yesterday. Before the start of play on the fourth day of the Third Test, the best they could probably hope for was taking the match into the fifth. By the time the second over was completed that had receded, and by lunch it was utterly forlorn.
England went about their business scrupulously and ruthlessly, aided in their objective by opponents who were ill-prepared for the task at hand. The tourists came here not only as World Cup winners in the limited-overs form of the game but as the No 1 ranked Test side in the world, a title they have all but brought into disrepute.
One side were meticulous, the other were slipshod. There could be only one outcome. This was the culmination of all that Englandhave been aiming for in the past two years – from the West Indies via South Africa and Australia. Perhaps it has come quicker than they imagined, but each challenge has been met squarely.
If India have been disappointing – and they have – it has beenpartly because England have not allowed them to be anything else. Home advantage is always significant in international cricket, and England have made it pay every step of the way.
India's batsmen, some of the most vaunted around, some of the most vaunted there have ever been, havefallen prey to the moving ball, either swinging fractionally in the air or cutting off the seam. England have purveyed it accuratelyand mercilessly.
This has not happened by chance, however. England knew who they were targeting and targeted them. Throughout the series India have not made as many in a collective innings as Alastair Cook made in one at Edgbaston – 288 is their highest total, Cook scored 294.
Crucially, England's batsmen have made large totals and given their bowlers plenty of time to rest. They made 474 at Lord's, 544 at Trent Bridge and 710, their third highest total of all time, at Edgbaston.
Cook might have been the object of mild criticism for not displaying enough get-up-and-go on Friday, but the real point was that there wasstill plenty of time left in the match. To save it, India had to bat more thantwo days.
Almost from the moment Jimmy Anderson went to his mark yesterday morning that became an idea if pure fancy. Gautam Gambhir sparred at his first ball of the morning, it was travelling across him, and he parried it second slip.
In his next over, Anderson had the only wicket that has been truly hard to come by in this series. It was achieved in odd circumstances. Rahul Dravid left the field for around two minutes for what in tennis is known as a toilet break but does not actually exist in cricket.
He had to rush, of course, and perhaps this disrupted his famous concentration, perhaps it dislodged a brick or two in the edifice of the man known as The Wall.
To his second ball on his return, a corker, he played forward and edged behind. He hesitated but decided against asking for a review, although the replays suggested that there was enough doubt for him to have won the decision.
Dravid's bat touched the lace on his left boot as he went through his stroke, and while he may have got an outside edge as well that was not as certain. The thought occurred, however, that it was still justice of sorts: India have not been fit to lace England's boots this past month.
Briefly thereafter, Sachin Tendulkar played sublimely. Was he at lastto attain his 100th international hundred, albeit in a losing cause? It looked like it for long enough as he exhibited positive footwork, usuallygoing forward for the first time in the series.
He had struck eight fours in his40, failing to be perplexed either by the loss of the especially disappointing VVS Laxman, Anderson's third victim of the morning, also caught behind, and Suresh Raina, Graeme Swann's third wicket of the series.
Then Mahendra Singh Dhoni hit a return drive off Swann, who bent low and deflected the ball on to the stumps (these days bowlers practise the manoeuvre). It looked out and it was out. Tendulkar went to huge applause.
At lunch India were 116 for 6, and there were some fireworks after the interval. The loss of Amit Mishra brought in the lively Praveen Kumar. Kumar has bowled his heart out in this series and bats in a fashion that always suggests he will never perish wondering.
He and Dhoni shared a stand of 75 in eight overs and ensured that Swann was taken out of the attack. It was no more than a frothy diversion, but in the context of this abjectly one-sided match it was an important one.
The end came quickly when Kumar, in sight of the fastest Test fifty, was bounced out by Stuart Broad. Ishant Sharma and Sreesanth departed swiftly.
Dhoni, undefeated on 74, said later: "It was an outstanding example of being outplayed by another inter-national side." He wasn't kidding.
Edgbaston scoreboard
England won toss
India - First innings 224 (Dhoni 77; Broad 4-53, Bresnan 4-62)
England - First innings 710-7 dec (Cook 294, Morgan 104, Strauss 87, Pietersen 63, Bresnan 53 no; Mishra 3-150)
India - Second innings (Overnight: 35-1)
G Gambhir c Swann b Anderson 14/54/2/0
R Dravid c Prior b Anderson 18/65/3/0
S R Tendulkar run out (Swann) 40/92/8/0
V V S Laxman c Prior b Anderson 2/27/0/0
S K Raina lbw b Swann 10/34/2/0
†* M S Dhoni not out 74/119/13/0
A Mishra c Broad b Swann 22/27/4/0
P Kumar c Bopara b Broad 40/37/5/3
I Sharma lbw b Broad 0/7/0/0
S Sreesanth c Pietersen b Bresnan 5/23/1/0
Extras (b6 lb6 w7) 19
Total (55.3 overs) 244
Fall 2-35 3-40 4-56 5-87 6-89 7-130 8-205 9-221.
Bowling Anderson 18-3-85-5; Broad 12-4-28-2; Bresnan 10.3-3-19-1; Swann 13-1-88-2; Pietersen 2-0-12-0.
Umpires SJ Davis (Aus) and S J A Taufel (Aus).
England win by an innings and 242 runs.
Join our new commenting forum
Join thought-provoking conversations, follow other Independent readers and see their replies