Kevin Pietersen autobiography: What would it take for Pietersen to return for England? 'Giles Clarke would have to go'
Pietersen reveals that he believes the ECB chairman could leave his post in the next few months following the release of KP: The Autobiography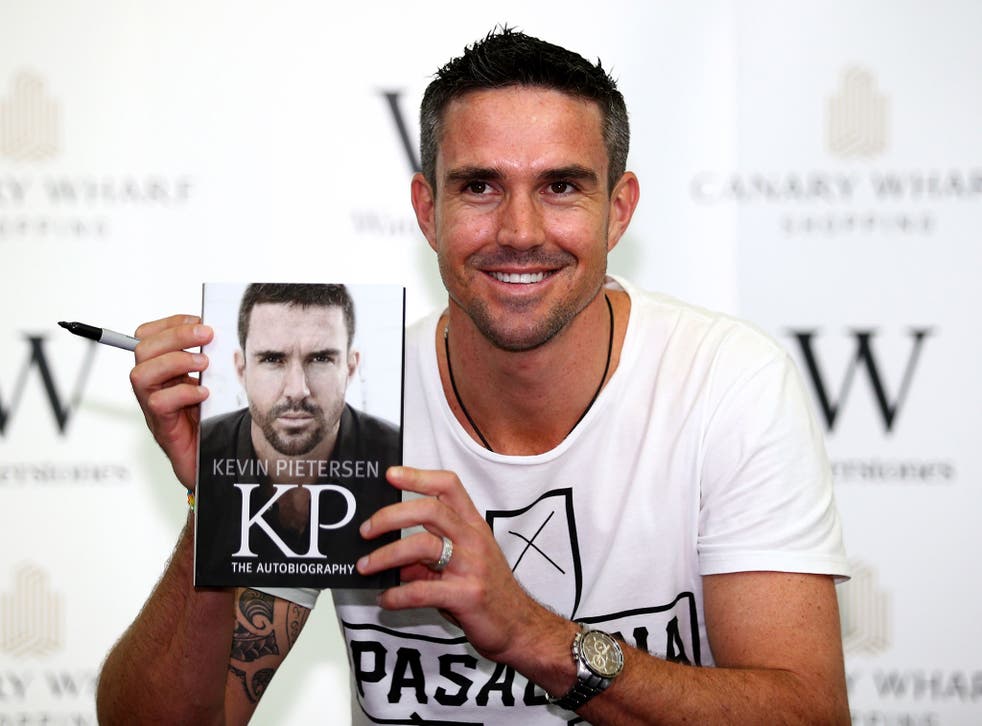 Kevin Pietersen is dressed casually — denim shirt, purple trousers and red trainers. Comfortable, a man at ease, a man without a care in the world — a man you would never suspect of triggering shockwaves through English cricket.
Pietersen has spent the past four days on a whirlwind tour of press conferences and TV interviews as he promotes THAT book — the one that barely needs promoting considering the accusations and shocks that come leaping out of every page with the ferocity of his trademark switch-hit.
Today it's the Evening Standard's turn to meet him face to face, to stare him in the eyes and see for myself whether all the turmoil is coming from the heart or is a cynical way to make money out of an autobiography.
I should have known better. We have barely exchanged courtesies when he piles into the attack, just like he did when he was tearing through the Aussies in those historic Ashes series.
KP reaction: what they said

Show all 9
Pietersen seems impervious to the enemies he has now made, immune to the vitriol flying around his head, to the hatred in powerful cricketing corridors that is now crushing down on him.
Instead, he is explaining to me — passionately and with a steely look in his eyes — how the ousting of one man who stands in his way could open the door for the unthinkable.
I have barely absorbed the impudence and audacity of what he is saying when Pietersen explains how it can be done.
As far as he is concerned, all it will take is for Giles Clarke, the chairman of English cricket's ruling body, the ECB, to be removed. Simple.
Clarke oversaw the sacking of Pietersen this year. His position can be challenged next year or he could even turn down the chance for re-election.
The exiled Pietersen sees this as his opportunity to return, saying: "What would have to happen for me to be recalled by England? Clearly, the boss would have to go.
"Clarke would have to go and I've been hearing that could happen in the next few months. That's all hearsay, you never know. If there is a change at the top, there is potential, but we will wait and see."
I'm not sure whether this is delusional or indicative of a man struggling to let go. Even if Clarke is replaced, the key jobs in English cricket are held by managing director Paul Downton, captain Alastair Cook and coach Peter Moores. Downton and Cook were instrumental in Pietersen's dismissal and KP fell out with Moores when they were England captain and coach in 2008.
Pietersen said: "Giles pulls a lot of strings. In terms of cricket, I believe Andy Flower pulls a lot of strings too. He has Giles Clarke in his pocket. Since I was sacked, there have been good and bad days. Bad days because I'd think about where the team were, what they were doing, which hotels they were in.
"I was doing school runs, which I'm not saying is a bad thing, but it's stuff I'd never done before. Sometimes I'd be driving around London thinking: 'I should be on a cricket field here, playing a Test for England'."
The way Pietersen describes playing for England in his book, KP: The Autobiography, makes you wonder why he would want ever to do it again.
He speaks of a coach, Flower, who "always had it in for me" and who is holding back English cricket through his continued presence at the ECB. Flower stepped down days before Pietersen was sacked but is still on the payroll.
He says "the clique", of his apparent nemesis Matt Prior along with Graeme Swann, Stuart Broad and Jimmy Anderson, made players unhappy to the extent that Pietersen considered complaining to the ECB's human resources department. He also accused Swann of undermining the authority of captain Cook.
"If there were a podium for egos, I wouldn't be on it. Who would? Prior, Swann, Broad. Comfortably. No, it's just…it's horrendous," he says.
Then there are the counter claims against Pietersen — as revealed in an ever-so-mysteriously 'leaked' ECB legal document this week. There were allegations he had abused Flower and team-mates, encouraged young team-mates to go drinking against orders and considered feigning injury to leave the Ashes tour after the third Test debacle.
Again Pietersen brushes it all away, this time with a suitable dollop of injustice as though it is barely worthy of his response. "Embarrassing," he says, while calmly declining to deal with the specifics. "It proves that they were collecting stamp after stamp on me. I've felt that with Flower ever since he started (in 2009).
"It's embarrassing that an organisation would stoop to that level, to leak something. I started laughing when I saw it. That's the only comment I have on that. I'm not going to give it the time of day."
He continued: "During the time Flower was coach, I was happy when I batted but I wasn't happy on many an occasion. He would make me unhappy and I know it was the case for other players. They felt that way about 'the clique', too.
"I brought up the issue of 'the clique' countless times with Flower, but he had it in for me. It didn't suit his agenda and now we are where we are. I didn't enjoy them bullying others. There are people in the team who support me and you will see that when they give interviews.
"If Andy Flower was a good man-manager, England would not be where they are today. He needs to give an interview. I wonder why he hasn't."
Flower had remarkable success as coach, helping the team win three Ashes series as well as the World Twenty20 title. With him at the helm, the team rose to the top of the Test rankings in 2011.
But Pietersen ascribes those successes to a talented group of players, rather than good coaching. Few appear to share his opinion but he even claimed to "feel sorry" for young cricketers who would work with Flower in his new role with aspiring England players.
The principal source of anger for ¬Pietersen does not seem to have been Flower, however. It was a parody Twitter account active during 2012, which ¬Pietersen believes was used by some England players to lampoon him.
Last night, former England captain Alec Stewart appeared to back Pietersen on this. He confirmed a part of Pietersen's book that revealed a cricket fan had told Stewart that England players had access to the account. Stewart has now named Broad, Swann and Tim Bresnan.
And what of Cook? The current skipper was instrumental in the decision to discard Pietersen, yet Pietersen portrays him as a man out of his depth and occasionally ridiculed by "the clique".
"When Alastair Cook stood up to address the team, Graeme Swann would often start laughing," said Pietersen. "He would take the p*** out of the way he spoke, he'd take the p*** out of his 'squinty eye'.
"I sat there in team meetings and thought: 'What does a youngster feel about this environment?' As soon as he'd finished talking, Swanny would say something about what he'd said.
"They say it's banter, but it's not. When the captain is speaking you leave him to speak. You respect him because it doesn't matter what your friendship is like with him, you can do that in private.
"When you have other players in the team present, you don't constantly take digs at him, and that's why I don't think Cook spoke that well in front of the team. He was nervous to speak because he knew there were a couple of guys who would have a go at the way he spoke and laugh at him. It's not right at all."
Pietersen himself is alleged to have questioned Cook's approach in Australia. Cook has since fallen out with Swann after the latter advised him to quit as one-day captain.
Meanwhile, nobody is spared Pietersen's ire. The ECB and team-mates are accused of taking the benefits from his success while seeking to destroy him.
He added: "Federations are frightened of mavericks but they are very quick to take the money they generate.
"Were team-mates jealous of my success? Possibly. Possibly."
It is explosive, forthright stuff. Yet it is also sad that one of England's finest teams are reduced to this.
Kevin Pietersen on....
...THE BOOK
It's amazing. Have you read it? Every single person I've spoken to who has touched the book hasn't been able to put it down. It was a brilliant time because I could reminisce on some really good stuff, and then there is other stuff in the book which I needed to get out. Every single word in this book needed to be right, with some of the allegations in there. I'm a consummate professional so everything I try to do, I do it properly.
...THE IPL
I remember lying on the sofa this summer listening to the commentators saying they wished more England players were playing in the IPL. I turned to Jess (his wife) and said: "I've been saying that for years." I started laughing. Ridiculous. What has happened this week (with the book) and what will continue to happen over the next few days might shake the ECB up. There are clearly issues that need sorting.
...HIS ROOTS
The South African personality is quite a hard one to stick in this country because of the straight shooting in conversation. I'm not for one second going to dare say anything against my England career and the life I've forged here, the amazing country England is, and for the opportunity the ECB gave me to play for England. It's the only route I know and it's the only route I can talk about.
...HIS PERSONALITY
Maybe I spoke too honestly about things and was too much of a straight shooter. Quite a few things I regret, clearly, but I'm me, and I'm not going to go and change to be somebody else because I'd be very unhappy. You have to be yourself to be happy. You can learn and try to be a better person but if you try to be a different person you won't be happy.
...ENGLAND'S PROSPECTS
With Matt Prior gone, the team can now move forward. Joe Root, Gary Balance – brilliant. Moeen Ali has some good stuff about him. I hope they find an opener. I hope they pick Alex Hales and let him whack the ball at the top of the order. I love Steve Finn and want him to come back, and I hope Eoin Morgan gets another chance. I get on so well with all these guys and I want them to be successful.
...HIS FUTURE
I hope I'll keep playing in England. I'm sitting down with Surrey in the next month or so and we're going to decide how the season is going to run next year. I found it incredibly hard this year, playing Twenty20 cricket only once a week. To play in the County Championship I'd have to change my mindset. I'd have to tell myself I was doing it to help Surrey reach Division One and to prepare for the Twenty20 competition.
...HIS OLD BOSSES
I remember sitting in a meeting where the ECB said we needed to make cricket sexy. A few years later you have a couple of cricketers (Pietersen and Andrew Flintoff) who are recognised everywhere and they're trying to squash them down. They want you to be fairies off the field but lunatics on it.
...DOMESTIC CRICKET
The support for Twenty20 in this country is good. It is not like the County Championship, where you have three people watching and scoring. They need to bring a franchise system into cricket and make the sport in this country more sexy. They need to change the board and the man at the top. They need to bring in some forward-thinkers.
KP: The Autobiography by Kevin Pietersen is published by Sphere, £20
Kevin Pietersen is talking at the Institute of Education in Bloomsbury on October 13. Go to waterstones.com/events for tickets
Register for free to continue reading
Registration is a free and easy way to support our truly independent journalism
By registering, you will also enjoy limited access to Premium articles, exclusive newsletters, commenting, and virtual events with our leading journalists
Already have an account? sign in
Register for free to continue reading
Registration is a free and easy way to support our truly independent journalism
By registering, you will also enjoy limited access to Premium articles, exclusive newsletters, commenting, and virtual events with our leading journalists
Already have an account? sign in
Join our new commenting forum
Join thought-provoking conversations, follow other Independent readers and see their replies