Lou Vincent fixing claims overshadow blast-off for ECB's new T20 format
Stephen Brenkley Comments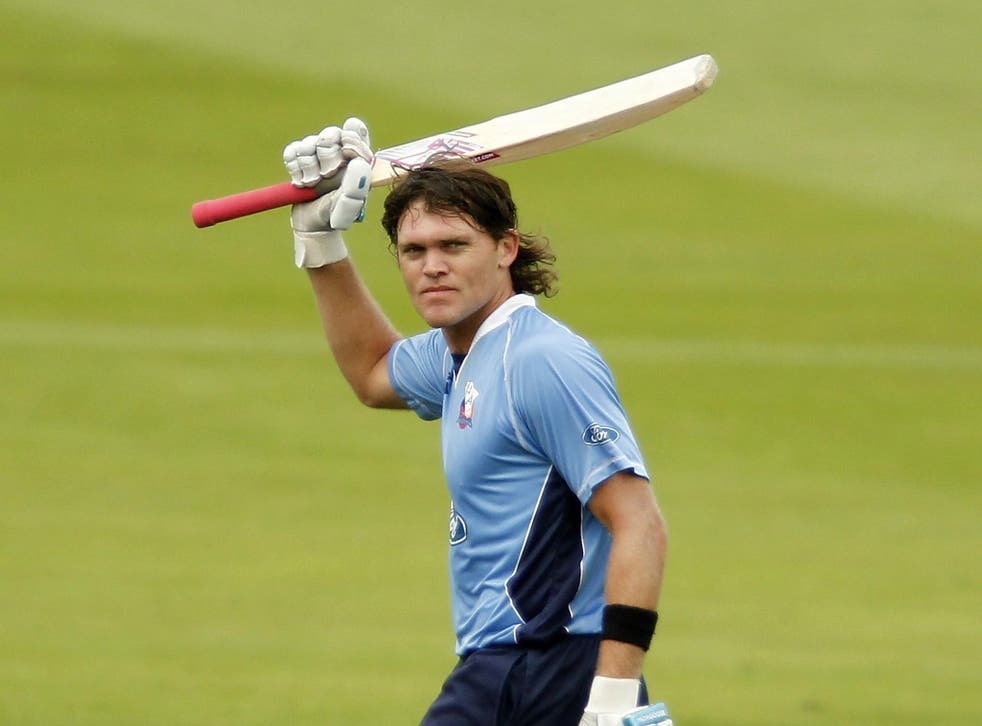 England's vibrantly revamped Twenty20 competition was launched in the shadow of match-rigging and corrupt betting. The concern was that the NatWest T20 Blast could be blasted out of the public's esteem barely before a ball had been bowled.
Renewed allegations of fixing have been revealed at a bad time for a tournament that desperately needs a new direction. Although all the suspect matches date back several years – and not all were in the T20 format – the scandal has increased the pressure on the England and Wales Cricket Board to fix the fixers.
Its stance is to contend that the public perception of the T20 Blast will not be affected but the board is taking the potential threat extremely seriously. Apart from the continuing education of players about how to deal with approaches from betting rings, they are also targeting dishonest gamblers.
"We have in place an experienced seven-strong anti-corruption team which has been scrutinising county cricket closely," said an ECB spokesman. "An officer will be in place at every televised limited-overs game as well as many that aren't televised. We do not take this lightly and can't be complacent but overall we don't believe that match-fixing and spot-fixing are problems endemic in the county game."
The anti-corruption team are particularly trying to find cases of so-called court-siding, which takes advantage of the delay, around five to 12 seconds, between the action taking place and being televised. It enables a person at a game to send back information quickly to a colleague who can then place a bet. This is nothing to do with illegal bookmaking in Asia, or with the rigging of matches, but stealing an advantage in a perfectly legal market. Last year 15 people were ejected from English grounds and there were a total of 23 cases.

The problem is that the Lou Vincent dossier, partly unveiled this week, has spoiled England's T20 party. Vincent, whose name was whispered for years as a spot-fixer, is reported to have co-operated with anti-corruption officers from the International Cricket Council.
Several matches in many countries in which Vincent, the former New Zealand Test player, was involved are being investigated including some from his time in England with Sussex and Lancashire. His revelations now may be part of a plea bargain with the ICC, which may be worth it if it can lead to the ringleaders.
It could well take two or three years for all the leads to come together but the ICC can only hope that in the meantime corrupt practices will at least be slowed down. The ECB, keen to promote its new Friday-night competition against this backdrop, emphasises that 100,000 people, most of them youngsters, have already watched its promotional video and 15,000 supporters have signed up to the fantasy league.
Ensuring clean games now and in the future is clearly the main target of the authorities but they will be keen to see some miscreants punished if possible. Former suspects have a way of coming back.
England pursued the Essex bowler Mervyn Westfield in 2012 and he was subsequently jailed for receiving £6000 to bowl deliberate wides in a match. Westfield is now part of the PCA's scheme to educate young professionals.
Equally, England employed Mushtaq Ahmed as their spin bowling coach for six years until recently and Mushtaq was this week appointed to a similar job in his native Pakistan. But in 2000, the Qayyum Report, one of the most robust of all on the subject, recommended that he "be not given any office of responsibility [selection or captaincy] in the team or on the board."
Mushtaq, a genial chap, said this week: "I'm very pleased about my new role. I don't want to talk about any of that." It was all long ago in his case but FICA, the international players' union, is advocating an amnesty to persuade players of more recent vintage to talk.
Register for free to continue reading
Registration is a free and easy way to support our truly independent journalism
By registering, you will also enjoy limited access to Premium articles, exclusive newsletters, commenting, and virtual events with our leading journalists
Already have an account? sign in
Join our new commenting forum
Join thought-provoking conversations, follow other Independent readers and see their replies