'A special environment': Marcus Trescothick thrilled to return to England setup as elite batting coach
Former opener beat off a number of high-profile contenders for the role
Vithushan Ehantharajah
Sports Feature Writer
Monday 01 March 2021 21:00 Comments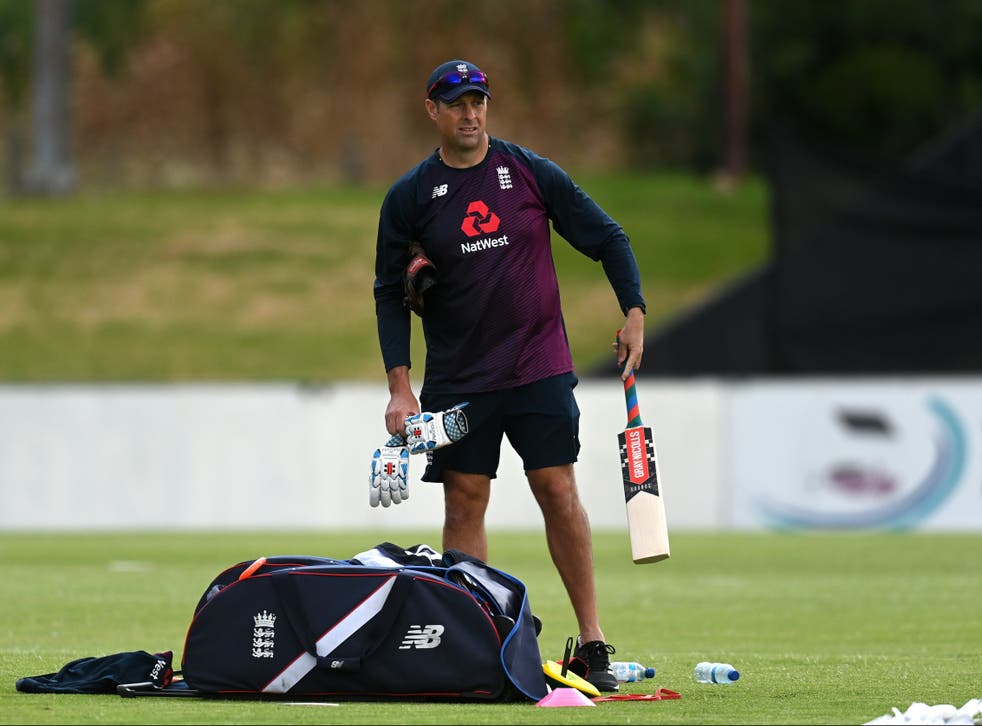 Marcus Trescothick's announcement as the ECB's elite batting coach marked a victory on two fronts for the former England batsman. 
The new role was earned against a field of high-profile contenders, including Jonathan Trott, who is currently out in India with the Test side, and is the natural culmination of Trescothick's work with the national team and at Somerset, where his 30-year association with the county as a player, captain and coach comes to an end.
But more pertinently, it marks an improvement in managing the travel-related anxiety that saw an international career cut short on 76 Tests and 123 ODIs. 
In 2006, Trescothick left a tour of India due to a stress-related illness that flared up again later that year. Though that would see an end to his time with England, he went on to play for Somerset until the age of 43, equalling Harold Gimblett's record of 49 first-class centuries. 
His work over the last couple of years has seen him return to overseas assignments: he spent four weeks in Cape Town before the tour of South Africa in 2019 and then a fortnight in Johannesburg, Port Elizabeth and Durban at the start of 2020. He was due to join the India tour to assist for the limited-overs matches later this month but a family bereavement means he will remain at home. 
Given England's schedule this year alone, there will be a lot more travelling to be done, something Trescothick is ready to build towards. 
"It's an ongoing process for me," he said. "I think I've learned to adapt it and progress where I've gone. I've gradually built it from a couple of days in Spain, then went to Spain for a week, then did two weeks in Abu Dhabi. Gradually cutting my teeth on it just to get more confident. Every trip that I do, the more I realise how much I enjoyed the touring life. But that's not to say I'm ready to jump back in and do six weeks or two months or three months away. That's not what I'm ready for yet. And we've discussed that."
"We have discussed it and I'm ready to jump back on and do bits and pieces. Do I want to do three months in a row? No, I don't. I'm building up to that sort of points.  
"As a coach, you work hard but in a different way. And that's what I've really enjoyed. It's given me the opportunity to be there, enjoy it for the right reasons in comparison to what I did before."
Trescothick's amenability to touring is also aided by his family situation. His two daughters are older and, thus, less dependent which puts him at ease. 
Crucially, there is a love of being back with the national team that has returned. It was something that became evident to the 45-year-old on that last tour of South Africa when he donned England stash once more. The memories of six years at the highest level that reaped 26 international hundreds still as vivid as ever.
"I'm an absolute kit nuffy when it comes to little bits and pieces.  I remember walking out at the Wanderers with your kit on, it feels so special. Because you dream of it and it is something you look forward to all your career - that's not changed from being a player to being a coach. 
"I was given an England helmet the other week and I took it home and I was like, 'Oh, wow.' Just small things like that. The appreciation of what a special environment you are involved in. It's still no different for me."
Current Young Lions head coach Jon Lewis has been promoted to the role of elite pace bowling coach. Richard Dawson will replace Lewis in a reconfigured elite pathway coach role. Jeetan Patel, out in India with the Test squad, has been appointed permanent elite spin bowling coach. 
Register for free to continue reading
Registration is a free and easy way to support our truly independent journalism
By registering, you will also enjoy limited access to Premium articles, exclusive newsletters, commenting, and virtual events with our leading journalists
Already have an account? sign in
Join our new commenting forum
Join thought-provoking conversations, follow other Independent readers and see their replies