Marcus Trescothick hails Joe Root's 'golden arm' as England edge closer to win
England dominated the first three days at Emirates Old Trafford but saw their attempts to level the series dented on Saturday.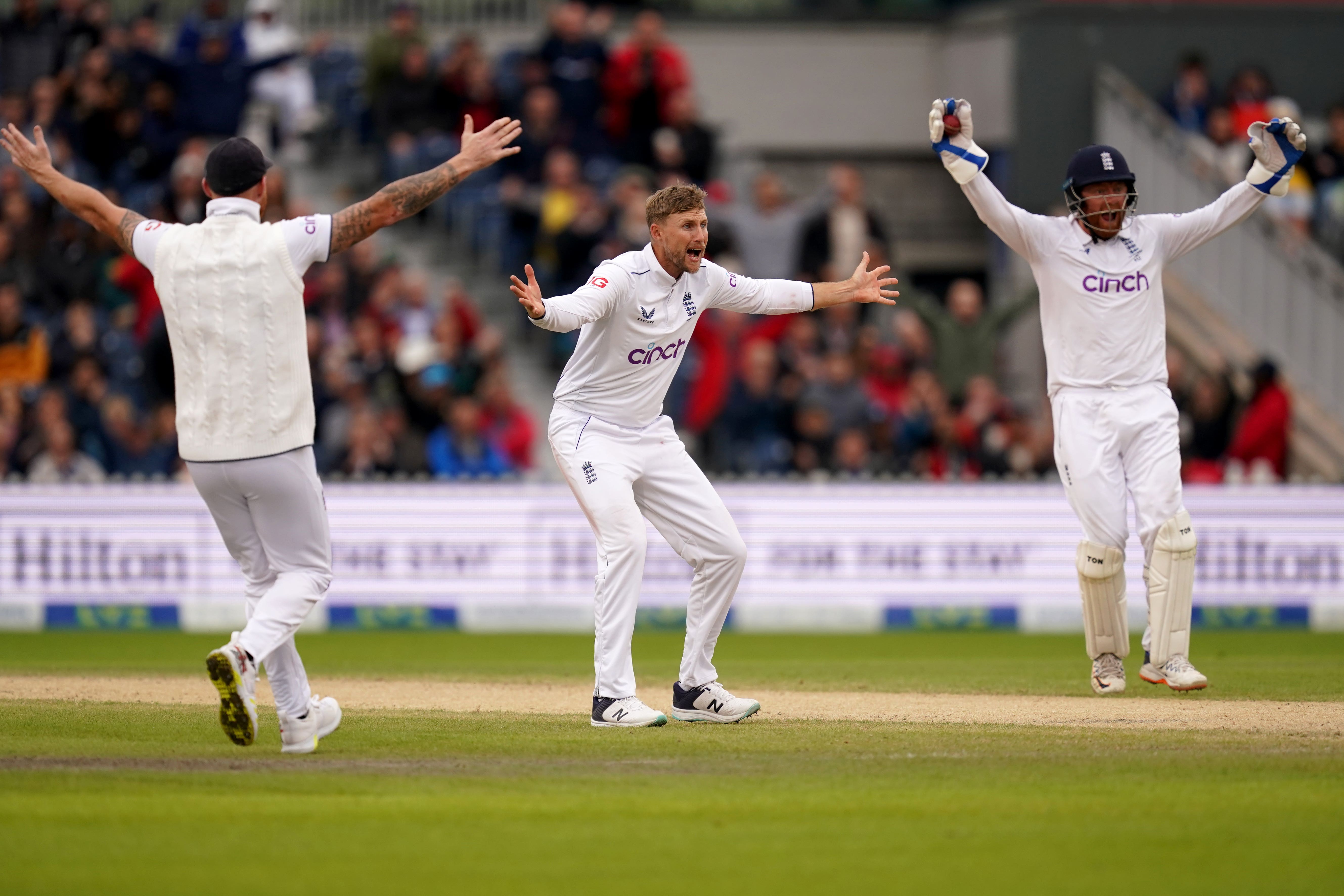 Marcus Trescothick praised Joe Root's "golden arm" for moving England one step closer to victory in the fourth Test, but admitted their Ashes hopes are at the mercy of the Manchester weather.
England dominated the first three days at Emirates Old Trafford but saw their attempts to level the series 2-2 dented on Saturday, with 60 overs lost to rain.
Plenty more was predicted on day five, meaning time was likely to be tight as they make a final push for the line with Australia 61 behind on 214 for five.
England managed just one wicket in the solitary session on day four, with Root's part-time spin prising out Marnus Labuschagne for 111 after the pace bowlers were withdrawn due to bad light.
It was a crucial moment, ending a century stand with Mitch Marsh (31no) and giving the hardy crowd something to celebrate after a day of disappointment.
"Joe's a little bit of a golden arm, isn't he? He just finds a way," said Trescothick.
"He just has that ability to come in with a little spell now and again and just pick up one or two wickets. He has a good knack of doing that. He bowls the odd delivery that really surprises people.
"It's a big, big player out of the way and it's one less person that we have to knock over, which is important."
With England chasing the game, there is no dodging the dire weather that threatens to rob a memorable series of a fitting decider at the Oval next week. And Australia have made it clear they will not entertain the idea of setting up a positive result on day five.
Labuschagne appeared baffled by the mere suggestion that his side could push for a lead and try to take all 10 wickets, with his eyes firmly on the prize of retaining the urn.
"No chance, zero," he said of his side's ambitions to win the match.
"I think we're just going to let it pay out, get bowled out when we do. I don't think we're going to give England a sniff…that's exactly what they'd like."
Trescothick was part of the 2005 Ashes Test at the same ground which went all the way to the final ball of the game as Australia finished nine down to salvage a draw and would be happy to go the distance again.
"Of course we are, we'd wait till 12 o'clock tomorrow night if we could," he said.
"But we can't control what we turn up to. If we get a full day's play I think we'd be very confident in what we can try and do and push for a result.
"We're looking at everything, as you can imagine. Everyone's got a different (weather app) on their phones, lots of different ones on computers knocking around and unfortunately, they're all pretty much saying the same thing at the moment: rain.
"We'll wait and see. Any opportunity that we can get out in the middle tomorrow we will be grabbing with both hands."