Matt Prior takes break from England: I am not doing justice to myself and, importantly, the team
Prior has been out of form and battling injury with Jos Buttler set to get a chance behind the stumps in the Test team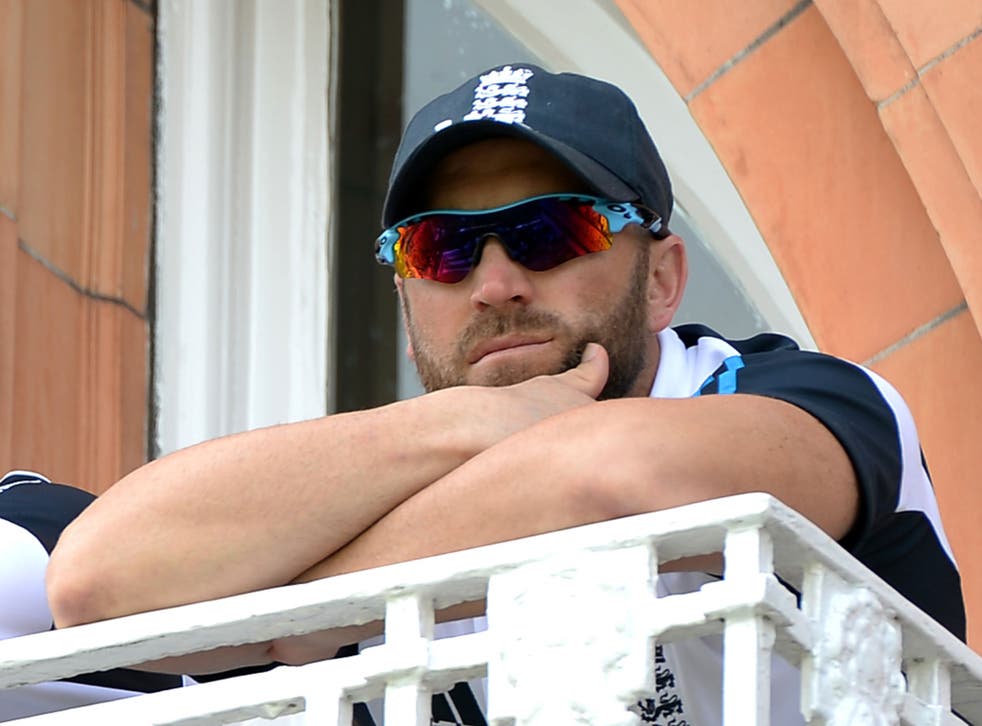 Matt Prior has made himself unavailable to England for the rest of the summer due to injury.
Last night, in the aftermath of the 95-run defeat to India in the second Test, the 32-year-old wicketkeeper revealed that he has a series of complaints which are hampering his performances. It is expected Prior will undergo surgery on his troublesome Achilles tendon.
"I'm not doing justice to myself and more importantly the team and that is what matters first and foremost," Prior said. "I tore my quad before the first Test and my right hand has been beaten to a pulp, but the main issue is the Achilles.
"Now we have the time, I want to be proactive about how we deal with it so I imagine that I'll have an operation.
"I've always said as long as I can do my job I will manage the pain and get on with it, but it has now got to the point where I can't do my job to the level I expect of myself."
Prior has struggled behind the stumps this summer, with a number of dropped catches, and made just 23 and 12 with the bat at Lord's. After his tough time during the Ashes, when he was dropped after the third Test, Prior, who has won 79 caps since his debut in 2007, knows his international career could be over.
"It is a huge decision and not one I've taken lightly obviously because I could have played my last game," he added. "I've made my decision for the good of the team and whoever comes in I genuinely wish them the best of luck and hope they go well and perform and help the team win. That is all I want.
"If that happens and I don't play again, then that was my lot."
England will announce today the squad for the third Investec Test at Southampton, with Lancashire's Jos Buttler likely to be called up to take Prior's place. Captain Alastair Cook is determined the upheaval does not spread to his position, though.
Cook revealed that the last five days had been some of the most difficult of his career but that he still believes he is the man to revive England. In what appeared to be a dig at his bowlers, who failed to deliver in helpful conditions on the first morning after Cook had won the toss, the captain suggested that those seeking to blame him for the defeat should look elsewhere.
The senior players – Cook, Prior, Stuart Broad, Ian Bell and, to a lesser extent, Jimmy Anderson – have failed to perform well enough this summer and their poor displays are damaging England.
"A captain is only as good as the players who play," said Cook. "You can see that from what has happened to Australia under Michael Clarke. You always think you'd have different things but when we've won games, I've captained well, and in certain other times I've captained well.
"At Trent Bridge [where England and India drew the first Test], I thought I did well. Here it was a simple game plan, and I don't think my captaincy was the reason we lost this game.
"The senior players have not played as well as we can. We are very proud of our records but Test cricket is a tough environment to survive in and play in.
"You always have thoughts when things are tough but I'm just as determined as I was at the beginning of this game," he insisted. "Five days are a long time in sport, but I'm still here.
M S Dhoni, the India captain, has advised Cook to step down if he fears the job is damaging his form and the success of the team.
Dhoni has known such difficult times. As India captain, he lost eight successive Tests against England and Australia between 2011 and 2012.
"If you feel that if you're not the captain it will help improve your cricket then you're better off doing that, but it depends on the individual," Dhoni said.
Register for free to continue reading
Registration is a free and easy way to support our truly independent journalism
By registering, you will also enjoy limited access to Premium articles, exclusive newsletters, commenting, and virtual events with our leading journalists
Already have an account? sign in
Register for free to continue reading
Registration is a free and easy way to support our truly independent journalism
By registering, you will also enjoy limited access to Premium articles, exclusive newsletters, commenting, and virtual events with our leading journalists
Already have an account? sign in
Join our new commenting forum
Join thought-provoking conversations, follow other Independent readers and see their replies