Marnus Labuschagne and Steve Smith frustrate England's bid for quick wickets
The pair were unbeaten as Australia reached lunch on day one of the fourth Ashes Test on 107 for two.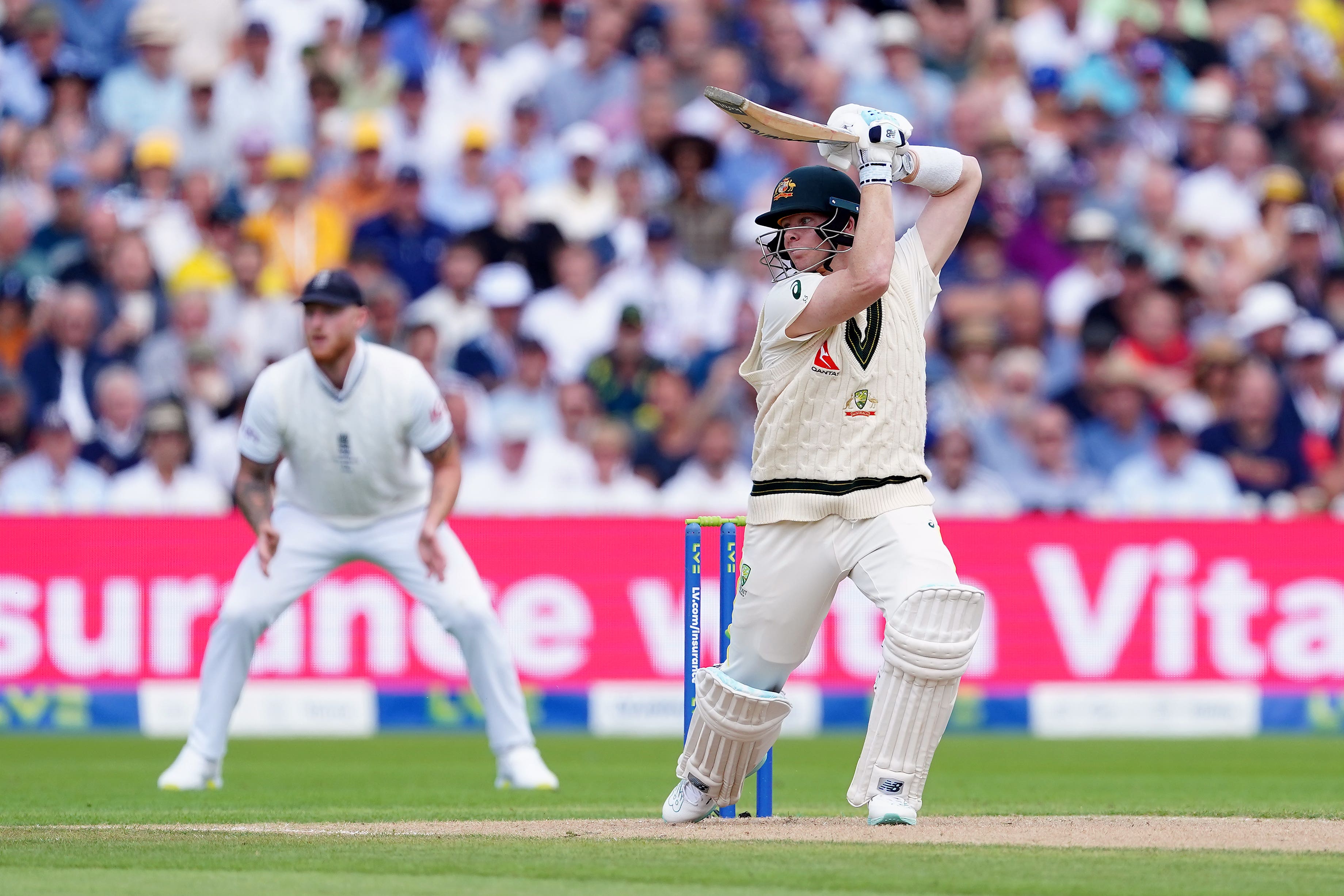 England hopes of rounding up quick Australian wickets met with resistance at Emirates Old Trafford, where the tourists reached 107 for two on the first morning of the fourth Ashes Test.
In placid batting conditions Ben Stokes gambled by sending Australia in first, motivated by his side's 2-1 deficit in the series and the threat of a weekend washout, but in need of early breakthroughs to justify the call.
Stuart Broad responded by taking out in-form opener Usman Khawaja for three, moving to 599 Test wickets in the process, but England managed only one more before lunch when Chris Woakes had David Warner caught behind for 32.
Neither Marnus Labuschagne (29no) nor Steve Smith (33no) started convincingly, but the pair survived to score briskly in the last half-hour and leave the home side needing some afternoon inspiration.
For the fourth time in a row Australia skipper Pat Cummins called wrong at the toss, leaving Stokes to make his margin call.
He handed Broad an immediate chance to tighten his grip over Warner, having snapped him up for the 17th time at Headingley last time out.
The left-hander, who survived heavy scrutiny over his place this week, bagged two ducks on this ground on his last visit four years ago but ruled out a repeat performance off the first ball of the game, slapping a wide loosener from Broad through cover for four.
The crowd were eager to see the returning James Anderson make his mark at the end that bears his name but, despite a typically solid start, it was Broad who got things going.
Nobody has batted longer or made more runs in the series than Khawaja, but he was first fall on this occasion, plumb lbw to a full ball angled in from round the wicket.
Labuschagne has had a much leaner time of it and his struggles continued initially, comprehensively beaten on the outside edge by Anderson on nought and completely misreading an inswinger from Broad moments later.
The arrival of Mark Wood dialled up the pace but, unlike the previous match, Australia managed to use it to their advantage.
His four-over spell went for 21 – as well as four byes – and a thick edge to third man from Labuschagne was as close as he got to a breakthrough.
Instead, it was Woakes who checked Warner's growing confidence. Setting up camp outside his off stump and drawing a couple of poor shots, he eventually pushed his length a fraction fuller. Warner drove, snicked through to Jonny Bairstow and was on his way.
Smith was next up and almost gifted England a chance with an opening stroke that was entirely out of character.
He stepped inside the line of his first ball from Woakes, hooking straight towards Wood at fine-leg. Had he been stationed on the rope it would have been a regulation catch, but he was several metres in and saw the ball clear his despairing dive en route to a one-bounce four.
The runs began to flow with greater ease as lunch approached, both batters showing greater control and a two-over spell from Moeen Ali costing 17.