Robert Key: Total recall
Kent captain Robert Key, who was cast into the wilderness by England three years ago, explains to Robin Scott-Elliot why he is prepared to change even his lifestyle to win back his Test place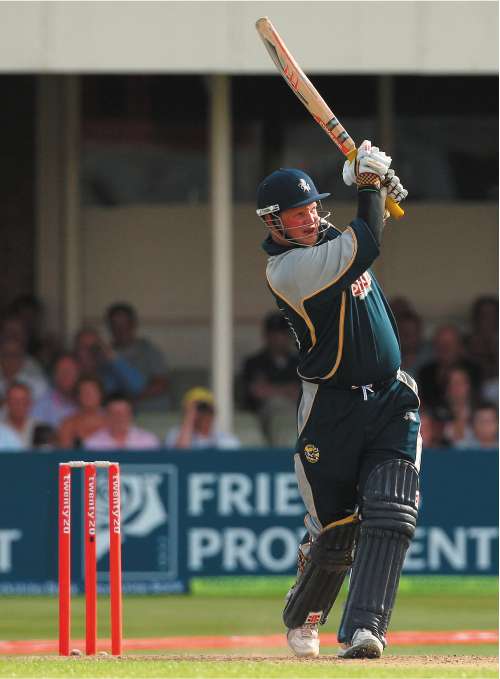 The Australians saw something in Robert Key, perhaps more so than his own country ever has. Once upon a time, Key resembled an English cricketer of the type Australians adore to lampoon; rosy-cheeked and red-necked beneath the sun, a touch too roly-poly and always with an eye on the time to tea; in all a soft touch; a batsman Damien Martyn's dribbly medium pace can get out.
Martyn did dismiss Key once, but it was on that 2002 Ashes tour that Steve Waugh, the hardest of the hard, took note of this young man from the garden of England. "He doesn't give a shit about much and is real relaxed," remarked Waugh. "I like that in a bloke; it stops him getting overawed."
It was an innings of just 47, but on a flyer of a pitch at the Waca in Perth, that caught the Australians' attention. Brett Lee, Glenn McGrath and Jason Gillespie were in their snarling element and Key stood alone on the burning deck as England's more experienced batsmen shrivelled around him. Then he was bowled by Martyn, but an impression had been made.
That innings suggested a fruitful Test career and when, two years later, Key became only the fifth man to score a double-century in a Test match at Lord's, Waugh's hunch seemed a sure thing. But six Tests later and Key was gone. He has not played for England since.
It has been three long years since he trudged off Centurion Park, lbw bowled Pollock for nine, because, in one way, Waugh is wrong: Key does give a shit. "If I get to the end of my career and I've not got back in and done well at Test level, played well as an England cricketer, I will be frustrated," Key said last week as he prepared to lead Kent into a new season. "I will feel unfulfilled as a cricketer because I believe I should be able to do it."
England is a recurrent theme for Key. Playing for his country drives him. The youngster who once saw winters as an opportunity to "get pissed with my mates" has gone, replaced by a professional sportsman striving to use any proper means he can to get to the top.
Last winter Key paid his own way – and that of his wife and young daughter – back to Perth to seek the guidance of Neil Holder, the coach behind Justin Langer's late development into a formidable Test cricketer. "Noddy is a coach I've put my faith in," Key said of the man he first sought help from following a sharp word from Alec Stewart that he was in danger of wasting his career. "I wanted to address where I need to improve – I have worked particularly on my agility. I must keep moving forwards so I can become a better player and get back in the England team. My first goal is to get back in that England team. I want to do well at Kent, but I go away and practise every year, travel across the world to try to improve so I can get back in the England team."
This season will be pivotal if he is to return. Key turns 29 next month. He is at his peak as a mature batsman; since his last Test runs have come in droves for Kent and England A. "I didn't make the best of my opportunities for England. I probably played when I was a bit young, but I am the player I am today because of the tough times, not the good times. I am a far better player now than when I played for England. I've become wiser – you get to know your game."
A winter removed from England duty may not have done him any harm. The Test side's batting remains as inconsistent as an English spring and, although change for the opening game against New Zealand is unlikely, the top three still has a square peg, round hole look.
A good start to Kent's campaign should soon turn the selectors' attentions to Key. After all, this is a selection team that is supposed to value domestic achievement.
Key has thrived for Kent and thrived on the responsibility of captaincy, not so much poacher turned gamekeeper as binge-drinker turned bouncer. "As a young player I spent enough time trying to pull the wool over the coach and captain's eyes, so it's quite funny when you catch people trying to do it to you."
Last season was a success personally and for his team. "It was probably my best year. I came of age as a one-day player." Key and Kent won the Twenty20, a triumph that surprised many as neither captain nor county seemed designed for the bish-bash brashness of the game's shortest form. "When Twenty20 started we had a stand-in captain who said as we walked on to the pitch, 'Right, let's get this farce over and done with'. As a club, we have neglected our one-day cricket. But we've improved and gone from the worst Twenty20 team to winning it."
Key himself has improved considerably in the one-day game. Last season he averaged 70 in Twenty20 and 58 in the Pro40. Twenty20 has grabbed him as it has much of the cricketing world. "It's great fun. Imagine what it's like playing in front of a full house at The Oval compared to playing in front of one man and his dog.
"It's adrenalin-filled cricket. I love it. It's fantastic to watch. I enjoy watching sport and – I admit I may be biased – Twenty20 is probably the best sport to watch. Football, rugby, any game – Twenty20 is more enjoyable. It's the pace, there's hardly a dull game. Fours, sixes, wickets, exceptional fielding – it's the whole package."
Key's enthusiasm for his sport endures in a manner that many after a decade or so on the county treadmill have lost.
"I am a cricket nut. I used to drive up and down the country with Min Patel talking about cricket, cricket, cricket. Every shot, every ball, every field placing, we discussed it at length. I am always talking about cricket – I must be quite a dull fellow."
His passion explains his reaction to the Indian Premier League. What impact the IPL might have on the English domestic game is difficult to gauge. There may well be negatives, but Key does not fear its impact, nor does he begrudge those taking part the huge sums, by cricket's standards, they are being paid. "It's good to see someone like Simmo [Andrew Symonds, a former Kent team-mate] getting the chance to play and earn the reward. If one of my players came to me and said, 'I've been offered thousands of dollars to play', I'm not going to say, 'No, I want you at nets on Monday'. I want to play for England so I'm not interested, but in a few years' time I don't think I would say no.
"But I don't see it as a threat. We have to look at ways to advance, but the IPL isn't a rival. I'm looking forward to it – the chance to see the best cricketers in the world all playing Twenty20 together, it's going to be fantastic to watch."
Kent have produced some improbable captains of England – witness Mike Denness and Chris Cowdrey – and there is not exactly a raft of candidates to succeed Michael Vaughan. One step at a time, of course; there's still an international recall to earn and first his domestic duties to attend to, but Key has real experience of leadership, and leading a county battling to survive in an increasingly tough domestic top flight is a gruelling, demanding job. "It's hard. The standard is high. You look around and you see [Andrew] Caddick coming back, Goughie's [Darren Gough] rallying Yorkshire – you can't see who's going to struggle. It's going to be tough."
Which, it seems, is how Key – contrary to appearance – likes it, and is what Waugh may well have sensed on a broiling day in Perth six years ago. "All I've ever tried to be is who I am. I want to win, whether it's batting or playing touch rugby as a warm-up, whatever – I enjoy competition and I want to win."
Join our commenting forum
Join thought-provoking conversations, follow other Independent readers and see their replies