The making of Sam Curran, a quick learner who is wasted down England's batting order
Lamb knows plenty about success with England - and even more about a current international who he feels can go all the way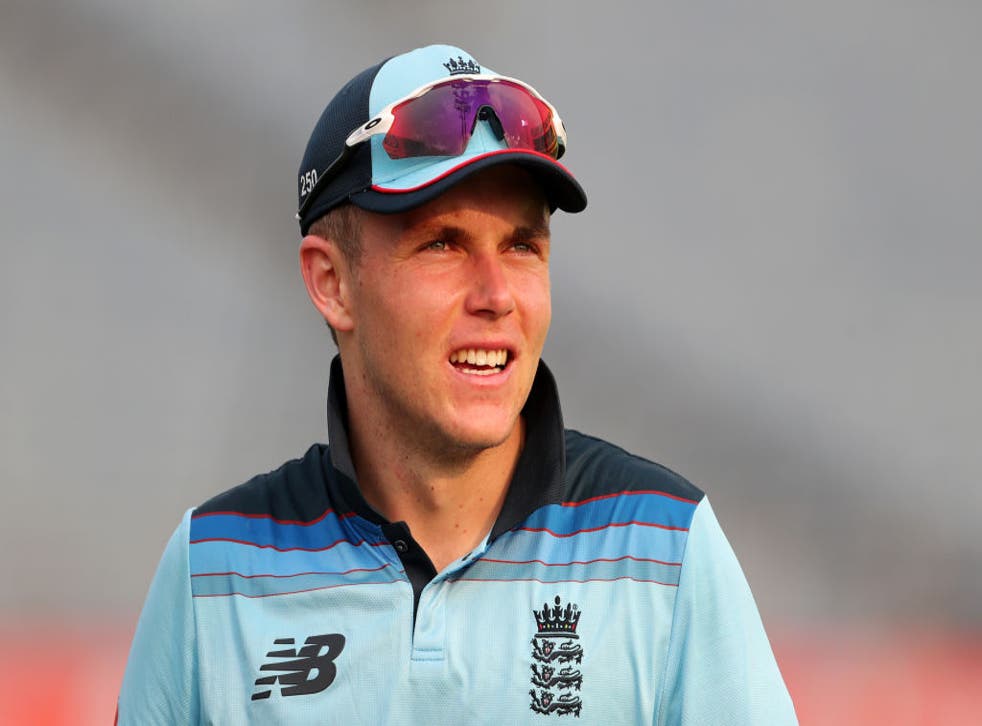 England had Allan Lamb to thank for getting them out of some considerable scrapes during his lengthy international career.
And had Sam Curran got Jos Buttler's side over the line in the final ODI in Pune on Sunday, they would have owed him another debt of gratitude.
The Surrey star scored a sensational 95 not out as England came within an ace of inflicting a series defeat on Virat Kohli's side. Had he done so it would have gone down as one of the most singularly extraordinary innings from a number eight in one-day history.
You can argue the rights and wrongs of that batting position – and plenty will after Curran once again showed the kind of class that suggests he belongs far higher up the order – but after a conversation with a cricketer he knows better than anyone, Lamb was once again left spellbound by just how quickly the 23-year-old learns from his errors.
In this case, running down the track to Krunal Pandya and holing out to Shubman Gil at long off to pretty much end England's hopes of victory in the first match in Pune.
READ MORE:
"It was a sort of similar situation in that first match, with the team needing seven or so an over and Sam at the crease," says Lamb, who played 122 ODIs for England between 1982 and 1992.
"He came down the wicket and gave it away really. He didn't even have to hit boundaries then. I spoke to him and said: 'what are you doing?' and he said he had just had a rush of blood.
"But he's quick learner. He learns every time he plays and I think you saw that on Sunday. He won't be doing that again.
"He has an incredible amount of talent but there have been times when you've wondered what his role is in that side because he's batting so low down.
"If he had pulled that win off, it would have been one of the best innings in history. It was brilliant."
Few could argue with that, with his poise almost as impressive as a range of hitting that belies his build. For England, it was a timely reminder that they have an extraordinary talent on their hands.
All they need to do now is find out how best to harness it.
"I think they may have got it wrong (in the final ODI)," he says. "They say Woody (Mark Wood) can't bat but you can't leave a situation like that to one person, you've still got to pick up those singles and hope that the next guy can pick them up as well.
"I felt sorry for Sam. I think he was told he had to take the strike. It's a difficult one.
"He has always had the talent, he's wasted down the order. When Billings was injured, then Sam could easily bat in that position (number six) – that's where he should have been batting. He can play a long innings and the more overs he has to build one the better."
Lamb has a special relationship with the Curran brothers, having taken them under his wing when their father, his great friend Kevin, died in 2012. He has since played a key role in the careers of all three siblings, on hand whenever a sounding board is needed.
Curran's onslaught on Sunday wasn't entirely alien to a man who once carted Bruce Reid around the SCG to score 18 runs in the final over to secure an outrageous win for England in the winter of 1987.
And winning is something that the Surrey all-rounder has made a habit of since making his England bow as a teenager against Pakistan at Leeds in June 2018.
"England don't lose many matches when he's in the side, his record is pretty extraordinary," he says.
"In Test matches, are they going to play Chris Woakes ahead of him? I don't know.
"I think all the right armers are similar bowlers. You've got two pacemen in Jofra Archer and Wood but I think Sam is a batter-cum-bowler.
"That's what he is. He's a proper batsman and he'll just get better and better but he needs chances to show that.
"If they're going to keep using him like this then I think he'll get a bit frustrated. Long-term he would able to bat at six.
"Look at Stokes, he can bat anywhere in that top order. Of course, Sam's got a long way to go to match him but the Indians rate him highly – Kohli rates him, (MS) Dhoni rates him.
"He opens the batting and the bowling in the IPL. In fact, I sent a message to Dhoni to tell him he was wasting his talent down the order and the next match he was opening the batting!"
He might have to wait a while to do that for his country but after his effort in Pune one thing is abundantly clear.
As Lamb suggests, he is wasted down the order.
Join our new commenting forum
Join thought-provoking conversations, follow other Independent readers and see their replies