Sorry England succumb to the Sharma offensive
Sharma's work, and that of Bhuvneshwar Kumar and Mohammed Shami, extended a worrying recent pattern: that of the touring bowlers showing a greater ability to swing the ball than England's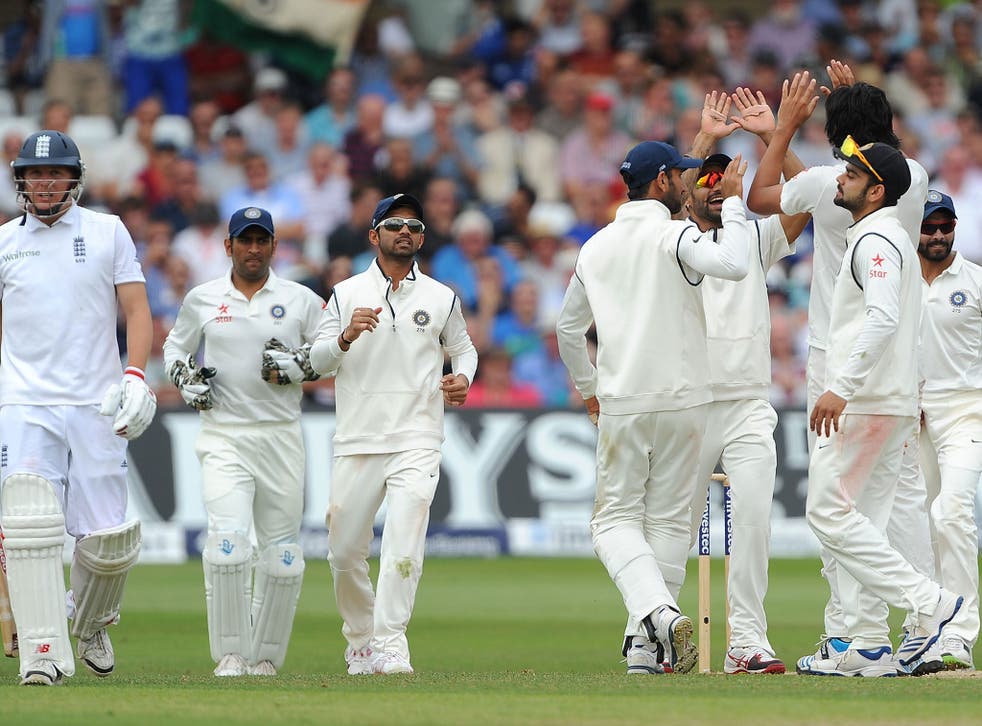 If you're a cricket lover with half an hour to spare, take a little time to find footage of Ishant Sharma's magical spell of fast bowling at Ricky Ponting at Perth in 2008.
On one of the quickest pitches in world cricket, one of the finest batsmen in the history of the game was left shaken and stirred by a 19-year-old from Delhi who was playing only his fourth Test.
Remember the pain that Andrew Flintoff caused Ponting during a single over at Edgbaston in the marvellous 2005 Ashes series? Those who were at the Waca to see Sharma's spell say it was comparable – except that time, Ponting's examination lasted an hour before he was caught at second slip.
Sam Robson and Gary Ballance are novices at Test level and Ian Bell, as well as he has played during periods of a decade in international cricket, is no Ponting. As for comparisons between the thrilling wickets produced at the Waca and this pitiful sandpit beside the Trent, let us leave those to one side.
Yet for the best part of an hour yesterday afternoon Sharma made England just as jittery as he rendered Ponting on that January day six years ago. Fifty-six Tests and 86 limited-overs games for his country have left their mark and Sharma is rarely as rapid as he was in Perth. On a wicket like this, he didn't need to be.
This pitch bears far more resemblance to Nagpur than Nottingham and, as a result, Sharma could feel at home. As comfortable as they looked before lunch, both Robson and Ballance are, by instinct, back-foot players and this is a surface to reward those who make a positive movement forward.
Sharma recognised this and maintained a full length, earning his reward when Ballance was caught on the crease and fell lbw for 71. Although a right-hander, Robson was dismissed in very similar fashion for 59 as Sharma exposed his faulty habits too. The pair had looked solid and when they were gone England's self-assurance drained away more quickly than any moisture there might once have been in the pitch.
Classy player though he is, Bell is starting again to display the frustrating trait that hampered him in his younger days, that of playing a poor shot just when he looks at his most comfortable. So it was again here, although Sharma must be praised again for his intelligent work.
A rare short ball did the trick. Bell played for a lack of bounce and attempted to guide the ball to third man, a stroke that served him so well as he scored three centuries during last summer's victorious Ashes series. When the ball took off, Bell tried to leave it but his attempt to correct his mistake came too late. A faint edge, and MS Dhoni took a simple catch. Sharma had his third wicket, England were four down and the gate was open.
Sharma's figures were scarred a little by Stuart Broad's important assault, which brought 47 from 42 deliveries and ensured, at least, that England would avoid the follow-on. That should have been guaranteed on this wicket but so fragile is the home side's confidence these days that nothing is certain.
Sharma's work, and that of Bhuvneshwar Kumar and Mohammed Shami, extended a worrying recent pattern: that of the touring bowlers showing a greater ability to swing the ball than England's.
James Anderson is usually extremely proficient with the moving ball, and Broad is nobody's fool. Yet this summer they have rarely made a sustained impression, while the touring bowlers – first Sri Lanka's, and now those of India – have extracted far more movement through the air.
It is another problem for England's embattled leaders – or "think tank", to use the modern sporting jargon – to consider as they try to plan a way to save this Test.
So skittish is their batting that only a poor weather forecast for Sunday might prevent them from going 1-0 down in the series.
Register for free to continue reading
Registration is a free and easy way to support our truly independent journalism
By registering, you will also enjoy limited access to Premium articles, exclusive newsletters, commenting, and virtual events with our leading journalists
Already have an account? sign in
Register for free to continue reading
Registration is a free and easy way to support our truly independent journalism
By registering, you will also enjoy limited access to Premium articles, exclusive newsletters, commenting, and virtual events with our leading journalists
Already have an account? sign in
Join our new commenting forum
Join thought-provoking conversations, follow other Independent readers and see their replies