Steven Finn determined to cement England place ahead of Ashes
Finn acknowledges that competition for places is fiercer than ever
George Flood
Tuesday 09 April 2013 13:38 Comments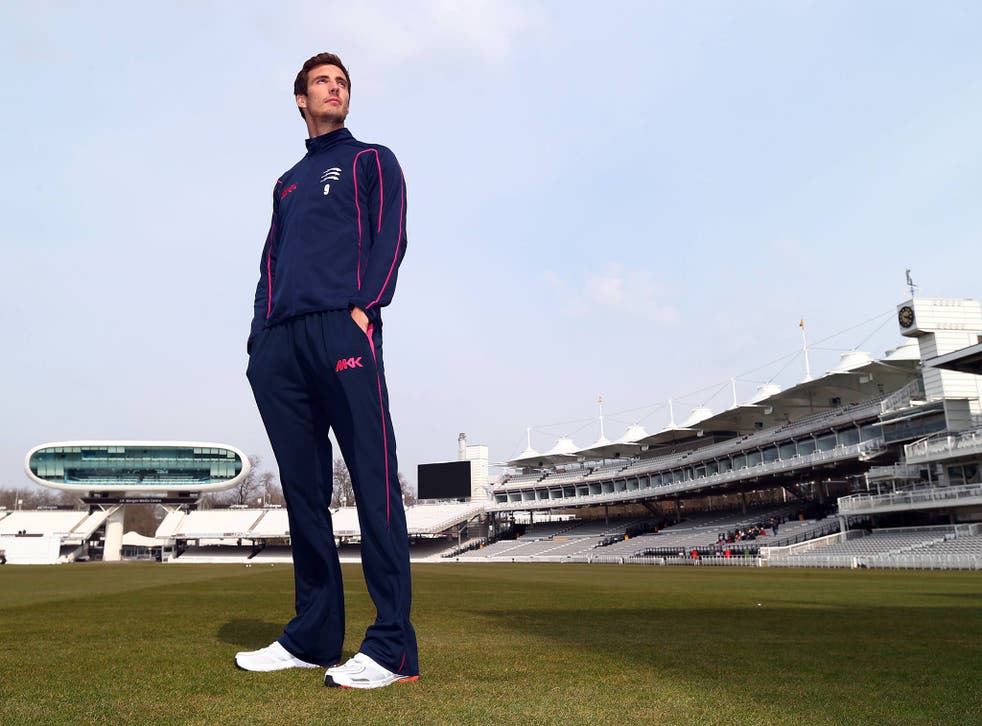 Middlesex pace bowler Steven Finn says he is determined to cement a permanent place in England's Test squad ahead of a crucial summer of international cricket.
24-year-old Finn, who pipped captain Alistair Cook to the FTI Most Valuable Player award following a busy winter that saw him tie his career best haul of 6/125 in the decisive third Test in New Zealand and also record a memorable 56 runs as nightwatchman during the first test in Dunedin, has been in and out of the Test side over the last couple of years but hopes to become a permanent fixture in the build-up to back-to-back Ashes campaigns.
Speaking to reporters at Middlesex's annual pre-season press event on Monday, Finn said: "The most important thing for me is that in these first two games for Middlesex I find my rhythm and I bowl well and then that will lead me nicely into the international summer. I'm looking at these two New Zealand Test matches to hopefully be a part of and then really try and cement my place in the team for the rest of the summer.
"In terms of my Test career, it's been a bit stop and start over the last two years since I got left out of the Ashes. I've worked really hard to try and get myself back to a point where I can become a regular in the team again, like I was in 2010. I feel like I'm not far off but it would be nice to get a little run of games to be able to show what I can do."
And with Chris Tremlett's return to the England fold imminent following a torrid time with injury, Finn acknowledges that competition for places is fiercer than ever but appears to be relishing the challenge.
"The more competition the better," he said. "The things that he (Tremlett) brings to the team are different to what I bring to the team and different to what Jimmy (Anderson) and Broady bring to the team. We're lucky that we've got a diverse group of bowlers who bring different things."
Finn has also welcomed the decision of the International Cricket Council (ICC) to introduce a new playing condition into international cricket, effective from April 30, which will see umpires call a no-ball when a bowler breaks the stumps at the non-striker's end during delivery. This mirrors the earlier announcement by the Marylebone Cricket Club (MCC) who decreed that, from October 1, the offence will be punished by the award of a no-ball, rather than a dead ball.
The need for clarification on this controversial issue first arose during the first day of England's second Test against South Africa at Headingley in 2012, when Finn had visiting captain Graeme Smith caught at slip, only to see umpire Steve Smith chalk off the wicket after deciding that the bowler's accidental interference with the wicket had distracted the batsman.
A similar incident occurred during England's fourth ODI in India back in January, when the same umpire denied Finn another crucial wicket after his knee had again clipped the wicket and dislodged the bails. On that particular occasion the fortunate batsman was Suresh Raina, who certainly made the most of his reprieve and made an unbeaten 89 to help seal a five-wicket win.
"As long as they name the law after me, I don't care," quipped Finn.
"The rules are the rules and I shouldn't have been doing it. It was sort of inexcusable in the first place but there were a lot grey areas. Now that there's a set rule and everyone is singing from the same hymn sheet, that suits me far better."
Finn insists he is continuing to perfect a shorter run-up in order to permanently eradicate the issue, and was happy with the early results of the modification, particularly in the one-day format.
"It's only five metres shorter than it was before so it's not a real drastic change. It's just going to be a case of me getting used to it in test match cricket and first-class cricket and making sure it's ready for that first test match of the summer. I'm going to work hard to get to that place where it's more natural and looks more natural from the outside."
Register for free to continue reading
Registration is a free and easy way to support our truly independent journalism
By registering, you will also enjoy limited access to Premium articles, exclusive newsletters, commenting, and virtual events with our leading journalists
Already have an account? sign in
Join our new commenting forum
Join thought-provoking conversations, follow other Independent readers and see their replies