500 not out, Stuart Broad writes another page in his story of greatness
James Anderson may be regarded as England's greatest, but, as Vithushan Ehantharajah writes, no one has harnessed his own greatness quite like Broad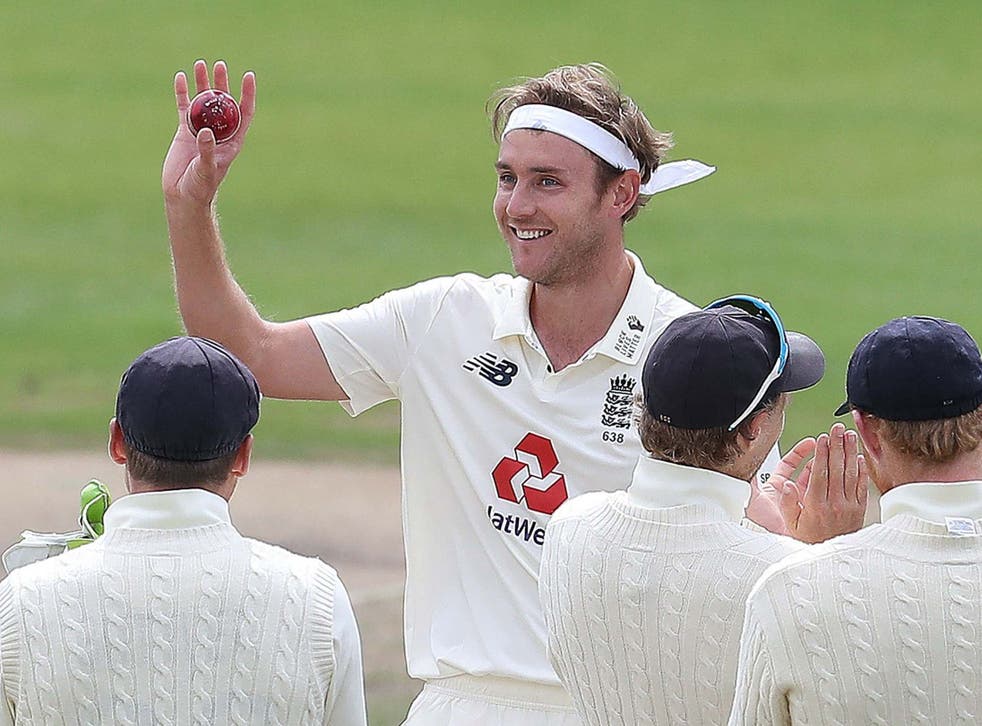 It was quintessentially Stuart Broad: full, searing and straight, rapping the pad and producing the mother of all jazz-hands appeals. Kraigg Brathwaite was the batsman on the other end of it. In the context of the match, his was the one to get, an occupier who has got under the skin and stayed there many times before. West Indies were 45 for three, and England seven dismissals away from a win that would see them take the series.
With that, Broad became the seventh bowler to 500 Test wickets, a milestone achieved on day five of the third Test against West Indies. Having spent the last two nights on 499, as rain washed out the entirety of day four, all he needed was 50 minutes on a chilly Manchester morning to tick over a new century.
Brathwaite was also James Anderson's 500th, a quirk that will only strengthen the bond between these two. Together with the new ball, together for 117 Tests and counting and, now, together in the record books. For all that neatness, it is the perfect encapsulation of Broad's career that even in a moment so unequivocally his, Anderson gets a mention.
That comes with the territory of playing with greatness. But at times it does obscure just how great Broad is. And moments like this, as he became the fourth seamer to make it to that mark, go some way to redressing that. He now shares space with Glenn McGrath, Courtney Walsh and, of course, his old mate at the other end.
Broad is a year younger than Anderson was when he reached this milestone back in September 2017. Broad himself highlighted the difference in their ages just a few days ago due to the regularity in which they get conflated. Anderson will be 38 on Thursday; Broad was 34 last month.
His last 100 wickets have come in 50 innings, a run that began in March 2018 which, funnily enough, centred around the idea that Broad may be on the wane. There was a bit of meat on that particular bone: a tough Ashes had come and gone, and the idea of taking him back to Australia in 2021 seemed far-fetched.
Thrown into the mix were doubts about an action and a wrist that were so certain until then and it was hard to shake the sense that Anderson was the exception when it came to time's natural decline. "At 31, I've got quite a lot of cricket left in me," Broad declared before ticking off number 400 even though he might have been in the minority of those holding that view at the time.
Of course, he would say that. Those operating at Broad's level across the sporting and professional spectrum must believe they can always do more. But actually achieving more requires the perfect balance of self-awareness. Too much and your faults amplify. Too little and they fester.
So, as he became his own most vocal advocate, behind the scenes he put his life in the hands of others. He broke down his action to its parts with Chris Silverwood helping him refind that wrist as New Zealand great Richard Hadlee tweaked his run-up.
The results were clear and immediate: The pace returned and proved more productive with a fuller length that he had been reluctant to embrace in a previous iteration. Statistically, this century has come up quicker than 300 to 400, and at an average 22, among series against seven different opposition across five different countries. For the first time in his career, the bowling average is under 28.
And yet, this very series started with Broad sat in a chair, tail down, fingers twiddling, in one of those Broad sulks having been dropped for the first Test at the Ageas Bowl. A shirt that was rightfully his had been taken away. Yet, as some tutted that Test cricket carries no guarantees, even for one of his record, here we are three weeks later with it fitting Broad as well as it ever has done. He finished with 16 wickets across the three matches and two victories in the bag – having secured his 501st Test wicket with the final ball of the series.
That's how he says he would like to be judged – on the wins. When pressed on the "500" during that first Test, he said he was "not really bothered about those sorts of milestones." That, of course, is a lie, one that neither we buy nor he believes. Yet there is still truth to it.
Because the glory of Broad is in his presence: A career that started aged 21 at Colombo in December 2007 began as one of expectation rather than promise. And here he remains, 140 caps later – older, wiser, more scorned and even more vindicated than ever that he is a man England cannot do without. If Anderson is a story of longevity, Broad's is one of relentlessness.
It feels reductive to bring Anderson into this moment. But it is worth considering the reverence England's most prolific wicket-taker has for his partner in seam. "I am always amazed how he gets into a spell and blows people away," his partner said, 11 wickets off 600 himself and 28 five-wicket hauls under his belt has taken apart his fair share of line-ups. "He could end up with more wickets than me."
That probably sums up what Broad has over the man he will be aligned with forever. Yes, Anderson may be regarded as the greatest, but no one has harnessed their own greatnesses quite like Broad.
Register for free to continue reading
Registration is a free and easy way to support our truly independent journalism
By registering, you will also enjoy limited access to Premium articles, exclusive newsletters, commenting, and virtual events with our leading journalists
Already have an account? sign in
Register for free to continue reading
Registration is a free and easy way to support our truly independent journalism
By registering, you will also enjoy limited access to Premium articles, exclusive newsletters, commenting, and virtual events with our leading journalists
Already have an account? sign in
Join our new commenting forum
Join thought-provoking conversations, follow other Independent readers and see their replies