Ben Stokes: Stuart Broad's unforgettable Ashes finale was written in the stars
England seamer Broad, who was playing his final match as a professional cricketer, took the last two Australian wickets to seal a 49-run victory.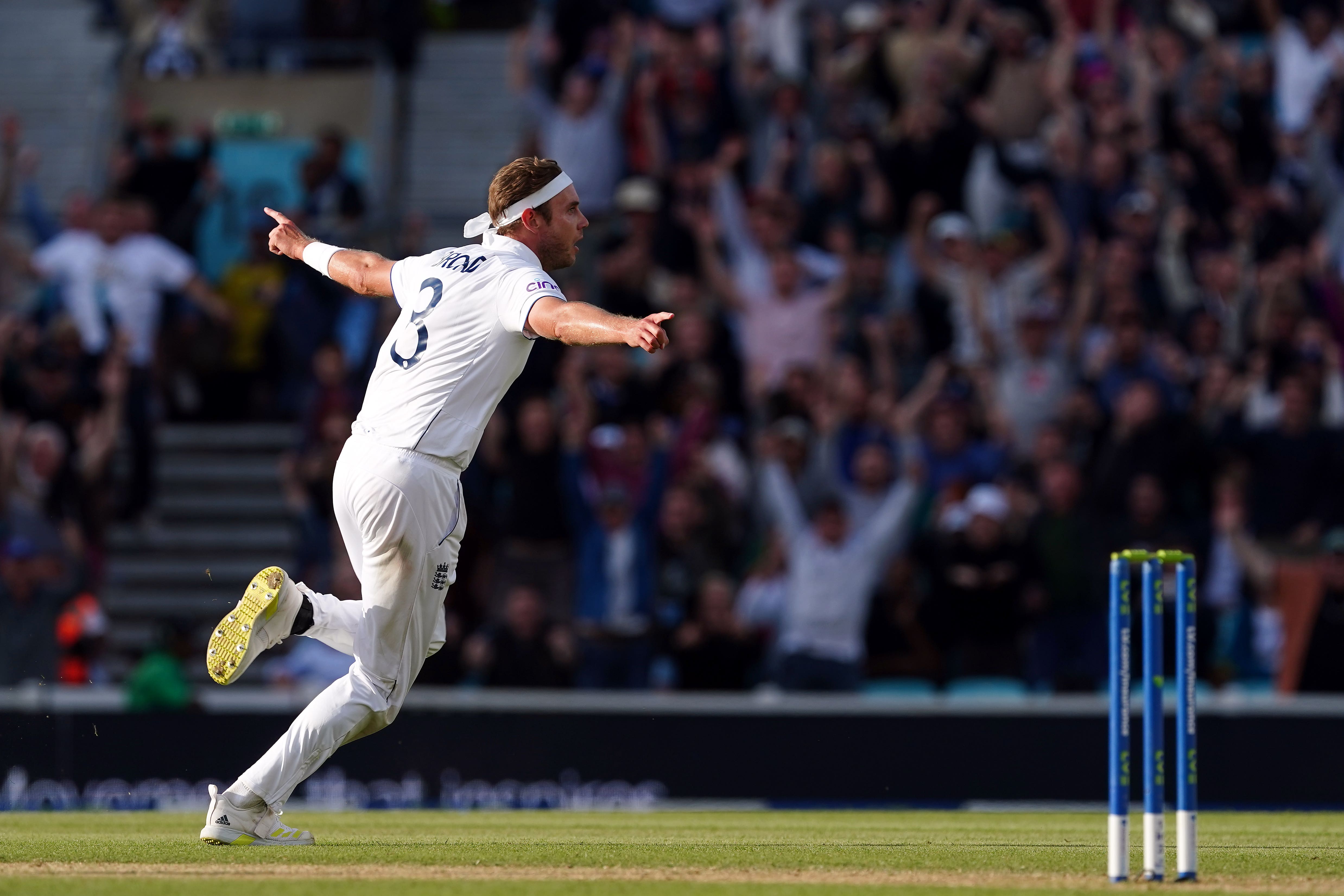 England captain Ben Stokes felt it was "written in the stars" for Stuart Broad to seal victory over Australia after his final delivery in Test cricket secured a deserved 2-2 Ashes draw.
Broad walked out on the concluding day of a gripping series knowing that it was his last as a professional cricketer and his final chance to make one more memory with England.
And he secured the perfect Hollywood finish as Australia were knocked over for 334, taking the last two wickets to fall in front of an adoring Kia Oval crowd, many of whom had turned up wearing white bandanas in tribute to the departing seamer.
The manner of the ending was classic Broad, equal parts provocative, playful and passionate. With the tourists clinging on at eight down he cheekily switched the bails at the non-striker's end – a mind game tactic that preceded his first-innings dismissal of Marnus Labuschagne – and immediately had Todd Murphy caught behind.
He then took Alex Carey's outside edge to spark a carnival atmosphere on the field and in the stands, downing his favourite foes one last time and ensuring a rollercoaster series ended with honours even.
"That's Broady's career isn't it. It was written in the stars for him. It was his moment," said Stokes, who also had stellar performances from player-of-the-series Chris Woakes and Moeen Ali to thank for a 49-run win.
"That bloke has been incredible for England, the longevity of his career and what he has achieved should never be forgotten. I'm so glad that a lot of his friends and family were here to witness what happened today.
"I'm not going to lie, in the back of my mind when we got them eight down I knew it would have taken an almighty trainwreck if we didn't win the game. I thought I chose my moment quite well to bring Broady back into the attack. But seeing him run off with the slips going up to celebrate was one of those moments. It was just always going to happen."
After 16 years, 167 Tests and 604 wickets in the Test arena, the manner of Broad's departure has set a new benchmark for triumphant exits, having earlier hit his final ball as a batter for six.
All in all his swansong had a script he cannot even have dared to dream of.
"I didn't feel like I was in my own body. It's the perfect end," he said.
"It still doesn't feel massively real. I wanted to leave the game loving it and my memories of playing cricket are going to be pretty cool. To take a wicket to win an Ashes Test match with my final ball was something that will make me smile for the rest of my life."
As for the bail-swapping trick that he brought to bear over the last few days, something that seems likely to be replicated in club cricket up and down the country as a curious addition to his legacy, he added: "Maybe I'd have had a bit more success if I kept tweaking the bails. It's amazing that it worked twice in the game – just completely freakish.
"I've always enjoyed the fun, silly side of cricket and that was something that just tickled my fancy."
While Australia retained the urn as holders, the series ends with England fully in the ascendancy after a stirring fightback from 2-0 down.
They won the third Test comfortably at Headingley, dominated the first three days of a washed out fourth and came through strong in the last match to deny the tourists a first win behind enemy lines since 2001.
The away team saw their celebrations with the urn fall flat, with a confetti canon that was wheeled out going unused, no surprise given they last won a match 29 days ago.
Stokes did not echo some in claiming a moral victory for his side, but was beaming at the way they fought their opponents and rallied the country to their cause.
"We didn't shy away from the momentous event the Ashes is. We talked the talk and we've also walked the walk out there," he said.
"In a do-or-die situation, most teams can shy away from it, but I'm very proud of this whole team and what they have accomplished over these weeks.
"I think 2-2 is genuinely a fair reflection of two very, very good teams going at it over a five-match series. I think that over the last seven weeks, we've managed to drag a new audience towards Test cricket.
"I think this series is genuinely what Test cricket needed. Two high-quality teams going at it toe-to-toe has been something you couldn't take your eyes off. Every session has been its own game.
"I really hope we've inspired a new generation. I look back to 2005 and what that series did for me as a young person, and I really hope there's someone who's the age I was then who says: 'That's what I want to be doing'.