T20 Blast: Kevin Pietersen upstaged as Jason Roy calls the shots
Former England batsman fails again as Warwickshire see off Surrey in T20 Blast Finals Day despite a brilliant 58 from the young pretender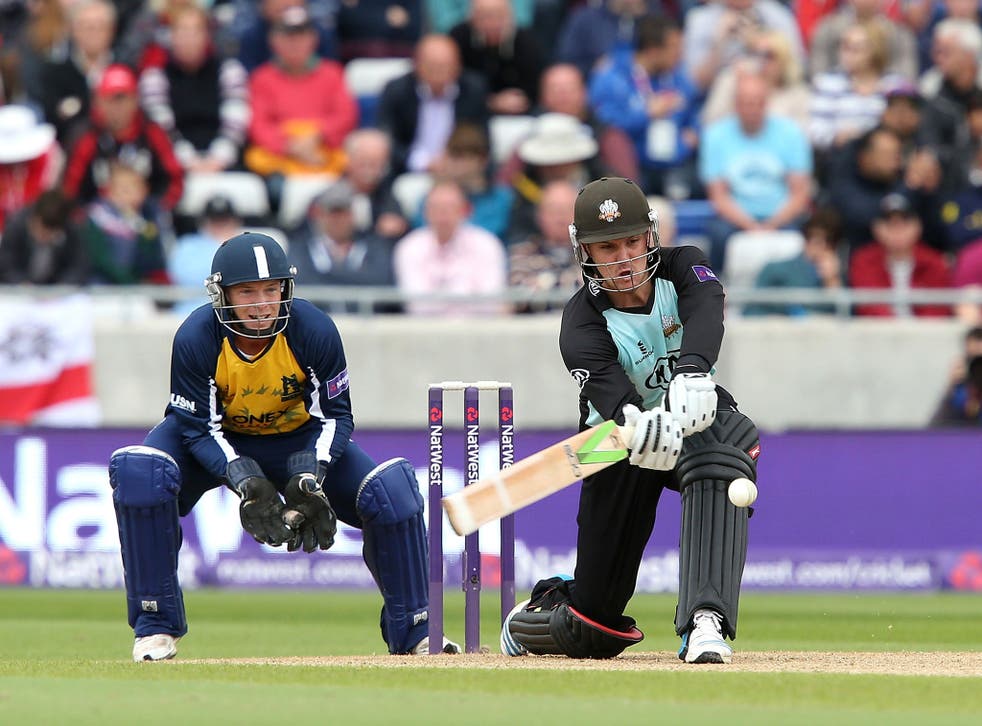 Once he was a player who would have bestrode an occasion such as this, doubting not for a moment his status as a colossus of cricket, and more often than not have delivered something fittingly spectacular. Those days have begun to feel lately as though they belong to the past and you wonder now if they will remain there.
Kevin Pietersen, formerly of England, now a Twenty20 specialist, marched to the wicket in the eighth over of Surrey's semi-final innings against Warwickshire in circumstances as favourable as he could have imagined.
Jason Roy, the rising star in whose shadow he has spent Surrey's entire Twenty20 campaign, was just out, having added another brilliant performance to a season littered with them – one that had brought him 58 runs off only 25 balls. Surrey, chasing a tough but now seemingly gettable target of 195, were well placed on 89 for one.
Pietersen had not scored more than 39 in any of his 11 NatWest Blast innings for Surrey, compared with Roy's nine half-centuries in 15 innings. Yet on his most high-profile appearance in England since he played his last Test match here he had been given an opportunity to upstage the young pretender by reminding a sell-out crowd that his sublime, unique talent was still intact.
A push into the off side off Jeetan Patel, Warwickshire's off-spinner, gets him off the mark at the first time of asking but after just 16 balls it is all over, undone by Ateeq Javid, another off-spinner whose flat trajectory and extra pace has been usefully effective in this format, who bowls a full, straight ball that Pietersen drives firmly in the air but too close to the bowler, who grabs at it with both hands to his right and holds on.
Pietersen made 13, six of which had accrued to him only because William Porterfield, fielding on the long-on boundary to Patel, failed to hang on to an earlier chance, the ball dropping out of his grasp beyond the rope.
Back on the bench, where Roy already had a microphone under his nose as he described the 10 fours and two sixes that had given his side such a promising platform, Pietersen took his seat at the opposite end, reflecting an another poor day in what has been a miserable year.
His T20 stint with Surrey has yielded 225 runs at an average of 22.50. He says he wants to play Championship cricket before this season is out but Surrey, chasing promotion from Division Two, might feel that they can manage without him.
There was no happy ending for Roy. Surrey fell 16 runs short of Warwickshire's total, built around a brilliant 81 from the Irishman Porterfield, after England's Ian Bell had struck 38 from 17 balls.
Roy's batting is blessed with power and finesse and while his record 677 tournament runs – overtaking the 668 made by Jimmy Adams of Hampshire in 2010 – will have felt like small consolation, at 24 years old, the South African-born right-hander appears to have the world at his feet. On this form, selection for the one-off Twenty20 international against India next month looks a surefire certainty.
"I've said it plenty of times before, there's no better player at the moment in this form," his T20 captain, Gary Wilson, said. "But he has done it in all forms of cricket this year and I'm sure he'll get his England chance soon."
At the peak of his onslaught yesterday, Roy hit 26 in a single over off the former Surrey and England all-rounder Rikki Clarke, with five fours and a six, and had he not been out, caught off a top-edged slog-sweep off Patel's bowling, Surrey might well have stayed in Birmingham for a few more hours.
"I don't know about Kevin Pietersen being the key wicket for us," Varun Chopra, the Warwickshire skipper, commented. "I think that Roy was probably the more important one, the way he was going."
Roy, who made a T20 hundred on only his third appearance in 2010, already has more fifties – 15 to 14 – than Pietersen in the shortest format from 29 fewer innings.
He has shown himself to have strength of character, too. Badly hit by the death of his Surrey team-mate, Tom Maynard, in 2012, Roy's form dipped so alarmingly in four-day cricket last year that he was dropped. This year, by contrast, he tops Surrey's aggregates and averages in Championship games with 839 runs at 52.43, easily his best return so far.
He gives some of the credit for that to Pietersen, as it happens, having bent his ear as well as those of Hashim Amla, Graeme Smith and Ricky Ponting among the transient superstars in the nets at The Oval in recent times.
Pietersen, meanwhile, has reached a point perhaps when a re-evaluation of priorities is required. Having admitted in a recent interview that playing T20 cricket alone meant he found it hard to find any rhythm in his batting, he passed up the opportunity to play a 50-over match for Surrey last week in preparation for finals day after a brief and unsuccessful stint in the Caribbean Premier League in favour of a family holiday in America.
There, he went swimming with sharks off Miami and alligator spotting in the Everglades.
Register for free to continue reading
Registration is a free and easy way to support our truly independent journalism
By registering, you will also enjoy limited access to Premium articles, exclusive newsletters, commenting, and virtual events with our leading journalists
Already have an account? sign in
Register for free to continue reading
Registration is a free and easy way to support our truly independent journalism
By registering, you will also enjoy limited access to Premium articles, exclusive newsletters, commenting, and virtual events with our leading journalists
Already have an account? sign in
Join our new commenting forum
Join thought-provoking conversations, follow other Independent readers and see their replies