The Ashes 2013-14: Andy Flower issues Kevin Pietersen ultimatum
Tour fall-out reveals coach will continue only if controversial batsman is dropped after deterioration in their relationship
Tom Collomosse
,
Ed Aarons
Wednesday 08 January 2014 00:53 Comments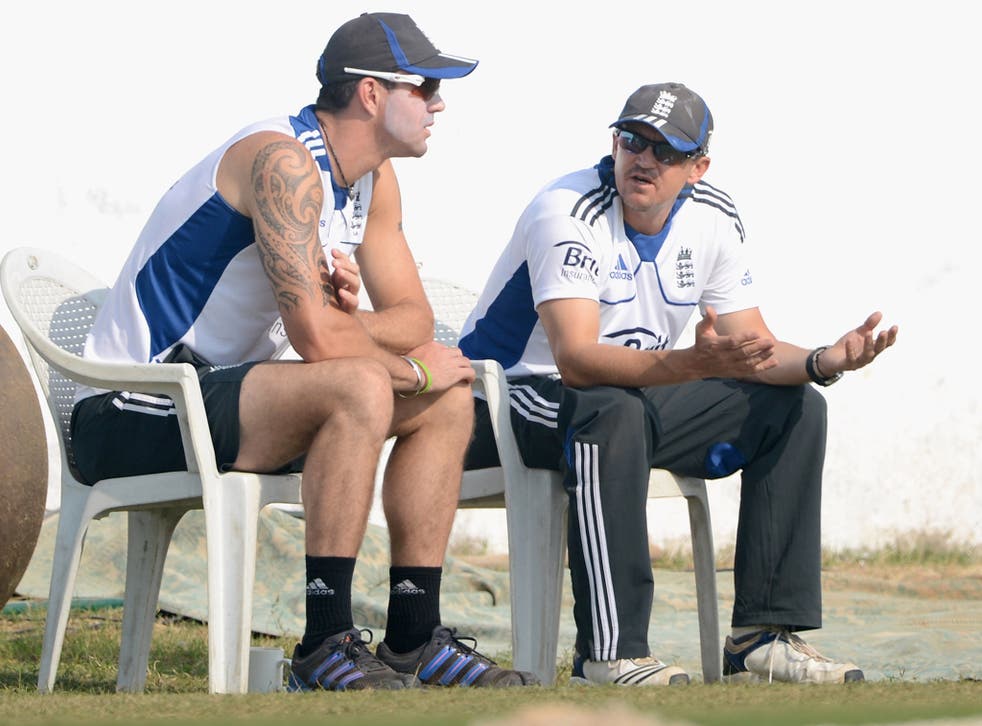 Andy Flower is understood to be ready to walk away from his position as England's team director unless he is given guarantees that Kevin Pietersen will not be selected to play international cricket under him as the inquest into the 5-0 humiliation in the Ashes series begins in earnest.
Despite presiding over the shambolic tour that saw Alastair Cook's side meekly surrender the urn Down Under, Flower and his captain are both expected to be retained in their posts by the new managing director of England cricket, Paul Downton, as the team look to rebuild ahead of this summer's Test series against Sri Lanka and India.
However, Flower is believed to have already indicated that his relationship with Pietersen has soured to such an extent that he is not prepared to retain the batsman in any reconstructed side.
Pietersen – who finished as England's highest run-scorer in Australia with 294 at an average of 29.4 – got his retaliation in first as he posted a series of tweets stating he wanted to remain a part of the England team, insisting he was "determined to help regain the Ashes in 2015". Yet with Flower understood to have enjoyed an uneasy relationship with the 33-year-old ever since his controversial decision to make himself unavailable for one-day international matches last year in order to play in the Indian Premier League, it will fall to Downton to decide which horse to back.
Downton, who started in the role on 1 January, is due to conduct the ECB's internal review of the Ashes tour over the coming weeks – a process that will include speaking to every player and backroom staff. The new chairman of selectors, James Whitaker, will also have a role to play, although much could depend on whether Pietersen indicates a desire to play in the lucrative IPL.
England players are encouraged to spurn any approaches to play in April and May's IPL in order to prepare for the summer Tests, with Stuart Broad and Ben Stokes believed to have already indicated they will do so. Pietersen could, therefore, effectively bring down the curtain on his England career by accepting the call from the IPL, although his actions suggested he is not prepared to do that yet as he tries to become the first England player to reach 10,000 runs.
He tweeted a link to former England captain Michael Vaughan's column in a national newspaper that urged England not to dispense with the services of their most talented batsman, even suggesting that Pietersen should be given a role with more responsibility.
"I'd get him more involved – make him vice-captain," Vaughan repeated in a BBC interview. "But my fear is that England will make him the scapegoat and feel the only way they can move forward is without him. They have to be careful. This isn't football. You can't just go out and buy a world-class No 4 batsman."
However, after being dropped by Flower for the final Test against South Africa after the 2012 "text-gate" scandal, reports of dressing room disagreements with the coach in Australia after several soft dismissals could mean his England Test days are over.
Register for free to continue reading
Registration is a free and easy way to support our truly independent journalism
By registering, you will also enjoy limited access to Premium articles, exclusive newsletters, commenting, and virtual events with our leading journalists
Already have an account? sign in
Join our new commenting forum
Join thought-provoking conversations, follow other Independent readers and see their replies