The Ashes 2015: Former Australia coach Mickey Arthur offers advice to England's beleaguered Peter Moores
He knows only too well what it's like to be under fire just before an Ashes series. Here, he explains why the England supremo must back himself
Richard Edwards
Wednesday 01 April 2015 22:03 Comments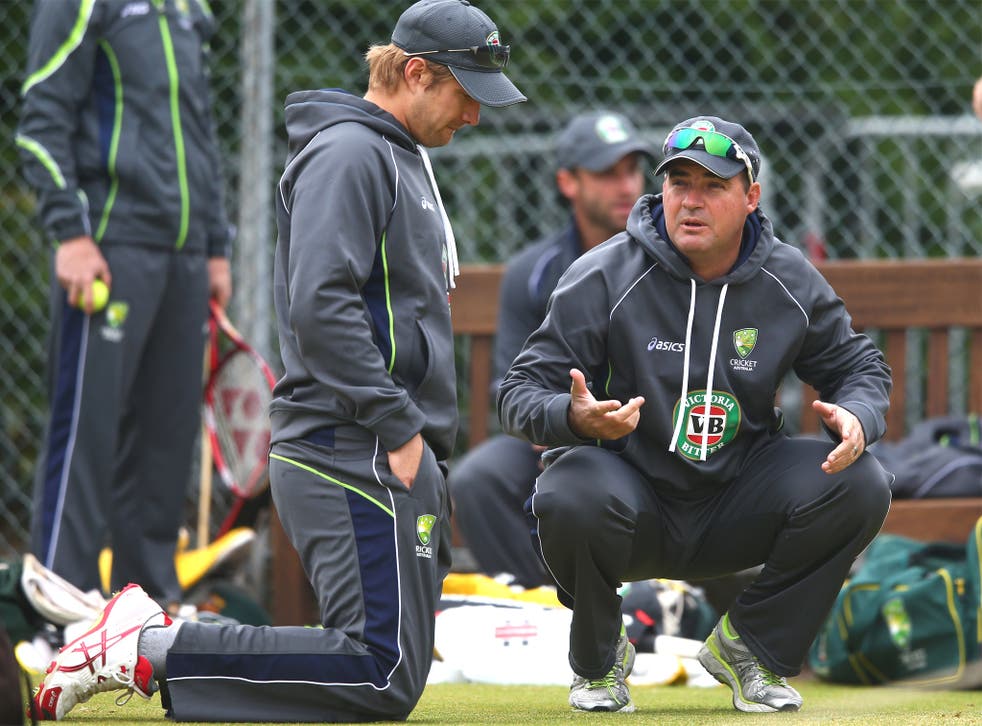 When Peter Moores meets the assembled press pack at Gatwick alongside Alastair Cook this morning he is certain to be asked a raft of tough questions.
A World Cup which promised little and delivered even less has left the England coach with the haunted look of a dead man walking as England prepare to fly to the Caribbean for a three-Test series against West Indies.
There, Cook's men will go in search of a morale-lifting victory that will, in reality, offer little more than temporary respite before New Zealand and Australia arrive on these shores.
The situation facing Moores has more than a few echoes of the one that former Australia coach Mickey Arthur endured in the run-up to the 2013 Ashes series in England.
Thumped by India on the sub-continent shortly beforehand, Arthur's Australia bore little resemblance to the unified and ruthless outfit that played the Kiwis off the park in last Sunday's World Cup final.
Riven by in-fighting, Arthur was more fireman than coach as the early part of that tour descended into chaos. A stray punch from David Warner in a Birmingham bar provided the final knockout blow to Arthur's reign as, just 16 days before the start of the Ashes, he was ordered to embark on a walkabout of his own.
Two years later, Australia are on top of the world and are favourites to retain the Ashes, while Moores has been left to question the wisdom of accepting the England job for a second time.
"It's almost role reversal from the last time we arrived for the Ashes," Arthur says from his home in Perth. "We came with a team that was very low on experience, and pretty low on confidence after the Indian tour too. Now they believe in their ability and [current coach] Darren Lehmann seems to have created a really good environment for them to perform in – he has done exceptionally well with that.
"Peter Moores is at the stage now where he has to make some brave decisions. He has to identify the players he thinks can play a significant role for England in years to come and then bed those players in.
"It's really tough. It's in times like this that you really have to stay strong, you have to stay incredibly strong because if you start second-guessing the decisions you've made, you start confusing everybody in terms of where you're going and the brand of cricket you want your team to play."
Saying it is one thing, but having the conviction to follow your beliefs is something else entirely, as Arthur knows only too well.
While there were jokes aplenty at Moores' apparent love of data during the World Cup, Arthur was similarly lampooned on that humbling tour of India two years ago for his insistence that the players complete performance- feedback questionnaires – something which Shane Watson compared to doing homework and was subsequently suspended for one Test, along with three of his team-mates.
"You have to stay true to your brand and your initial decisions – the more you start questioning the more you're confusing everybody and the more you contradict yourself," Arthur says.
"You know what? It can turn around so quickly – you need your senior players to stand up for you over a period of time and drag some of the younger players with them. You're always one performance or one tour away from really turning it around. England go to the West Indies and if they do well, win the series, then they'll be a lot more energy and belief around the camp. If he stays true and strong to his beliefs then the decisions he has made will start to look like good ones again."
Coaching can be as much about timing as ability, something that Arthur knows only too well. He was, in many ways, handed cricket's ultimate hospital pass when he was charged with lifting Australia's fortunes following their hammering by England on home soil in 2010-11.
That was the tourists' first series win in Australia for 24 years and such was the gulf between the two sides that predictions of a period of prolonged England dominance did not seem outlandish. They do now. But if Moores needs some inspiration at the start of this Ashes summer, he should look back at the travails of Arthur's side in early 2013.
"There was a newspaper article when we played a one-day series against Sri Lanka in January of that year," he says. "We actually drew the series 2-2 but I'll never forget the headline in one of the papers which asked if this was 'the worst Australian ODI team ever selected'.
"Well, eight of the players that we selected during that series played in the World Cup final. Josh Hazlewood, Shane Watson and James Faulkner were the only three who weren't involved. We were bowled out for 74 at the Gabba in the third match in that series. The ball swung everywhere. No one was talking about Australia winning the World Cup then.
"You talk about timing, and that's exactly the point. It was a battle for a year or two but to see the way they've come through is very rewarding.
"There are so many pure match-winners now. We were laughed at when we picked Glenn Maxwell, played David Warner and gave Steve Smith extended runs.
"We worked hard with Nathan Lyon, Mitchell Starc and Hazlewood. We brought them in during my time because we knew they were going to be very good players but they certainly weren't the finished article then."
The World Cup would suggest that they most definitely are now. If Moores is to experience an Ashes series for the first time, he will have to hope that his luck turns far quicker than Arthur's did.
Register for free to continue reading
Registration is a free and easy way to support our truly independent journalism
By registering, you will also enjoy limited access to Premium articles, exclusive newsletters, commenting, and virtual events with our leading journalists
Already have an account? sign in
Join our new commenting forum
Join thought-provoking conversations, follow other Independent readers and see their replies